From small businesses to startups to major corporations, everyone is starting to realize just how powerful content marketing can be. But not everyone understands what it is, how it works, or (most importantly) how to make it successful.
Today, we're delving into content marketing, how to build a content marketing strategy, and why it's worth investing in. Because it is.
From the mistakes to avoid to how to create high-quality content, here's our beginner's guide to content marketing.
For a kickass DIY resource, download our Content Marketing Playbook.
---
What Is Content Marketing?
Unlike traditional marketing, content marketing isn't primarily focused on promoting products or even promoting your brand.
Content marketing is about creating and sharing content that your customers and audience find useful. They build faith in you by witnessing your expertise in your industry. That faith encourages them to embark on (or continue) the customer journey through the sales funnel.
Content marketing comes in all sorts of formats.
It includes:
Videos
Blog articles
Case studies
Podcasts
Gated content (eBooks, whitepapers, email courses, and webinars)
It's any type of content created specifically to provide value to your audience.
And while it isn't about trying to sell your products or services, it is a way to build your brand and drive sales.
The more your customers enjoy your content, the more loyalty they'll have to your brand. That loyalty, in turn, will increase your website traffic and ultimately result in more sales.
There's an added benefit as well:
Strong content marketing efforts lend credibility to your brand. By publishing shareable articles about your niche, you'll build a reputation as an expert in your industry
---
Why Invest in Content Marketing?
Hiring content marketers is a smart investment.
Why?
Because it's one more way to engage with your customers, drive traffic to your site, and provide your audience with valuable information.
All businesses can benefit from having a strong content strategy.
Here are just a few of the key reasons why you should invest in content marketing:
Rank higher in Google search results
Drive sales and boost your ROI
Control the conversation about your brand, products, and services
Build brand awareness
Grow your social media following
Drive more visibility to your product pages
Not nearly as annoying as traditional ads
But let's be really clear about one thing: there's no point in investing in content marketing campaigns unless you see a return on your investment. So, it's important to make sure that you're creating and sharing the right types of content.
After all, the end goal is to drive sales! And one way to drive those sales is with a blog.
Blogging helps your site rank higher in Google search results. It can increase the visibility of your homepage, the blog pages themselves, and your product pages.
Here's a simplified overview of how that works:
When you write a valuable blog post, other sites may link to it in their own blogs and articles to provide more information to their readers. The more sites that link back to your article, the more authority that article will have.
And Google likes authority. In fact, they reward it.
The more websites that link back to your article, the higher it will rank when users search for that topic.
Here's a graph from our friends at Backlinko that shows what we're talking about: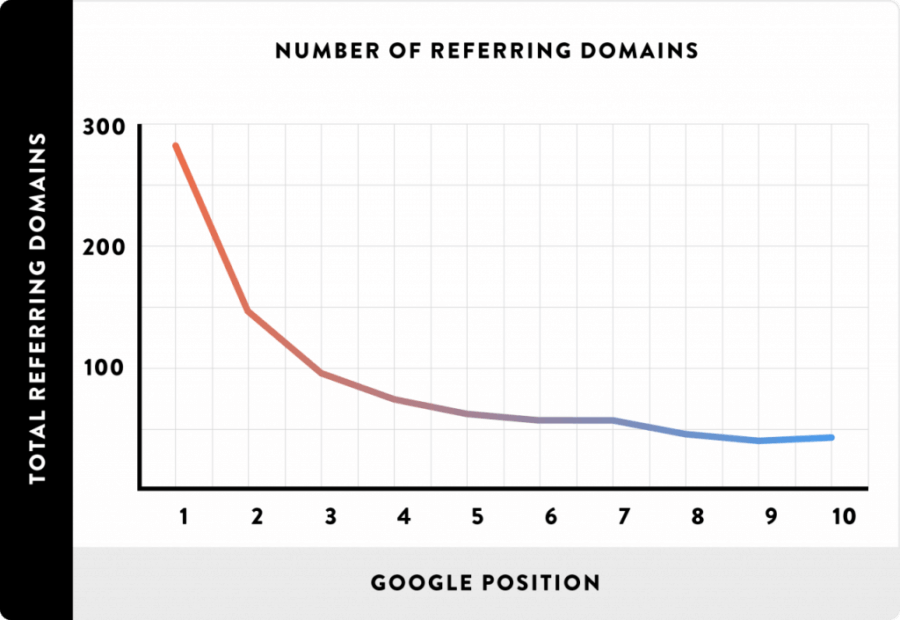 When a lot of other domains refer to your site, Google takes your page more seriously. If 300 other people link to your site, Google assumes you must have some useful information there.
Once readers are on your site, they're more likely to click through to your product pages.
This is one of the benefits of SEO.
Content marketing and SEO go hand-in-hand, and investing in SEO is one of the best ways to drive traffic to your site.
The only way to rank high on Google and other search engines is to have solid SEO practices in place. And when your content is SEO-focused, exponential growth becomes possible.
---
Building a Content Marketing Strategy
There's more to digital marketing than just churning out blog posts. In order to see real success, you'll need to have a content marketing strategy in place.
Here are three things to keep in mind when building out your strategy:
Produce Awareness Content
This is a vital part of a good content strategy. You'll see why in just a moment.
Awareness Content attracts viewers who are searching for topics broadly related to your business. It is not content focused on your actual product or service. This is your top of the funnel strategy.
For example:
A mattress store might write an article on why it's important to have good sleep habits.
A skincare company may produce content about the harmful effects of UV rays.
A fitness brand may put out recipes or nutritional content designed to help you eat a clean, healthy diet.
It starts with doing keyword research related to your business. You will find a lot of great opportunities to find topic themes with a high search volume. You may also notice that your competitors are covering these themes. These are the topics you want to hit first.
Here's what happens: you start getting more traffic to you blog, search engines notice that readers in your niche find you a worthy source, you start to rank higher on your more sales targeted content.
Create Thought Leadership Content
Thought Leadership Content makes you an authority in your industry or niche.
This type of content may include how-to guides, predictions on where your industry is headed, or a breakdown of an in-depth concept that only people in your industry understand.
Establishing yourself as a thought leader increases your visibility and proves that you know more than the average bear.
Going back to our examples above:
A mattress store might write about how certain bedding accessories affect back pain
A skincare company might do an in-depth article on how micellar water works
A fitness brand might produce content on each muscle group
Convert Leads into Customers with Sales Centric Content
Sales Centric Content works a little bit differently. This type of content is designed to drive conversions and help your sales team answer customer questions.
Landing pages, for example, won't necessarily drive new interest to your site, but they will help you sell to people who are already interested in your products or services.
At Intergrowth®, we build content marketing strategies every day.
We do that by:
Analyzing top keyword opportunities to target based on search volume, competition, and search intent
Creating and promoting Awareness Content and Thought Leadership Content
Setting up conversion touchpoints to help you stay in contact with people who visit your site
Collecting data so you know which marketing channels are the most effective
With our strategy in place, Intergrowth® clients have seen incredible, exponential growth. (We helped one client grow their organic traffic by 487.1% in just 20 months … more on that later).
Related: Great content marketing achieves one goal. The best content marketing achieves multiple goals. Steal our secret to writing Dual Purpose Content.
---
How to Write High-Ranking Content
The greatest content marketing strategy in the world won't mean squat unless you back it up with high-performing content.
If you're ready to take the quality of your content to the next level, there are four things you'll need to do:
Understand Your Brand
There's more to your brand than your logo and tagline.
It's your company's personality, values, and mission. It's how you connect with your customers. It's the message you're trying to convey.
Before you can create content that's relevant to your brand, you need to have a solid understanding of what your brand is all about.
It's just as important to understand your customer.
Why do they like your brand?
Why do they buy your products?
Why do they read your content?
You have to know exactly who your target audience is so that you can create content they'll want.
With a strong brand voice and a solid understanding of your audience, you can write top-notch content that keeps them coming back for more.
Find Your Niche
The whole purpose of content marketing is to drive qualified traffic to your site. To do that, you'll need to appear at the top of Google search results for search phrases that your customers are searching for. The easiest way to do this is to find search phrases that customers are frequently searching for that are easy to rank for.
Of course, your business is your broader niche, but what we're talking about is finding your niche within the broad scope of what you could cover and rank for. For instance, it wouldn't do the mattress company above much good to target "mattresses" as a keyword for a content piece. It has over 470M results, but only 56 K people are searching for it. That means there's a ton of competition for that word.
However … if the mattress company chooses a topic like "X Signs Your Mattress is Worn Out", they have a chance to score 21,735 site visitors (yes, we did the math). From there, that one article could branch out to articles about each of those major reasons and draw in even more traffic.
Start by coming up with a list of topics you want to blog about. Then, analyze the search volume for those topics. The trick is to find a niche (aka perspective on your broader theme) that people are interested in and want to read about.
After all, there's little point in spending time and money to create an amazing piece of content if it's a topic that no one is searching for.
Hire a Team to Write Effective Content
At Intergrowth®, we have an extensive team of writers, editors, and content strategists who meticulously plan out editorial calendars and content strategies for our clients.
Every client is different and has their own brand voice, so every piece of content is crafted with that voice in mind.
To produce compelling content, you'll need to hire a team of writers that are also great researchers. It's important that your content creators are able to write on just about any topic.
It's also essential that they can write long-form content and use readability optimization techniques like pattern interrupts to enhance the reader experience.
Why? Because longer articles rank better and attract more backlinks. (77.2% more, according to a recent content study from Backlinko and BuzzSumo.)
Build Links to Promote Your Content
There's a lot of mystery surrounding the elusive Google algorithms. Few people know exactly how they rank search results.
But there's one thing we know for sure:
Links matter.
There are a variety of ways to get links. Creating internal links to other pages on your site is a great starting point. However, it's more important to get backlinks from other sites. The more high-quality pages that link back to your site, the more likely you are to outrank your competitors in search engine results pages (SERPs).
To build links, you can analyze the backlinks of your competitors, do targeted link outreach, and ask other sites to add your site to their directories and resource pages.
When we build links for our clients, we only use white hat techniques. Google is pretty talented at spotting black hat tactics (like buying links and joining a private blog network). And when Google figures out what you're doing, your search rankings will plummet.
Here are a few simple link building techniques that you can use to get more links back to your website:
1. Image Credit Link Building
Look for sites that don't have a lot of photos or images in their articles. They'll credit you with a link on their site if you can provide them with relevant images or video content.
2. Provide Expert Quotes
Help a Reporter Out (HARO) is a source that journalists use when writing articles. If you can give them a useful quote, they will likely link to your page.
3. Syndicate an Article
If you publish a new article and syndicate it on LinkedIn, Medium, or Business2Community, your article will get more exposure. The only pitfall to this is that Google filters duplicate content out of search results, so make sure that any syndicated versions are only published after the original version appears in Google's index.
4. Write Guest Blogs for Other Sites
Write an article on a topic you know a lot about and pitch it to other websites that might find it useful. You can link back to your own website in the article.
---
Should You Hire a Content Marketing Agency?
Here's the question that a lot of business owners want the answer to:
Should I hire an agency or build my own in-house team for content creation and marketing?
Well, it all depends on how much money you want to invest.
Hiring an agency like Intergrowth, which already has its own team of writers, editors, and strategists, is more cost-effective than hiring your own team.
If you do decide to hire your own content team, there are a variety of roles you'll need to fill:
A team of writers
An editor
A content promotion specialist to focus on building links and improving rankings
Hiring an agency is best if you:
Want to see significant growth over time
Want a strategic partner to oversee your digital marketing efforts
Are willing to invest for the long term
Read our SaaS Content Marketing Case Study to see how we helped one business to scale account signups by 82.8% in 10 months.
---
Content Marketing Statistics
Whether you're new to content marketing or looking to revamp your current strategy, here are some mind-blowing SEO statistics to give you a new perspective:
81% of people perform some type of online research before making a large purchase.
47% of consumers view 3-5 pieces of content created by a company before talking to a sales rep from that company.
72% of online marketers describe content marketing as their most effective SEO tactic.
The average first-page result on Google consists of 1,447 words.
---
Content Marketing Mistakes to Avoid
When it comes to your content efforts, knowing what NOT to do is just as important as knowing what to do.
Here are some of the biggest content marketing mistakes we see companies make:
1. Not Looking at the Data
Rather than just writing a ton of content and waiting to see what works, do your research first. Analyze your competitors' websites, see which blog articles are driving the most traffic for them, and find topics that you can do a better job writing about.
2. Not Knowing Your Reader
You should always write content with a specific audience in mind. Identify and define your readers (you may have more than one audience) so you can speak directly to them through your content.
3. Not Accounting for SEO
Search engines drive ten times more traffic to your site than any other marketing channel. Investing in SEO is the best way to increase website traffic and grow your business.
4. Not Establishing Content Goals
You should always write with the intention of addressing a specific need.
Is your reader in the research stage where they're trying to gather information? Are they reading your content in order to make a final purchasing decision?
Good content is always written with a goal in mind.
5. Not Reviewing Performance
Identifying your top-performing content is essential. That way, you can build upon your success.
It's equally as important to analyze your metrics and know what types of content drive the most traffic, get the most social media shares, and have the highest conversion rates.
6. Not Building Links
The more links you have back to your site, the better. Ignoring links is one of the biggest content marketing mistakes you can make. If you can't build links yourself, hire someone to do it for you.
7. Not Hiring Outside Experts
Unless you have the time to learn everything about content marketing, it's best to seek expert help. Hiring a digital marketing agency is one of the most effective ways to increase site traffic and improve ROI.
8. Not Posting Consistent Content
Google tends to rank sites higher that post new content with valuable information on a regular schedule. It doesn't have to be down to an exact date, but you should aim to publish at least two pieces of long-form content per month. Don't forget social media marketing. Promoting your content via tweets, LinkedIn, or through a promo service as it's published will keep you relevant to social site algorithms as well.
9. Leaning Too Hard on AI
Artificial intelligence has many uses in content marketing, including as a helpful tool for writing content.. However, it's nowhere near sophisticated enough to replace human writers yet, so be careful about relying on it for content generation too much.
---
Content Marketing Examples [Case Studies]
So why should you trust Intergrowth® as your content marketing agency? Because our results speak for themselves. Our team eats, breathes, and sleeps content marketing, and we're really good at what we do.
Don't believe us? Here are some numbers that back us up:
Want to see more proof of return on investment? You can find all of our content marketing case studies here.
---
Here's the Bottom Line:
There's more to content marketing than just churning out blog posts. With a solid strategy in place, you can build awareness for your brand, see higher Google search rankings, drive more traffic to your website, and boost sales.
Thinking it's time to hire a content marketing team? You'll need a CCO, a content editor, a team of writers, and a content promotion specialist to build links.
Don't have the budget to add that many full-time employees to your team? Hire a digital marketing agency instead.
At Intergrowth®, we have a robust team of content strategists and writers already in place. Once we learn a little bit about your company and your audience, we'll build you a content marketing strategy that starts, first and foremost, with badass content.
Ready to get started? Send us a message or call us to set up a meeting.
SCALE YOUR ORGANIC TRAFFIC
Subscribe to our monthly newsletter