The original version of this post was written by Darin Evangelista. This article has since been updated by other members of the Intergrowth team as content evolves.
How the world is approaching content is changing. AI is writing more content right when Google is launching algorithms that may give preference to human-created content.
The rules are changing.
One thing remains the same: your audience is looking for authenticity and sources they can trust.
That's where you come in. A strong content program will help you to show off your expertise, build awareness around your brand, attract new prospects, and drive sales.
This article explains the basics of content development, then dives into Intergrowth's proven 7-step content marketing strategy to show you the why and the how.

---
What Is Content Development?
Content development is the process of creating content for a website from start to finish. You may have also heard of content developers. The term "content developer" is also used to refer to web developers, but in this article, we're concentrating solely on the development of content — not design or programming.
Content development includes:
Strategy
Writing
Publishing
Promotion
Content marketing can include anything from blog posts to infographics to videos (to print, even).
Some agencies and online content producers only handle one or two steps of the content marketing process. For instance, they'll manage the writing, but don't strategize or publish or promote.
However, an effective content development strategy is much more than just writing or search engine optimization (SEO). Good content can only get you so far — without the right strategy, or with the wrong promotion methods, no one is going to see the webpage you spent weeks developing.
At Intergrowth, we provide a proven content development solution focused on blog content designed to increase search traffic as well as a turn-key link-building solution to accelerate growth.
We are excited to share what we've learned so that you can jumpstart your own content marketing efforts. It's hard work, but the benefits of content marketing are undeniable.
If you're looking for a DIY solution for content marketing, here's a peek at our seven-step process for content development:

---
1. Gather Information
The first step in content development is always to collect as much information as possible.
When we're working with companies, we compile information on:
Target demographics
Key competitors
Past site performance
Site goals
Other information unique to the individual client
Take some time to put together a mock interview document that asks questions about your own business. The answers might uncover information that will make for great blog posts.
Here are some revealing questions from ours:
What problems do you help your customers solve?
How is your offering different than your competitors? (Dig deep on this one)
What search phrases do you want to rank top for? (Use this to find variants and related topics!)
What are the most common questions prospects ask you before converting?
Next, assess the data.
Google Analytics and Search Console are great tools for looking at on-site data. SEMRush is our go-to tool for competitor analysis. And it's hard to beat Ahrefs when it comes to keyword research and backlink analysis. Moz is another useful tool for looking at domain authority.
Taking the time to analyze the above will help you make informed decisions about what topics to cover.
---
2. Blog Topic Analysis
There are a few ways to come up with topics to write about.
We're going to look at competitor analysis, target audience searches, and semantically related terms to start.
Competitor Analysis
Here's the thing. You want to draw the people who want your exact offering away from the competition. So, even if they're a huge competitor, you can do that, and you can also outrank them over time.
Don't forget that you'll need to get to the top of results among other publishers that are not your sales competitors. Sometimes your "competitor" for readership isn't even in your industry.
Competitor analysis is a great way to get started so that you get an idea of what's working. There are free tools to help you do that, as well as paid tools like Ahrefs. (We go through the competitor analysis process step by step in our free Content Marketing Playbook).
The coolest tool of the bunch is Ahrefs Content Gap tool. You plug in your domain and up to three of your competitor's domains, and it tells you what keywords they're ranking for that you're not and vice versa. If you already have content posted on your site, that will save you a ton of time.
If you're not ready to invest in tools yet, here's a way to get in a leg up on the competition:
Run a search on the top keyword phrase you want to rank for
Find your competitor's post in the results
Look at the People Also Ask questions and compare them to your competitor's article
Write an article that includes the answers your competitor didn't cover, plus your own unique answer to those they did
Topic Analysis and Keyword Research
You have an idea of some things you'll want to rank for. Now you need to know what about those things your audience really wants to know about. Then you can deliver the content they want.
Again, we go into this in-depth in our Playbook, but to get your feet in the water, try these tools:
Answer The Public
Keywords Everywhere
Quora
SEO Minion
What you're looking for are the questions people are asking about the subjects surrounding your product or service.
So, say you're a SaaS business specializing in image conversion. If you plugged "image processing API" into Answer the Public, you'd get back 33 initial questions followed by a list of hundreds more: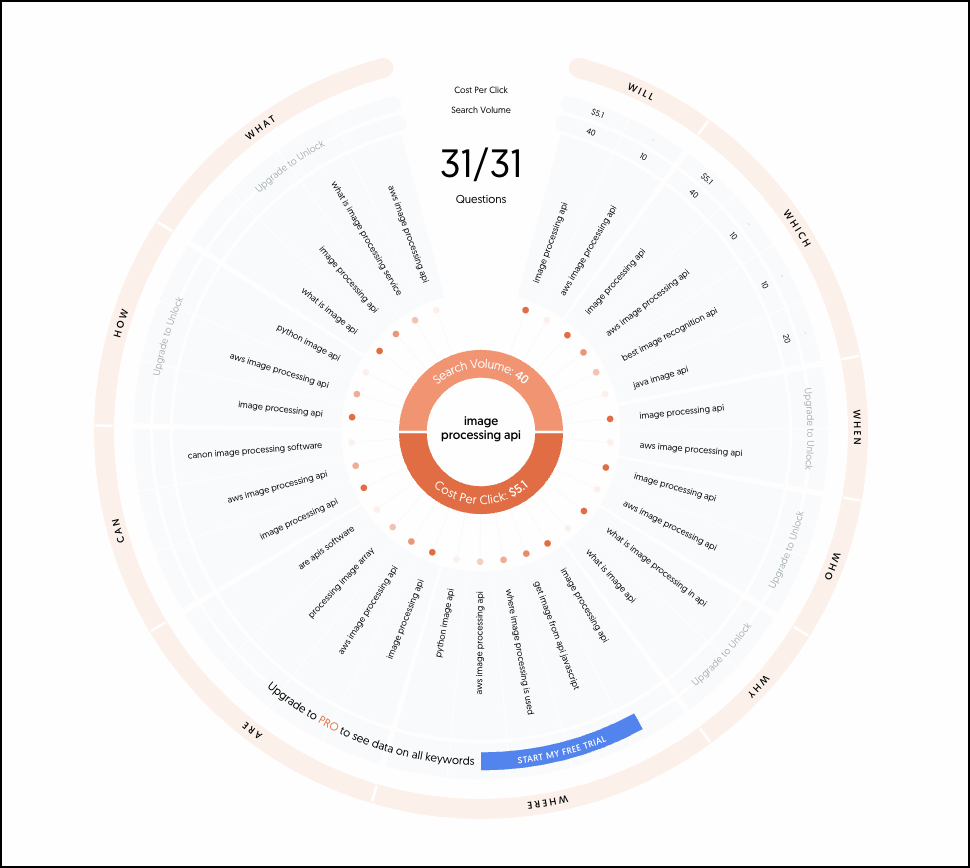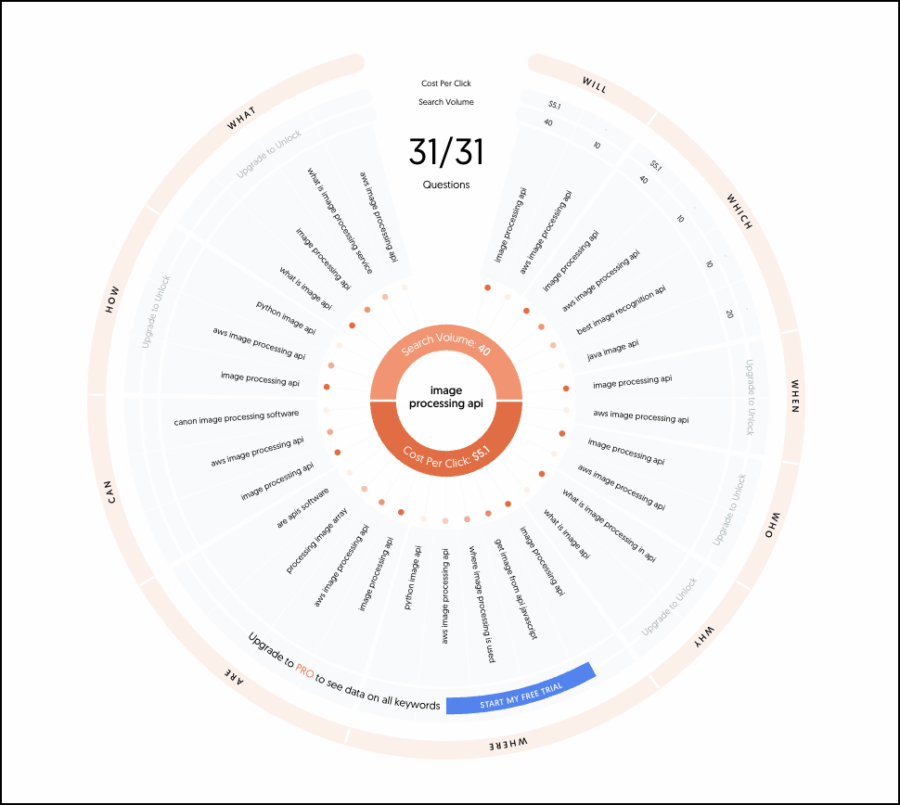 You can then click each of those generated keyword phrases to hop to Google, see if anyone is answering those questions, and use a tool like Keywords Everywhere or SEO Minion to assess organic traffic potential.
To find out which topics you should write about first, you'll want to compare three things:
The domain ratings of the top ten results per keyword or keyword phrase (if you have Ahrefs or a similar tool … if you don't have a tool that shows DR, see if there are results from posters you haven't heard of or who seem like smaller enterprises)
How well the top ten results each cover the topic
The volume of traffic each of the top ten posters is getting
When you find a topic that has at least one result that has a DR under 50 and traffic overall (for all results) over 100, you have a great chance of ranking high for that topic (using the right methods).
With paid tools, this part of the process takes very little time per keyword, but this is a good place to start if you want to DIY.
---
3. Strategize
During the strategy phase of content marketing, we build out the content strategy and editorial calendar.
Starting out, you'll want to make sure you're producing at least two long-form blog articles per month on a broad topic with viral potential. Within your industry, of course. We're not talking about the next meme, here.
Going back to our topic analysis tactics above, pick a subtheme of a popular theme in your industry.
If you're a cookbook company and the industry is blowing up about finding cheaper eggs, write an article about egg substitutes. You get the idea.
Now write the most useful article ever created about how to cook without eggs. You'll get your toe in the back door and outrank your competitors on that theme and grab the traffic.
Aim to concentrate mainly on the Awareness content for the first 3-4 months to grow your organic traffic fast. Once you've got traction, you can start adding in Thought Leadership and Sales Centric content more often. Or you can work them from the beginning if you've got at least two pieces of Awareness Content published per month.
Backlinks
Once you've built up a decent backlink profile, you can start targeting higher-value keywords (more on our keyword research and content research processes here).
Depending on client goals, we might also decide to work on a link-building campaign to maximize the impact of our content.
Watch how your first efforts at content marketing perform and then start to create a strategy that incorporates more Thought Leadership and Sales-Centric content. You can includc those types of content in the beginning, but for traffic building, you'll still want 2-4 pieces of Awareness content published each month.
---
4. Write
The writing stage is pretty self-explanatory. Here is where you write the most kickass piece of content possible.
If you want to rank well, your content needs to be better than every other result on the front page of Google.
That used to mean the longer, the better. Longer content ranked better and attracted more backlinks because it was usually more informative and covered more related topics.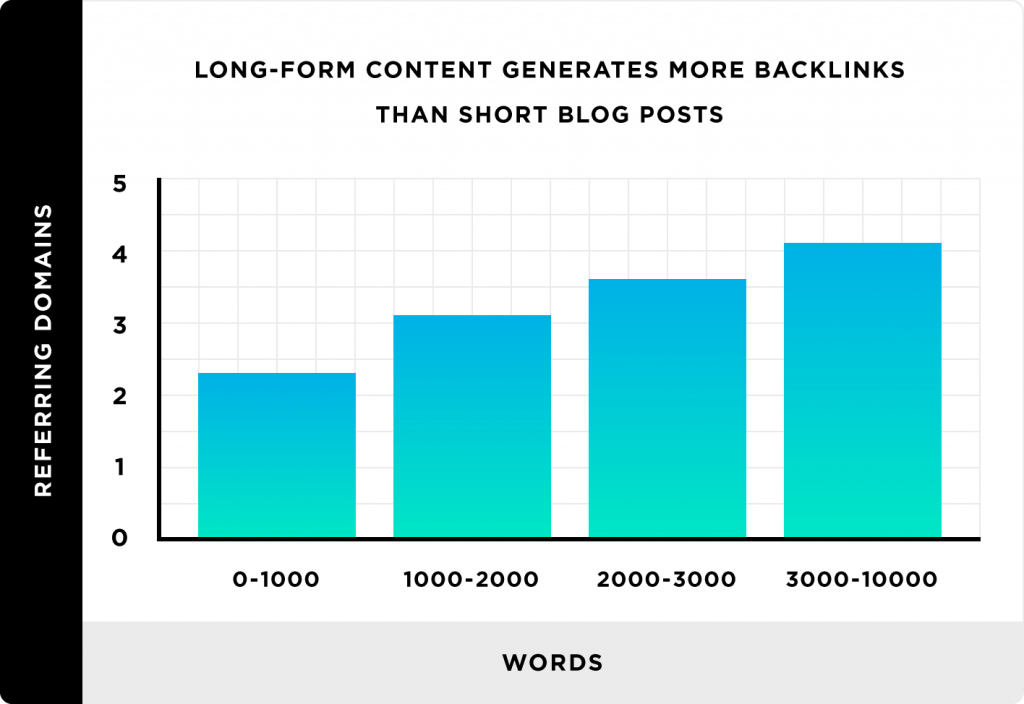 Graph from Backlinko's Content Study
To an extent, that is still true as concerns information-heavy topics. However, Google's recent algorithm updates favor content that most sufficiently and quickly answers a searcher's query. That means an Awareness Content piece should give the reader the overview first and then go into detail to answer related essential questions — as necessary. You don't need to mention how to clean every part of a blender for a "how to make a margarita" search query.
Try not to focus on keywords or other ranking signifiers during the writing stage. Remember, you want people to read and enjoy the content first and foremost. Search engines should be an afterthought during the writing process.
Put yourself in the reader's shoes. Think about why they would search for a topic, and what they would want to read in response to that search query. Then produce a piece of high-quality content that satisfies search intent and that will entice the reader to share.
If you're new to blogging, read this guide on how to write your first blog post.
Related: Should You Hire a Digital Marketing Agency or an In-House Marketer?
---
5. Optimize & Publish
Once the writing phase is complete, we move on to search engine optimization and publishing.
It's here that we consider things like readability, word count, related keywords, brand consistency, and more to make the content more attractive to search engines (and people!).
If you really want to go down the rabbit hole, learn about TF-IDF, one of our favorite optimization methodologies. It sounds complicated. And it is. But it's super effective in helping Google identify whether or not you're covering all relevant topics in your content.
During the optimization and publishing phase, we'll also craft title tags and meta descriptions designed to increase click-through rates.
For more super actionable optimization tips, check out this list of SEO techniques to boost rankings.

---
6. Promote
There are hundreds of ways to promote quality content, but the most obvious is social media. You can also consider republishing platforms, and don't forget about good ol' email outreach.
The reason behind promotion isn't just to get more eyes on the article; it can also lead to more backlinks, which are as good as gold in the SEO industry.
That said, never pay for backlinks. It's not worth it, and you will get hit with a Google penalty (which means your site may not appear in Google searches, or at least won't appear in a favorable spot).

---
7. Review & Repeat
Content development is never "done ." It's a continuous process that starts as soon as it ends. That's why we review our content marketing efforts for every website on a monthly basis.
If our efforts are working, we'll continue down the same path for future content. If we do not see results, it's time to pivot to a new content development strategy.
If you're not sure what to analyze, dive into this guide to analyzing your marketing strategy .
Essentially, during this phase, it's time to reflect on what worked and what didn't, putting us back at the "Gather Information" phase of the process.
The main takeaway here is that the best content development process is continuous and ever-changing. It's not something you can do once and say you're done.
Our 7-Step Content Development Process (Summary)
Gather Information
Blog Topic Analysis
Strategize
Write
Optimize & Publish
Promote
Review & Repeat
Ready to kickstart your content development efforts? Get in touch about our content marketing and SEO services.
SCALE YOUR ORGANIC TRAFFIC
Subscribe to our monthly newsletter