Deciding how to spend your marketing budget is difficult, especially during a recession.
Content marketing and SEO are the best options for many businesses, but some people don't actually know the difference, making it hard to choose.
The truth is that you might not need to choose. There's a big overlap between these digital marketing strategies, and they often work best in tandem.
Below, we'll clarify the difference between content marketing and SEO. We'll also discuss when to choose one over the other and when to incorporate them both into your marketing strategy.
---
Content Marketing vs. SEO: An Overview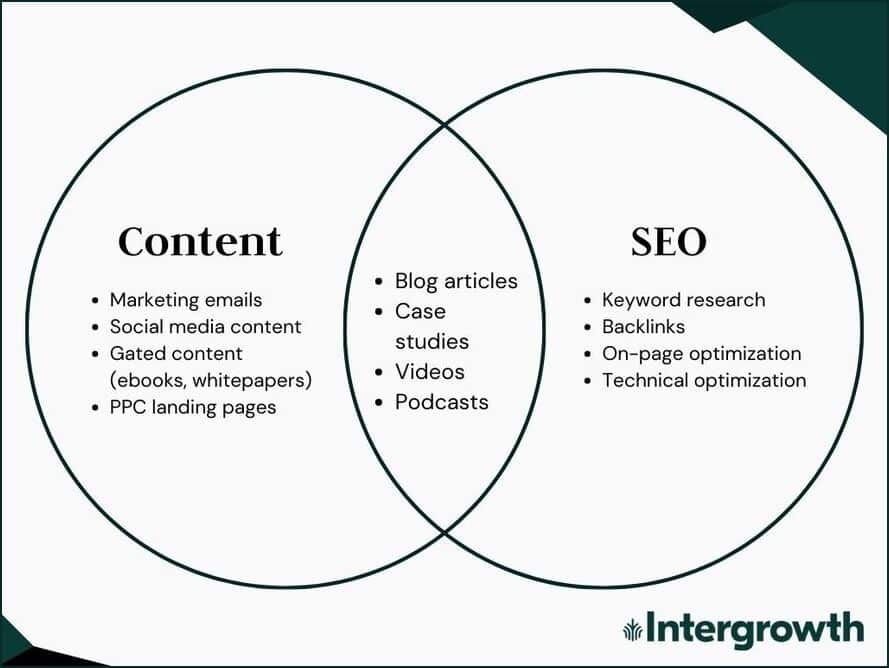 Content marketing is the practice of publishing helpful or entertaining materials (i.e., "content") online in order to achieve a specific marketing goal. You might use content to generate new leads, encourage conversions, or even for customer retention.
Content can take many forms, from blog articles and case studies to YouTube videos, live streams, or podcasts.
You can publish content in many different places: on your website, on social media, in an email newsletter, etc.
Search engine optimization, or SEO, is a series of processes that can help a web page rank higher in search engines.
Here are some examples of SEO processes:
Keyword research: Identifying the specific keywords your target audience searches so you can create content about those topics
On-page SEO: Modifying your web pages to help search engines understand their content and recognize their value
Technical SEO: Optimizing the back end of your website to eliminate any technical issues that could hurt your rankings
Link building: Getting other websites to link to yours, which helps to show search engines that your website has a good reputation (and tends to result in better rankings)
SEO is a valuable marketing tactic because people usually click the pages that appear toward the top of the search engine results. In other words, it can help you drive a lot of visitors (and potential customers) to your website.
TL;DR:
Content marketing is a broad term for any type of marketing that involves digital content. SEO is a specific set of practices that aim to funnel search engine users to your website.
---
Why SEO and Content Marketing Go Hand in Hand
It helps to think of SEO as a way to enhance your content so that people encounter it in search engines. When your site appears in search engine results, you have the opportunity to connect with people who've never heard of your brand.
Without SEO, your content may never reach anyone outside of your existing network. Your mailing list subscribers and social media followers might see your content, but it's much harder to find new audiences.
Optimizing your content for search engines can help you grow your brand awareness exponentially while getting more leads from organic website traffic.
---
The Value of SEO-Centric Content
Let's say that you run an online electronics store and you publish an article titled What's the Best TV for Watching Sports?
A bit of SEO can help that article to appear at the top of the Google search results when someone searches the words "best TV for sports."
According to Ahrefs, the term "best TV for sports" gets searched about 1,300 times each month, on average.

The top page listed in a Google search has an average click-through rate of 27.1%, which means that you have the opportunity to attract more than 350 visitors to your website — and we can assume that a lot of those visitors are looking to buy a TV.
If your website converts just 1% of visitors into buyers, that single keyword could sell three and a half TVs for you every month.
(And that's just one keyword. Related variants like "best TV for watching sports" and "best TV for movies and sports" see a combined 600 searches per month.)
---
…But Not Every Business Needs to Hire for SEO and Content Marketing
At Intergrowth®, we take an SEO-driven approach to content marketing. This means that we create high-quality content for our clients and use search engines to get it in front of their target audience.
We've used this approach to help dozens of businesses grow by 500% or more.
That said, we recognize that not every company needs help with SEO and content marketing. Your business might only need one or the other.
For instance:
If your team can create good content, but you need help getting it to rank higher, an SEO consultant can help.
If there are technical SEO issues preventing your site from ranking in search engines, hire an SEO specialist.
If you're not concerned with website traffic but need sales collateral to help you close more deals, content marketing services will be more useful.
Again, we find that combining SEO and content marketing is the most effective way to help our clients grow — but the question of which is better for your business ultimately comes down to your company's goals.
---
That's Why We Launched Growth Advisor
Until this year, we've focused almost exclusively on content marketing. Occasionally, a client would decide to hire their own content team and ask us to help with SEO guidance. We always obliged, happily.
Now, we've decided to bring that offering to the public.
We created Growth Advisor — our SEO consulting solution. With this service, we work side-by-side with your team to help your site drive more traffic and conversions through search engines.
Our Growth Advisors focus on six key areas:
SEO strategy development
Technical SEO monitoring
Link building
SEO systemization
Content marketing strategy consulting
Ongoing performance monitoring
---
Our Growth Catalyst Solution Isn't Going Anywhere
We still offer content marketing services through our Growth Catalyst solution.
Customers of this service receive the following:
A comprehensive, SEO-focused content strategy built around a target audience
Multiple long-form articles each month
Backlinks to help your site earn credibility and rank higher in search engines
Ongoing reporting and consultation calls
Our Growth Catalyst team continues to drive fantastic results. Here's a case study that shows how we increased one client's leads by 790% in less than three years.
---
SEO and content marketing can both be valuable investments for your business, especially when used in tandem. In fact, 60% of marketers say that inbound marketing channels like SEO and content marketing are their biggest lead drivers.
If you want to start using these channels to increase your website's visibility and get more customers — or if you want to learn more about your options — send us a message and we'll be in touch.
SCALE YOUR ORGANIC TRAFFIC
Subscribe to our monthly newsletter