Content marketing is one of the smartest investments that you can make in your business.
Unfortunately, far too many businesses get it wrong.
They get too salesy. Or they ignore SEO.
Today, we're going to walk through the seven most common content marketing mistakes that cost businesses thousands of dollars per year.
We'll delve into each of these common mistakes one-by-one.
We'll give you a full breakdown of each of those mistakes, as well as the exact approach that we take to avoid each of those common mistakes and maximize the ROI of your content marketing efforts.
But first…
---
Why Invest in Content Marketing?
Investing in content marketing is like hiring salespeople that work 24/7 to help your customers when they are looking for you.
Content marketing is a way of providing your potential customers with informative answers to the questions that they're searching for online. Those customers will then come to you when they're ready to make a purchase.
Still not sold? Read about the top 13 benefits of content marketing to see why content marketing is so valuable.
---
The 7 Biggest Content Marketing Mistakes to Avoid:
1. Not using data to build your content marketing strategy:
Many companies build their editorial calendar by "brainstorming" blog topic ideas that they think would be a good fit for their blog.
We call this the "see what sticks" method. A group of people writes down every blog topic idea that they can come up with. They add these ideas to their editorial calendar for the upcoming year and start publishing content.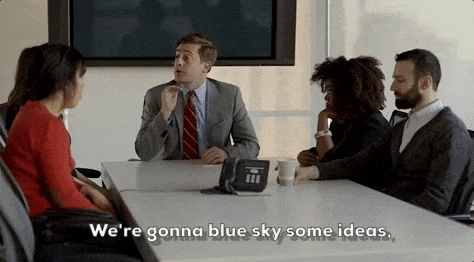 Image credit to Giphy
Sure, some of those ideas may turn out to be great content. Unfortunately, the majority of them will flop.
Why? This team didn't have any data to justify that their customers are interested in reading about those topics.
What we do instead
Our content strategies start with data. We analyze a client's competitors to see which blog articles are driving the most ROI for each competitor.
We then analyze these top-performing articles one-by-one to see what it would take to outrank a competitor in search engine results pages (SERPs) for their given blog topic. As part of this analysis, we ask ourselves the following questions:
How long are these articles?
How actionable are these articles?
If I was searching for an article on this topic, would I find everything that I was looking for by reading this?
How many backlinks do these articles have?
We then find the weakest links. We figure out which topics we could do a better job writing about. Then we add those topics to our editorial calendar.
From there, we go to social communities like Quora and Reddit and search for topics that relate to a client's industry to find the most popular topics that the client's customers are talking about on a daily basis. We add those topics to our editorial calendar.
A few hours later, we have a year's worth of blog topics that have a proven ROI.
---
2. Not defining your reader
Each blog article should start with a clear definition of your target market.
Start by asking the following questions:
Who is the target audience of this article?
What needs to be included in this article for them to find what they're looking for?
What value does this reader provide to our business?
Answering each of these questions will help you to understand how to position the article.
An article intended for a technical specialist should have much more in-depth details than an article intended for a C-suite executive.
After identifying who would benefit most from the given topic and what to include within the article, circle back and make sure that this reader provides value to your business.
One of our target readers is marketing specialists – the people who are writing blog articles, optimizing websites, and more every day.
Why?
If we write quality content that helps them to grow as marketers, they are more likely to see us as an authority in digital marketing.
Those who do become regular readers and share our articles throughout their network, which boosts our visibility among other marketers who also become regular readers and share our articles.

A good starting point is to create groupings of "target readers" – people that you want to read your blog. What are each of these readers searching for, and what value do they provide to your business?
Related: see exactly how blogging results in more money for your business.
---
3. Not determining the goal of each content marketing topic
Unless you're selling packs of gum or other items with a small price tag, most of your customers won't be ready to hand over their wallets the first time that they hear about you.
Borrowing an image from our friends at HubSpot, customers go through a process before making a purchase.
Awareness – customers realize they have a problem that needs to be solved
Consideration – customers research their problem and explore different types of solutions
Decision – customs decide on a solution to solve their problem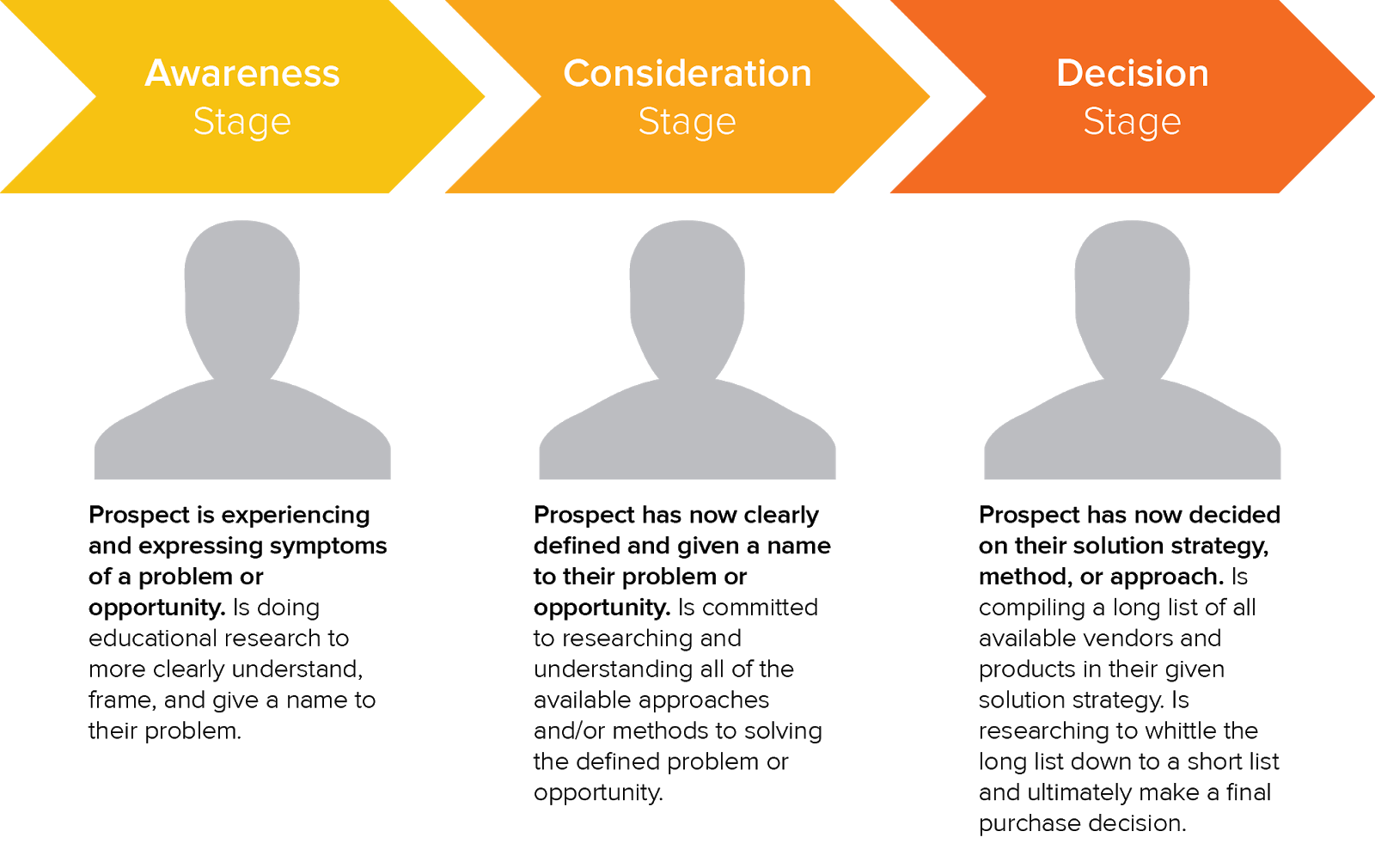 So what stage of the purchase process is your article intended for?
Nobody reading our article about backlinks is going to say, "Oh, so that's what a backlink is. I'm going to hire this team to help me scale my business."
However, someone reading this article might go on to say "wow, backlinks sound really important. I'm going to read more articles by this company to see how I can build more backlinks."

Before writing your next article, write out "the target reader of this post is in the ___ stage of the process" until you start thinking about this subconsciously with every article that you write.
---
4. Not accounting for SEO
What if we told you that investing in item A drives 10x more ROI than investing in item B?
How much would you invest in item A?
Search engines drive 10x more traffic to your website than any other marketing channel, so investing in SEO should be your first priority when trying to grow your business.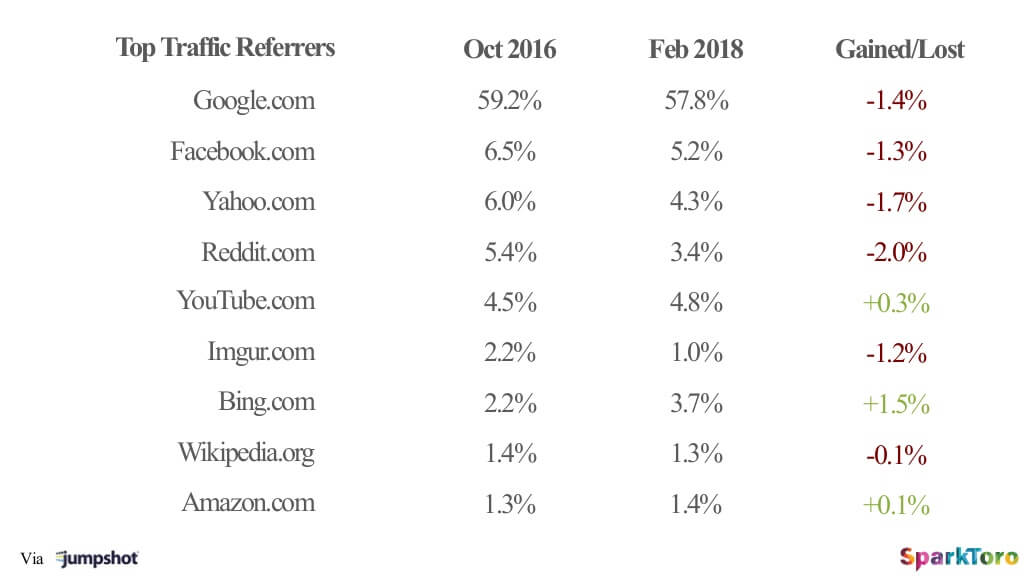 But where do I start?
Start with an SEO foundation (see this SEO foundation guide for a DIY approach to this).
From there, account for SEO in your content creation process. The basic items include:
Doing keyword research to find ideal keyword targets
TF-IDF optimization to account for semantic search
H1, H2, H3, and title tag optimization
Plus much more
The easy way to do this is to look into our content marketing services to see what it would look like to partner with us to help you maximize your content marketing ROI.
---
5. Failing to account for link building
According to an April 2020 study that analyzed 1 million search results, the number of links from external websites is the ranking factor that is most closely correlated with ranking at the top of Google search results.
Put in layman's terms, if you have more unique websites linking to you than your competitors, you're probably going to rank above them in Google when customers are looking to buy from you.
So how do you start building links?
Approach 1:
Take time to build relationships with other websites that write about similar content.
Spend weeks getting to know these companies and offering value to them.
Eventually, try asking them to link back to your recent piece of content and see what happens.
Approach 2:
Work with our team.
We're constantly building relationships with new content writers and sharing valuable content with them that they find most helpful. Through the process of developing these relationships, we encourage them to link back to the best content that we help clients to write.
Want to learn more? Read our link building case study to see how we helped one hosting provider to grow 35% (in 3 months).
---
6. Not reviewing content marketing performance
The biggest content marketing mistake that we see businesses make is failing to take the time to review the performance of their efforts.
Why should you take the time to review content marketing performance?
If something is performing better than expected, you can double down on that specific tactic.
If something isn't working, you can cut that specific tactic to focus on more valuable initiatives.
At a minimum, take time every three months to review content marketing performance with your marketing team (we review performance every month).
Assuming you meet every quarter, ask them the following questions:
How did our total website traffic, leads, and sales perform over the past quarter compared to the previous quarter?
What marketing channel made up the largest portion of website visitors, leads, and sales over the past quarter
What marketing channels drove the highest ROI over the past quarter (in terms of website visitors, leads, and sales)
What types of content drove the highest levels of traffic, social media shares, leads, and sales?
---
7. Not considering outside experts
57% of B2B marketers say that SEO generates more leads than any other marketing initiative.
Can your business afford to miss out on your best possible sales tool while you take the time to become an expert at content marketing?
If not, then fill out our consultation form to see what it would look like to partner with us, or read our data-backed comparison to see if you should hire a digital marketing agency to help you grow.
If yes, then download our content marketing playbook to see what we recommend doing to build a content marketing machine.
Hungry to learn more about content marketing? Sign up for our email list. We'll make sure that you're the first to know about our newest content marketing insights.
SCALE YOUR ORGANIC TRAFFIC
Subscribe to our monthly newsletter