How Do You Create a Great Content Strategy?
Our team builds content strategies that drive results for clients daily. Towards the end of 2019, we stepped back and defined what a top-tier content strategy looks like.
But first …
How do most content marketing services build content strategies?
There are a lot of great content marketing agencies out there. From our experience, most of these agencies take a very similar approach to building content strategies.
Their content strategist:
finds topics about the client's industry
conducts keyword research to see which topics have strong search volumes
runs a content audit to see which topics already exist on the client's site
removes keywords with high keyword difficulty scores
adds all remaining topics to the editorial calendar
And BOOM! Their 12-month content calendar is done.
So what's the issue here?
We have two issues with this approach. This strategy assumes that:
All keywords have equal value.
Search terms with low search volume aren't worth writing about.
---
How Do You Build a Top 1% Content Marketing Strategy?
Over the past 20 months, we've written 932 articles, averaging 47, 1,000+ word articles/month.
In that time, we've learned a lot about what makes a great content strategy.
Successful content marketing strategies consist of a mixture of four types of content creation:
1. Awareness Content
Awareness content, or top-of-funnel content, focuses on driving more visibility for your brand. These articles drive visitors to your site who are searching for themes that are no more than one degree removed from what you do as a business.
These topics won't directly drive sales. However, these articles become valuable resources that other blogs link to as resources for their readers. These backlinks steer search authority back to your article, as well as each page that your article links to.
Content marketing services specialize in publishing content about awareness topics.
Topics are defined by data-driven keyword research. These topics put search engine optimization (SEO) first to drive your target audience to your website when they search online to educate themselves about their pain points. When well written, these articles rank in the top 10 positions on Google for dozens of keywords that drive traffic to your site.
Great content services understand that they can hire talented writers, train them to be grade-A researchers, and coach those writers to deliver a great version of these types of articles.
The goal of these articles is to educate your readers, build site authority, and build brand awareness.
A great content marketing agency will recognize that they are best suited to help your team write these types of articles.
Some examples of Awareness Content from our blog:
More on how these articles indirectly drive sales here
2. Thought Leadership Content
Thought leadership content positions you as an expert in your industry.
These content pieces offer a unique perspective based on your experience spending many years on your trade.
Thought leadership content could come in the form of:
A step-by-step process
A prediction about where your industry is going
An in-depth breakdown of an advanced concept in your industry, etc.
These content pieces position you and your company as leaders in what you do.
When written effectively, your competitors will share these posts on social media and bookmark them for future reference, helping build your credibility as an influencer.
Many of these topics won't have any search volume behind them. They fall into the category of "unknown, unknowns" — topics that people don't know that they don't know.
As a result, you'll have to get creative with finding ways to push this content out to your readers.
A few tactics that we've found effective in boosting the visibility of these content pieces:
Invest in Facebook Ads and other forms of paid promotion to increase visibility
Link to these articles in your Awareness Content pieces that you write
Answer questions on Quora that relate to the topic and include a link to your article
Share it on your social media channels
Thought leadership content increases the trust that others have in you as an expert and the perceived value that each piece of content on your site holds.
While Awareness Content increases your visibility, Thought Leadership Content proves that you know what you're talking about.
Thought Leadership Content, therefore, increases the likelihood that others will pay for your products/services.
Examples of Thought Leadership Content from our blog:
3. Sales Centric Content
Sales Centric Content comes in two forms:
Revenue Creators convert leads into customers.
Revenue Preservers provide a better customer experience to existing customers and encourage them to buy from you in the future, or recommend your business to their colleagues.
These content pieces answer questions that come up in discussions with prospects/existing customers to:
Provide well-constructed resources that empower your sales team to answer difficult questions more effectively.
Are optimized for SEO and placed throughout your blog to increase the ease of access for prospects when they research your business.
These can also serve as customer service-centric articles that help current customers to overcome common issues (and increase the likelihood that they'll continue working with you over time)
Some businesses share sales content as a form of gated content on their site. Gated content requires prospects to share their name and email to access the resource.
Our personal preference is to leave this content ungated and publicly visible.
However, both options have pros and cons.
Sales content is unlikely to drive new visitors to your site. Search volumes are often minimal for these types of topics.
Instead, sales content helps convert those who are interested in your services to decide if you're the right solution for their needs.
Effective sales content is as much about turning away prospects as it is about converting prospects into customers.
One of our favorite types of sales content is Comparison Content.
Comparison Content
This content includes a clear positioning of what your team is best at and who should work with you. This content also identifies other potential solutions and which prospects would benefit from those solutions.
Another common type of sales content is Success Stories (or case studies).
Success Stories
These could be as simple as including customer reviews on your website to show proof of the quality of your products/services. Success stories could also come in the form of a full case study identifying the problems that a customer was dealing with and exactly what your team did to solve that problem.
For example: How we helped Physicians Thrive grow leads by 790%
A few other examples of Sales Centric Content:
4. Culture Content
Culture Content focuses on showcasing members of your company and your team culture.
Our friends at Hotel Engine offer great examples of this on their About Us page.
They feature recent company updates including:
Awards that they've won for their company culture
Volunteer projects that their team works on
Their "Coffee with me" interview series, where they interview members of their team to learn more about them
Their website is jam-packed with resources about how great their company is. Each of these company updates creates an additional opportunity for members of their team to share the article on social media with their own notes about how much they enjoy working at Hotel Engine.
Our Growth Project Manager, Lauren White, offers another great example of this in her What it Means to Work at Intergrowth article.
She wrote this in early 2022, talking about her experience in the first year of being on our team. She shares her favorite parts about the role, her views our our Company Values, and pulls in anonymous GlassDoor reviews from other members of our team sharing their experiences on our team as well.
Culture Content serves two purposes:
It promotes the amazing people on your team to all of your followers, helping them to enhance their personal brand
5. Bonus: Pillar Content
Pillar content is the definitive resource on a broad subject matter.
This type of content provides a broad overview of every facet that falls under the parent category. Each of these facets can be converted into its own separate, full-length article, that is nestled under the content pillar.
For example, we published an article about content marketing in 2021. This article delves into the core facets of content marketing.
Over time, we've written separate articles about B2C content marketing, Pattern Interrupts, and many additional in-depth resources about various facets highlighted in this article. Each of those content marketing articles is published with the following URL structure:
/content-marketing/[sample-URL]/
This content marketing guide then links out to these resources for those looking for more in-depth information about each topic than the 3-5 sentence overview that we share in the content marketing pillar page. Each additional content marketing article then links back to our content marketing pillar page for those looking for a broader overview of content marketing.
The depth of subject relevancy enables these pillar pages to rank for broad, high-value search queries that serve as the "pillars" of your business.
A secondary benefit of pillar pages is that they provide a hub to link out to the thought leadership content that website visitors would otherwise miss on your website.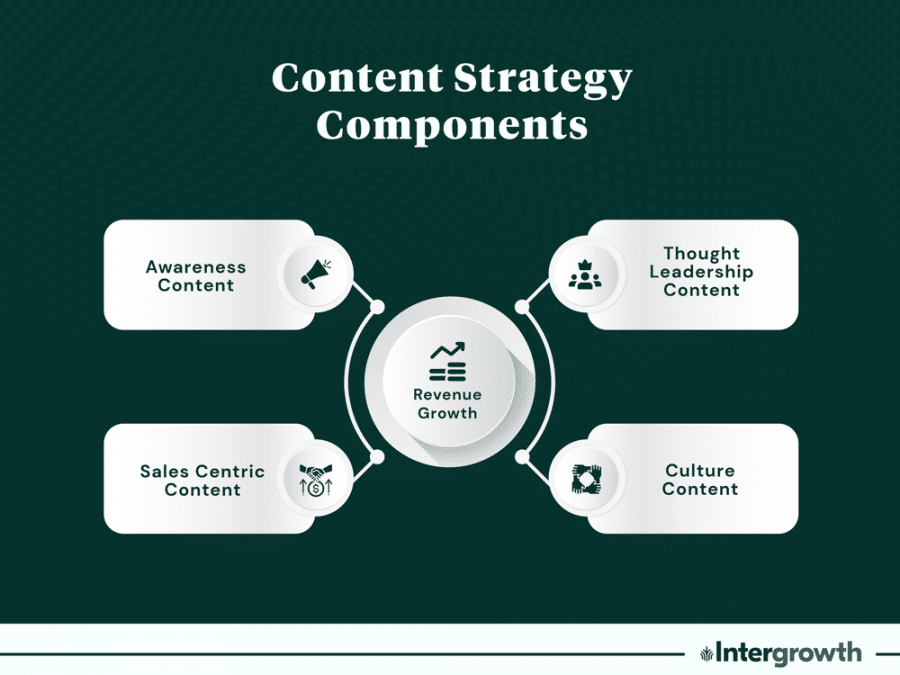 Related: Great content marketing achieves one goal. The best content marketing achieves multiple goals. Steal our secret to writing Dual Purpose Content.
---
Who Should Be Responsible for Each Content Type?
We break this down into four ownership groups:
1. Awareness Content
This should be written by content marketers who specialize in writing effective content.
2. Thought Leadership Content
Your internal team should write this content, specifically those who work with the products/services that you sell to customers.
3. Sales Centric Content
This content can be written by your sales team, customer service team, or marketing team. However, if putting your marketing team in charge of this content, make sure that they work closely with your sales and customer service team to understand which topics to focus on first and how to position the answers to those topics.
4. Culture Content
Your internal team should write this content. Our recommended approach is to have the HR department collaborate with the marketing team to build out the framework for this type of content and divvy up responsibilities in creating this content.
For example, if taking Hotel Engine's approach of conducting team interviews, a member of your HR team might conduct the initial interviews, share their notes with the marketing team, and put marketing in charge of converting those notes into a full article.
5. Pillar Content
Your content team should write this. However, your marketing team must receive feedback about the core facets that each pillar should delve into. Our standard approach is to have our team construct an outline of what we plan to cover and send that outline to clients before starting the writing process.
Ready to get serious about scaling your business through content marketing? Contact us to see how we can help you scale your business today.
Related: see how our content strategy helped one SaaS company grow its leads by 82.8% in 10 months.
SCALE YOUR ORGANIC TRAFFIC
Subscribe to our monthly newsletter