Search engine optimization, or SEO, can help you to connect with more insurance customers.
We'll explain how it works and why it could be a great investment for your business in the guide below.
---
How Insurance Businesses Benefit from SEO
66% of customers use Google and other search engines to research a product or service.
But type the word "insurance" into the Google search bar, and you'll see more than 1.5 BILLION results.
SEO can help you to get your website at the top of the search results when people are conducting those searches.
And here's an important point:
SEO helps you to rank organically. We're not talking about sponsored ads here.
How does that translate to website visitors?
Let's look at one example:


The term "cheap renters insurance" gets typed into search engines 13,000 times every month.
With a near-30% CTR, ranking at the top of Google for that term could drive around 3,800 monthly visitors to your website.
If you have even a 1% conversion rate, that single keyword ("cheap renters insurance") could bring you 38 new customers every month.
Businesses in every industry have made SEO a priority because it works. Until you make SEO a part of your overall marketing strategy, you'll never get the visibility you deserve.
---
SEO Strategies for Insurance Businesses
Here are four ways to build an SEO-focused marketing strategy that can help you grow your business, regardless of the type of insurance you sell.
1. Optimize Your Meta Titles to Help Google Understand What Your Pages Are About
One easy way to improve your SEO rankings is to tell Google which searches you want each page to appear in. You can do this by changing your page meta titles (here's a guide on how to do it in WordPress).
This won't skyrocket you to the top of Google, but it will at least ensure that you appear in relevant searches.
For example, let's say that you have different service pages for the different types of insurance you offer:
Car insurance
Motorcycle insurance
Boat insurance
ATV insurance
RV insurance
On a very basic level, your meta titles for those pages might look like these:
Car Insurance | [Your Company Name]
Motorcycle insurance | [Your Company Name]
Boat insurance | [Your Company Name]
ATV insurance | [Your Company Name]
RV insurance | [Your Company Name]
Note: You can (and should) try to make your meta titles more appealing to searchers so that they choose to click your link over the other links on the search page. For instance, you might use a title like "Car Insurance | Get a Free Quote Today!" to attract searchers who are interested in an auto insurance plan.
2. Start a Blog About Insurance
Blogs can improve lead generation, draw traffic to your website, and build brand awareness, all of which can make selling insurance much easier.
By writing and publishing blog posts that appeal to your target audience, you can bring customers to you without ever having to make a cold call, mail a flier, or do time-consuming outreach.
What Should You Blog About?
If you're writing your own blogs, your goal is to identify what types of relevant keywords your target audience types into Google and to write blogs about those.
These keywords might be closely or tangentially related to insurance.
For instance, it might be valuable to target the keyword "best auto insurance" and include your company in the list.
But it could be just as valuable to target a term like "how to parallel park." It's a popular keyword that can drive a lot of traffic to your site, and it gives you the opportunity to advertise your auto insurance to a qualified audience (people who drive).
Keep in mind that some keywords are very difficult to rank for because a lot of other sites are competing for those same keywords. For instance, you aren't likely to rank for the term "home insurance" on day one because that results page is dominated by insurance giants like Allstate, Geico, and Progressive.
However, you can still get in front of your target customers by going after niche keywords with lower competition.
Learn how we helped one insurance business grow by 790%!
3. Build Backlinks from Other Websites
Link building is an essential component of any SEO strategy. The more high-quality websites that link back to your site, the better.
Backlinks are links from external sites. Search engines see them as an indication that your content is valuable enough to be included in another blogger's post.
You'll acquire backlinks organically if you write good blog posts. The higher you rank in search results, the more likely you are to get them.
But it's a bit of a chicken-and-egg situation because you need them to become one of the top results, yet you'll get more once you reach the top of the results page.
Don't worry; there are some ways to build links before your blogs start rank.
For example, you can use PR platforms like Help a Reporter Out (HARO) and Help a B2B Writer to connect with writers who need sources for their own content. When a blogger or journalist needs a quote from an insurance expert, they'll put out a call, and you can chime in to offer your insights.
If the writer decides to use your quote, they'll usually link back to your website.
PR outreach isn't the only way to build backlinks. Read this for some more techniques.
4. Target Local Insurance Searches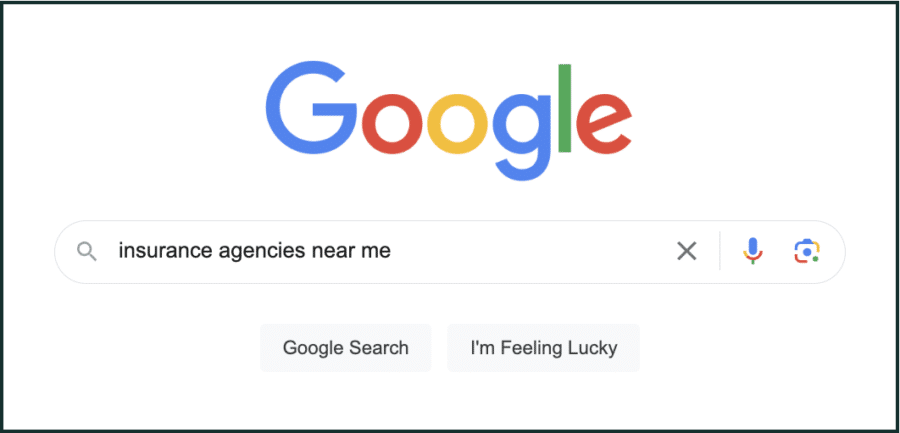 You can increase revenue and drive traffic to your insurance website by adopting a local SEO strategy for customers in your regional market.
While many customers turn to nationally recognized insurance agencies for their policies, many rely on a local agent. That means that their search query in Google is likely to be a local search, such as "where to buy car insurance in [my town]" or "where to buy car insurance near me."
You can take your SEO strategy up a notch by optimizing your on-site pages, meta titles, meta descriptions, and blog posts with the name of your city or state.
Claim Your Google Business Profile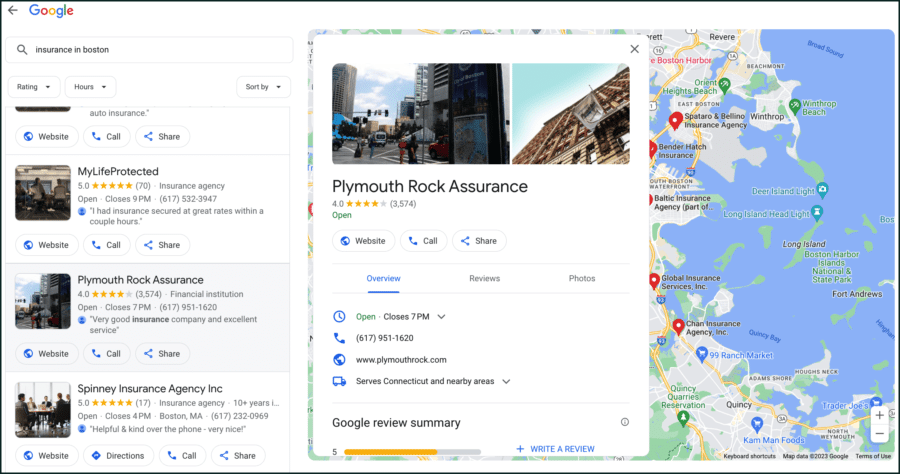 When people search "insurance companies near me" or "insurance companies in [my town]", the results that show come from your Google Business Profile. If you don't already have one or haven't yet claimed yours, do so now.
You'll want to provide all of the most up-to-date information about your business:
Phone number
Physical address
Email contact
Website
Services offered
Office photos
Operating hours
That way, it will be easier for customers to contact you.
Ask for Customer Reviews
One way to build your online profile is to encourage customers to leave honest reviews on Google My Business, Yelp, and other online review sites, as well as your company's website.
Prospective customers often rely on reviews from existing customers to determine whether or not they should choose a particular insurance agent. The more local reviews you have, the more trust you'll build with potential new customers.
Plus, positive testimonials from real customers are excellent marketing tools!
Testimonials also help with SEO because prospective customers can see that you're engaging with your brand. The more engagement you have, the more likely it is that your website or Google Business listing will be pushed to the top of the search results.
5. Use Email Marketing to Supplement Your SEO Campaigns
Email marketing isn't technically an SEO tactic, but it can make your SEO efforts more effective.
Here's why:
Your SEO content will help you attract website visitors. If you can get some of those visitors to subscribe to your mailing list, then you'll be able to keep in touch with those potential customers.
At the same time, you can use your mailing list to promote the new blog posts on your website.
As long as you provide your subscribers with relevant emails that contain useful information, they'll continue to read them (or at least remain on your subscriber list).
Your emails might also include reminders to renew existing policies or offers to bundle policies or switch policies and save money.
Depending on how your email newsletters perform and how many clicks they generate, you can send them as often as once a week or as little as once a month.
---
Partner With an Agency for Access to SEO Experts
It's tough to make time for keyword research and blogging when you're focused on selling insurance.
That's okay — that's what content marketing agencies are for.
A content agency can handle all of the work involved in promoting your agency online. Doing it on your own can save you money, but if you don't have the time or the experience to do it yourself, hiring a pro to handle it for you is well worth the investment.
Intergrowth® can manage your SEO efforts from beginning to end:
Content strategy
Keyword research
Editorial calendar planning
Content creation and editing
Publishing
Promotion and link -building
Performance tracking and measurement
We hold monthly reporting calls, too, to brainstorm new opportunities and to report on your content's performance so you can see the return you're getting on your investment.
Related: Should You Hire an Outside Agency or an In-House Marketer?
---
Whether you're an insurance company, an independent agent selling insurance in a local market, or a licensed agent working for a nationally recognized company, you can benefit from SEO.
Ready to hire a digital marketing agency to drive organic traffic to your website? We'd love to chat!
Learn all about our SEO consulting and content marketing services here.
SCALE YOUR ORGANIC TRAFFIC
Subscribe to our monthly newsletter