A content strategist's responsibilities vary from company to company.
If you work for a large corporation, your entire job might be to manage the editorial calendar. If you work for an SMB, you may be responsible for a wide range of tasks, some of which don't even involve strategy (like project management, for instance).
The job title means different things in different types of companies, too. A strategist working in a marketing agency and one working for a single company don't have the exact same job description.
Either way, the goal is to get the right message in front of the right people, ultimately driving sales.
Below, we'll discuss how content strategists achieve this goal. We will focus on digital content for the most part, but several aspects apply to non-web content as well.
Although the exact nature of the content strategist role varies depending on the context, these are some of the day-to-day tasks in which most strategists are actively or indirectly involved.
---
What Does a Content Strategist Do?
A content strategist's day-to-day responsibilities involve some combination of the following tasks:
Brand discovery with new clients
Content audits for new clients
Competitor analysis
Editorial planning
Content creation
Project tracking and analysis
Keep reading to learn more about each of these responsibilities.
---
Brand Discovery With New Clients
In agencies that create content on behalf of other clients, strategists must start by getting to know the client and learning about their content needs. This process is known as the "discovery" process. In-house marketers work through a similar process with products instead of clients.
During the discovery process, you should learn about the client's:
Ideal customer: Who is the target audience?
Products/services: What solution do they offer to their ideal clients' problems?
Brand identity: How do they want the public to perceive their company?
Brand voice: How do they want to "sound" to their audience?
Company values: What does the company represent/think is important?
History: When the company was founded, by whom, and how did it grow over time?
Competitors: Who else offers similar products and targets a similar ideal client?
Most importantly, you should learn about the client's business objectives.
Are they investing in content marketing services to promote a specific product?
Is their goal to increase walk-in visits to their physical locations?
Do they simply want to increase organic web traffic in hopes that it boosts revenue?
What are their lead generation goals?
Whatever the case, this information will help you develop content campaigns that align with your client's brand, goals, and, ideally, their target audience.
Note: Content strategists aren't necessarily the only people conducting client discovery interviews. In many companies, that's an account manager's role.
However, a strong discovery interview is crucial to a great content marketing strategy. Whether they conduct the interview or not, strategists should always be thinking of new questions for clients and stakeholders and ways to improve the discovery process.
---
Content Audits for New Clients
Whether you're doing content marketing for your own company or a client's, the first step is to look at the existing content to see how it's performing. This will show you what you or your client is doing correctly and where the content could improve.
Later on, when your content strategy is ready to put into action, making those improvements is going to be the first task on your to-do list.
These tasks might include:
Updating Metadata for Search Engine Indexing
Metadata is all of the information on a website that doesn't show up on the page itself. Title tags, for example, let search engines know what your website is about so that they can index your pages properly.
Updating these tags and other metadata can be helpful for search engine optimization (SEO), increasing the site's visibility in related searches.
Restructuring the Site Architecture
It's easy for websites to get disorganized, especially if you have a lot of different pages. But when a site is well-organized, it's easier for users to navigate, so they're more likely to stick around. For this reason, digital marketing strategists often set aside some time to examine the information architecture of their clients' sites.
A well-organized site is good for SEO, too, as it helps search engines to identify the topic of each page and index it accordingly.
Deleting Underperforming or Useless Content
Most sites have at least some content that doesn't need to be there.
This includes:
Pages with low or no traffic
Old versions of pages that have since been updated
Duplicate pages that have made their way online somehow
Use a tool like Ahrefs or SEMrush to identify those pages. If you can't or don't want to improve them so they actually add value to your site, delete them.
It is important to curate existing content, keeping only engaging content that performs well. Google only indexes so many pages on each website, and underperforming pages could steal attention from the effective content you actually want the crawler to notice.
Suggesting Improvements to Pre-Existing Content
There's a chance your client's site already ranks on the first page of the SERPs for some keywords or is close to doing so. That's great — a few small improvements could give those pages the nudge they need to slide onto the first page of Google's results for target keywords.
Also, if your client's current website lacks basic information, such as their address, phone number, social media handles, or operating hours, you'll have to let them know. Even if your contract is for blog content, it'll benefit you both to have them update their home page.
After all, if you're creating blog content for a restaurant but they don't have a menu on their site or a Google My Business page, your content is probably not going to meet user needs, no matter how well written it is.
---
Competitor Analysis
No brand exists in a vacuum. Every company has competitors, and those competitors have their own content strategies. Watching what and where competitors publish online can tell you what and where you need to publish online.
This is one of a content strategist's primary jobs: to analyze the competition's content, then use that information to develop their own strategy.
Maybe there's a low-difficulty/high-volume keyword they aren't targeting, for example, leaving the opportunity for you to go after it. Or maybe they have a blog that's driving traffic to their website but isn't very long. A good strategist would recognize that opportunity and set out to create more usable about that topic.
Competitive Keyword Research
Simply put, keyword research is a way to find topics to make content about. More specifically, it's a data-informed way to find topics to make content about.
Using keyword research tools like Ahrefs, you can learn:
Which terms people are searching for the most
Exactly how many people are searching those terms each month
How difficult it will be to show up on the first page when people Google those terms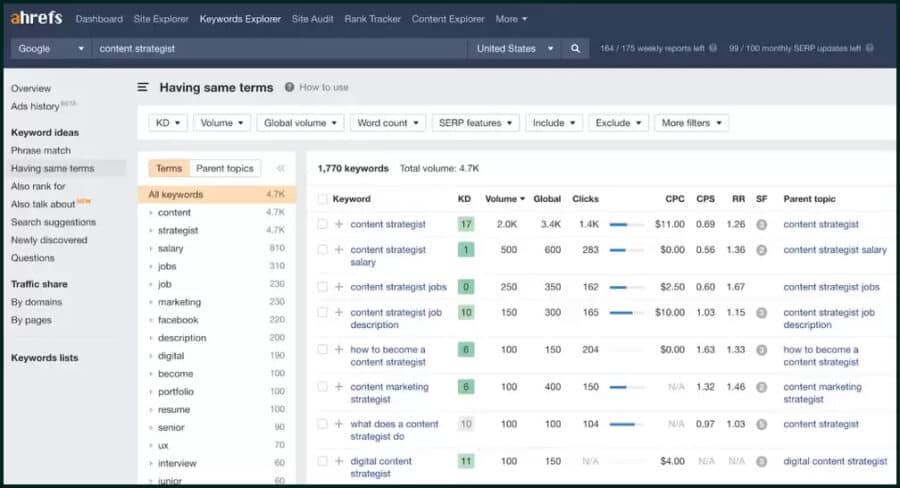 You can also see which keywords your competitors rank for. In other words, you can see which Google searches are driving organic traffic to their site and whether or not it's possible for you to also rank for those searches (based on your site's current reputation/rating).
During the competition analysis process, the content strategist looks at all of this info. They determine which keywords are worth targeting and which aren't realistic to rank for. They also look for keywords that are possible to rank for but that competitors aren't targeting.
Related: The Core Roles on an Established Content Team
---
Editorial Planning
With a list of keywords in hand, you can start brainstorming content ideas around those keywords. The goal is to create an editorial calendar, or a long-term plan for creating content and publishing it online.
A talented strategist considers many different factors when coming up with good content ideas.
For instance, the strategist will also think about the company's brand persona.
What are they good at?
What do they do better than their competitors?
How can the content communicate this?
They'll also think about the target audience. What type of content do they like most? And what kinds of questions are they asking that other content doesn't answer?
In other words, if you find a search question with a high volume but no sufficient answers on any page, that should go at the top of your editorial calendar. Even if there is a page but you think you could do it better, it should be a part of your marketing plan.
Tip:
One foolproof way to find good blog topics is to go to online communities like
Reddit
and
Quora
to find the most commonly answered questions. If people ask a question over and over on a forum, it means that there's probably not a sufficient answer on Google. Your page should be that sufficient answer.
Building a Content Publication Timeline
The final calendar should include (at the very least):
The title/topic of each piece of content
Content type (blog, white paper, infographic, etc.)
Content goal (build brand awareness, convert sales, etc.)
Author/creator
Publication deadline
Try to plan your editorial calendar 3-6 months out if possible. We recommend reviewing the content plan after each quarter and updating your plans when you need to. This also gives you space to alter your calendar to accommodate changes in the competitive landscape.
---
Content Creation (or Managing Content Creators)
This is one place where the job description differs depending on the marketing team or company, particularly the company size.
In a large corporation, the strategist usually isn't involved in content production — they're probably managing several campaigns at once and focus solely on strategy.
In a smaller company, however, the strategist might be responsible for copywriting, video editing, or other content creation tasks. They may also be responsible for publishing the content through the company's content management system.
Now, that's not always the case. Some boutique marketing firms have a full-time staff of in-house writers, editors, and publishers. Others contract the work out to freelancers. But, if the strategist isn't responsible for creating the content themselves, they're probably working with or managing the people who do.
Related: Should I Hire a Marketing Agency or an In-House Marketer?
---
Project Tracking and Analysis
This is the most important step in any marketing campaign: review, tracking, and analysis.
The content strategist uses tools like Google Analytics, Search Console, SEMRush, and Ahrefs to measure the content's performance against various metrics. The exact metrics they choose to measure depend on the campaign, the client's business goals, and a number of other factors.
Some examples:
How much organic traffic did this blog drive to the website?
How many white paper downloads or email subscription signups did it generate?
What is this web page's SERP ranking on Google?
Tracking these metrics from the moment new content is published will let you know how the piece is performing. When it's not performing up to par, you can make edits to improve it. If it exceeds your expectations, you can analyze it, learn from it, and apply what you learned to some of the underperforming pieces on your site.
---
While the exact role of a content strategist varies depending on the context, the goal is always to provide something valuable to the audience. Whether it's text, images, graphic designs or some combination of the three, strong content can build brand awareness and steer potential customers toward a conversion.
The key is to provide content that the audience needs, though, and that's the strategist's job. If you have a knack for analyzing audiences and can provide the content they're seeking, you'll be a valuable asset to any company.
Looking to hire a content strategy team? Let's schedule a call and see if we can help.
SCALE YOUR ORGANIC TRAFFIC
Subscribe to our monthly newsletter