Ecommerce is the future.
Every day, more people choose online instead of retail purchases. Yet, only 14.3% of sales happen online.
In other words, now is the perfect time to build an ecommerce business.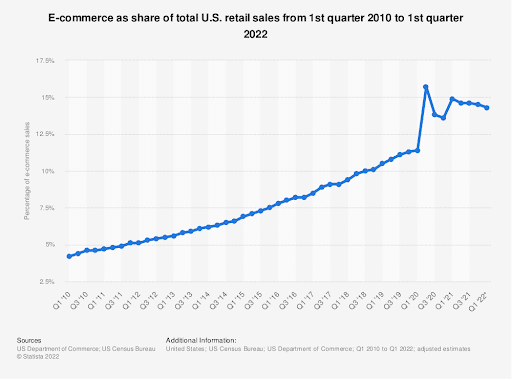 Today, we're sharing the formula we use to help DTC brands grow exponentially through content marketing.
We'll map out how to find the perfect types of content to write about, identify realistic ranking goals that will generate more sales, and assess your progress to drive better results moving forward so you can implement the same strategy for your business.
Prefer to work with experts who do this every day? Tell us a little about yourself and we'll schedule a complimentary consultation call.
But first: why content marketing?
---
Why Should Ecommerce Businesses Focus on Content Marketing?
Content marketing is one of the best investments you can make in your business.
Every month, thousands of your potential customers go online to read about products before making a purchase.
Content marketing focuses on uncovering what customers search for, creating an informative answer to help those customers, and steering those customers towards buying from you instead of a competitor.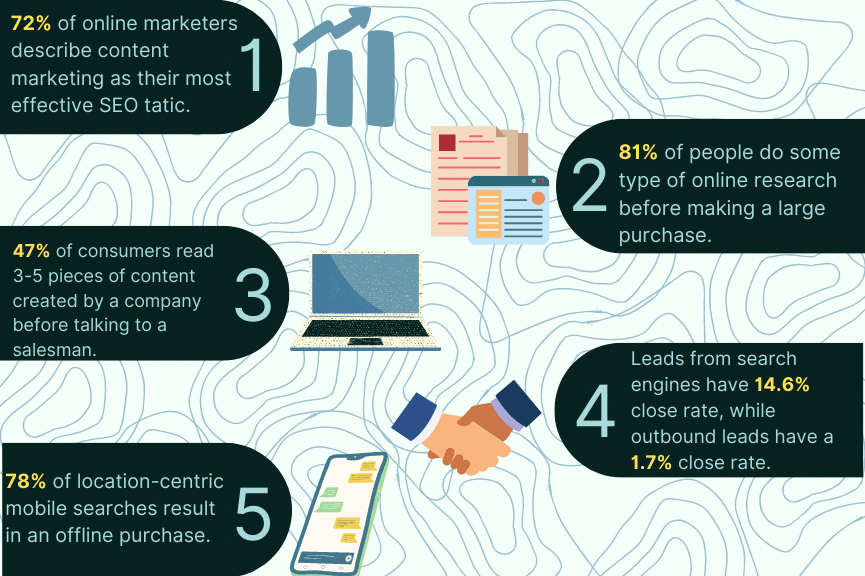 More on the benefits of content marketing here.
One Note about SEO vs. Content Marketing
TL;DR Search engine optimization and content marketing are far more alike than different. We consolidate the two of them to help ecommerce businesses grow. More on that below.
Most businesses refer to "content marketing" as writing and promoting great content and "search engine optimization" as the tactics that help your ecommerce website to rank higher in search results.
There are unique components to each. However, content marketing and SEO have a symbiotic relationship with each other. While tactics will vary, both focus on providing your customers with a better website experience and serving them the solutions that solve their problems.
---
Our Proven Ecommerce Content Marketing Strategy
We break our content strategy into four components
Audit yourself and your competition
Identify what types of content to focus on
Map out short-term vs. long-term ranking goals
Review performance and pivot for better results
1. Audit Yourself and Your Competition
The first step to growing your business through content marketing is to understand how you stack up against your competition.
Start by auditing your largest competitors. Lauren White breaks down our whole process for analyzing your competitors here.
Map out their top-performing content, most valuable keyword rankings, pages that generate the most links from other websites, and more.
Next, take your ecommerce site through the same process.
Ask yourself the following questions:
Where do your competitors outrank you?
What pages do your competitors have that you lack?
What types of content are they publishing on their site?
Group those keywords into buckets you can write in-depth resources about.
When in doubt about whether to create two separate resources for two keywords, ask yourself whether you can create one resource that would leave someone searching for those two independent keywords satisfied. If not, create two different resources.
2. Identify What Types of Content to Focus On
The most successful ecommerce businesses concentrate their content efforts on distinct content goals.
We break this into four components:
Awareness Content
Sales Centric Content
Thought Leadership Content
Culture Content (we'll skip over this one for now)
Awareness Content drives exponential growth in brand awareness. Awareness Content consists of broader, educational resources your target audience searches for online.
Sales Centric Content drives more conversions and revenue. Sales Centric Content consists of:
Resources about how your product solves customer pain points
Comparisons of your product to competing solutions
Case studies/testimonials from other customers
Customer support resources that provide a better experience for customers and encourage repeat purchases (ex. product tutorials, FAQs, etc.).
Thought Leadership Content attracts the whales of your industry to lend your brand more credibility. Thought Leadership Content consists of unique processes, industry predictions, and other insights that require years of industry experience to create.
While this content won't see much visibility, getting it in front of industry leaders will encourage them to follow you and share your content with their audience on social media, thus increasing your brand's credibility.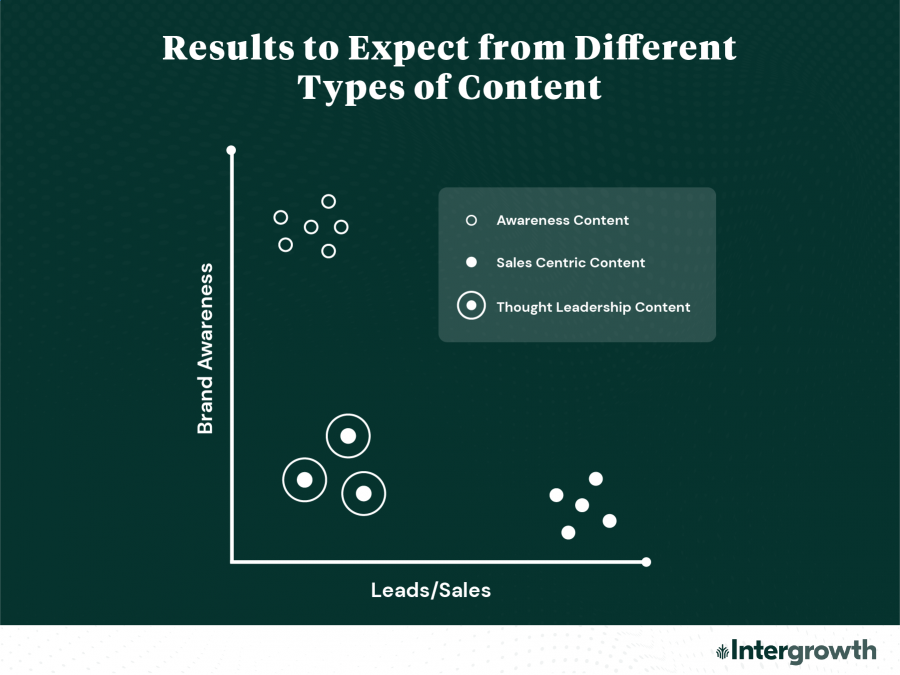 We dive deeper into these three components of a successful content strategy (as well as Culture Content) here.
Finding the Right Balance Between Content Types
There's no clear-cut solution for defining how much of your efforts should go into each content type.
However, we recommend businesses focus most efforts on Awareness Content and Sales Centric Content until they reach several thousand readers per month.
Awareness Content won't drive many direct sales. However, Awareness Content brings more visibility to your brand, is far more straightforward to build links to, and funnels visitors to Sales Centric Content and specific product pages.
Sales Centric Content will have high conversion rates and generate far more sales per website visitor. However, Sales Centric Content tends to see much lower traffic levels from search engines.
Why?
Search queries with a high commercial intent (think "buy red shoes") will be much more challenging to rank for than most educational search queries (think "types of shoes")
Your prospective customers won't search for topics like "[your business] success stories" until they know about your business.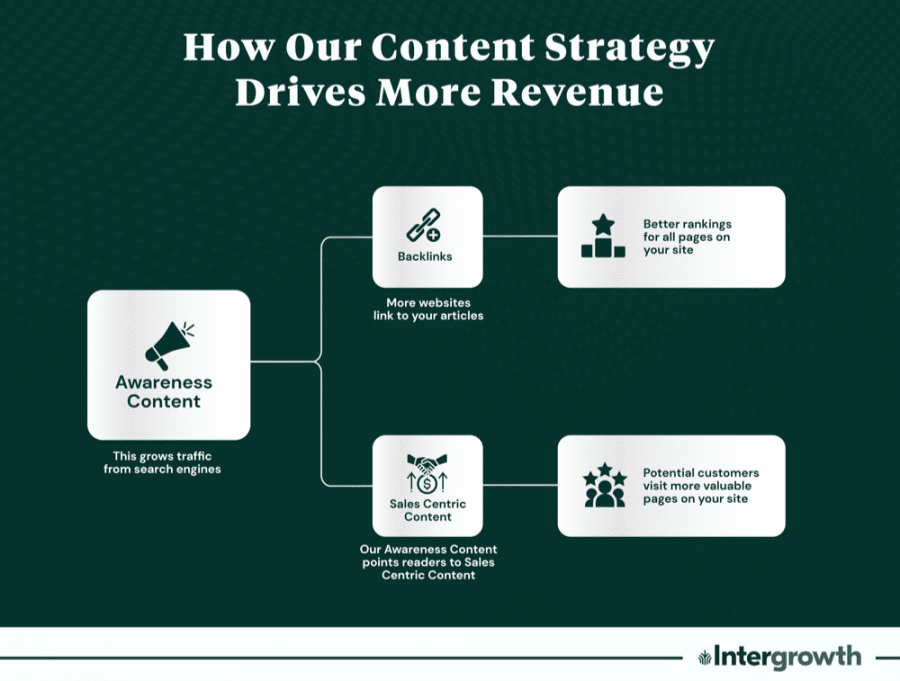 3. Map Out Short-Term vs. Long-Term Ranking Goals
Map out those content opportunities by blending short-term and long-term ranking goals.
We dive deeper into assessing short-term vs. long-term ranking goals here.
We use our Root Domain Benchmark tool to map out how many high-quality links we should expect to build to a page targeting each keyword theme to rank in the top 10 results of Google.

From there, we focus link building efforts on a mix of search themes that will be feasible to rank for within 1-3 months while emphasizing some longer-term ranking goals that may take 12+ months to rank for.
This tool is far from perfect. However, it serves as an ideal litmus test for understanding how much resources we should expect to invest into ranking for a given theme.
Here are a few of our favorite link building tactics you can use today.
We built this tool in-house by leveraging Ahrefs' keyword difficulty scores and more advanced Google Sheet formulas. However, you can access much of this data within Ahrefs.
For example, Ahrefs estimates that you would need to build links from 22 different domains to rank in the top 10 results of Google for "types of shoes".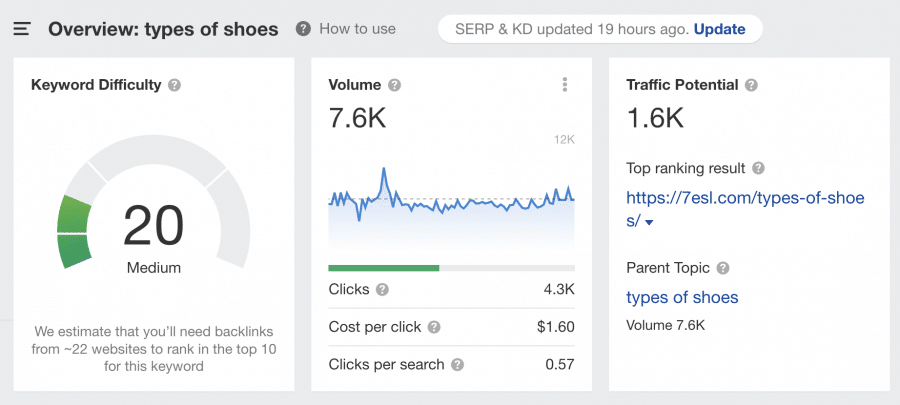 4. Review Performance and Pivot for Better Results
Step four is to assess your performance.
We do this every month on a consultation call. We focus on auditing site performance for our clients and analyzing competitor performance.
More on what our monthly consultation calls look like here:
Here are some of the questions we ask ourselves that you can steal to run your own analysis:
What's the primary goal of each piece of content you created? What metrics can we monitor to track our performance? Which pieces of content are performing best?
Do you see trends in content formats (videos, blog articles, infographics, podcasts, quizzes, etc.) that better achieve their goals?
How did your ecommerce store perform over the past month compared to the previous month? Compared to the same month last year? Which pages improved in performance? Which pages declined in performance?
Based on this analysis, tweak your content strategy to cut back on initiatives that aren't performing as expected and double down on initiatives that are driving results.
---
Common Ecommerce Content Marketing Mistakes to Avoid
1. Focusing Too Heavily on On-Page SEO
We see many emerging ecommerce brands invest in on-page SEO (initiatives like optimizing title tags, URL structures, header tags, etc.).
These initiatives have a massive impact on SEO. They help search engines understand what your website is about. However, they don't result in search engines recognizing your online store as a trusted source for information.
Investing heavily in on-page SEO for a brand new website is the equivalent of sitting in your car with an empty tank of gas while you plan out the whole route for your cross-country road trip.
Sure, it'll come in handy to know where you're going. But you could also fill your tank of gas, start driving in the right general direction, and figure out the exact directions as you start the trip.
SEO is a balancing act. Great SEO requires recognizing resource constraints and prioritizing resources based on areas that will drive the most impact for your business.
Here's a good north star for those taking the DIY approach to content marketing: focus 95% of your efforts on writing educational content and building backlinks from other reputable websites until you reach your first month of 1,000 visitors from search engines.
2. Targeting Unrealistic Ranking Goals for Product Pages
We often see ecommerce brands targeting unrealistic ranking goals. The classic example is targeting search themes like "best [product]".
From a business value perspective, this makes sense. If you're selling razors, ranking a product page 1st in search engines for phrases like "best razors" is a great way to drive sales.
Unfortunately, these rankings are rare.
Why? Search intent.
"best" queries tend to trigger a list of options in search results.
In the case of "best razors", nine of the ten results on the first page of Google are product reviews featuring a dozen different razor brands from an unbiased third party.
The exception to the rule? Allure.com — a razor brand that has 193,000 different websites linking to it and sees 17 million website visitors from search engines every month.
You might be able to break into the top ten results, but you'll have a long, uphill battle ahead of you to get there.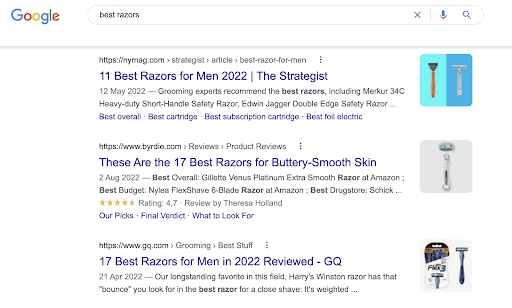 We see the best results when we optimize product pages around niche variants of those product-related queries that relate to your unique solution.
For example, a razor blade company may target "high-end razor blades for dry skin".
Niche variant optimizations allow brands to drive qualified traffic to their product pages faster as content marketing expands their ranking potential even further.
3. Not Investing in Other Facets of Digital Marketing
We'll occasionally talk to businesses that only invest their marketing dollars in content marketing.
Content marketing is a phenomenal long-term investment for ecommerce. However, content marketing should be one part of your marketing plan.
Every marketing channel has its pros and cons. Here are a few other marketing investments to consider pairing with your content marketing efforts:
Email marketing and SMS marketing are the perfect tools to pair with content creation. Content drives initial customers. Email/SMS allows you to sell to those customers regularly.
PPC (think Google Ads, Facebook Ads, etc.) is an expensive way to acquire each customer. However, this is an excellent investment for increasing your customers while you gain traction with your SEO efforts (more on the SEO vs. PPC debate here).
Social media marketing is a great brand-building tool. Dozens of DTC brands/business owners have turned themselves into industry influencers and used social media to build a loyal customer following.
4. Giving up on Content Marketing Too Early
Content marketing and SEO are long-term investments that drive exponential revenue growth.
One of the biggest mistakes we see ecommerce companies making is investing in content creation for three months, not seeing a noticeable increase in sales, and deciding to scrap future content initiatives.
So what should you expect for content marketing results?
The guidance we give clients is to expect minimal growth in months 1-3, gradual growth in months 4-6, and exponential growth in months seven and beyond.

For example, here's a look at one ecommerce client's growth over the first 12 months of the relationship from our Rapid Growth content services.
Months 1-3 were flat. We used this time to build our content marketing strategy, publish our first handful of articles, and implement our SEO foundation.
Months 4-6 yielded gradual growth. We started to see more substantial growth in month seven.
By month 12, organic traffic is now up 535.1% (and revenue from organic traffic is up 80.8%).
---
Content marketing is one of the best investments ecommerce brands can make in their business.
Identify topics your customers seek out information about, write informative guides about those topics, include relevant links to your product and category pages, and encourage other businesses in your industry to link to your website.
It's the least sexy marketing initiative you can focus on. However, it works time and time again.
If you want to take the do-it-yourself approach, download our full guide to building your own content marketing machine.
Prefer to work with experts that do this every day? Let's hop on a consultation call to discuss your goals and build the perfect action plan for your business.
SCALE YOUR ORGANIC TRAFFIC
Subscribe to our monthly newsletter