Affiliate marketing is harder than people make it seem.
We get it: you see an ad every day on Facebook from the latest "expert" who wants to show you how to make millions of dollars in your sleep.
They're almost as bad as the '90s infomercials that we've learned to love.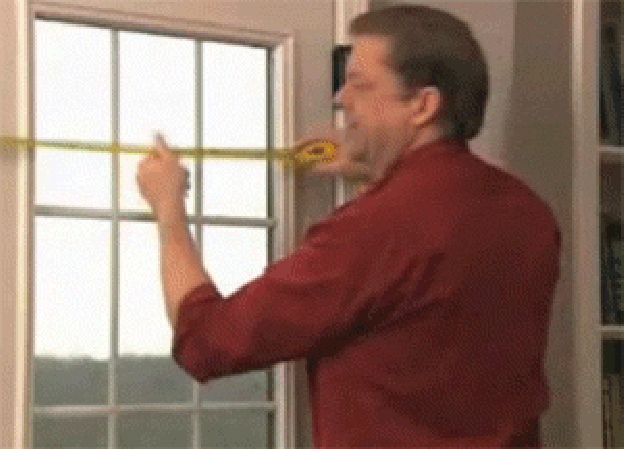 Image credit to Giphy
More importantly, they're not realistic.
The best affiliate marketers know that building a profitable affiliate program takes time.
We're here to make the building process a little easier by showing you how to scale your affiliate site with proven SEO strategies.
Our team pulled together the highest-impact search engine optimization techniques that we do for affiliate marketers every day (plus, we called in help from bloggers + owners of a handful of successful affiliate websites).
We'll walk you through each technique and give you action steps on how to implement each tactic to 2x the impact of your SEO efforts and drive traffic to your own site.
---
Affiliate Marketing SEO Tactics
Here are some of the most effective SEO tactics that can help you to get more traffic and sell more affiliate products:
Leverage Featured Snippet and SERP Features optimizations
One-up your competitor's best content
Maximize your content ROI with better keyword research
Maximize existing rankings with CTR optimizations
Scale visibility with inlink optimization for new articles
Run readability optimizations for improved on-page performance
2x your website loading speed
Revise and update your old content
Scale search visibility with Quora
Keep reading for step-by-step instructions on how to put each of these strategies into action.
---
1. Leverage Featured Snippet & SERP Features Optimization
Featured Snippets are the short summary answers that appear at the top of a Google Search. They come in four forms: paragraphs, tables, lists, and videos.
Here's an example of a Featured Snippet we've earned for our How to Hire a Content Marketing Writer article: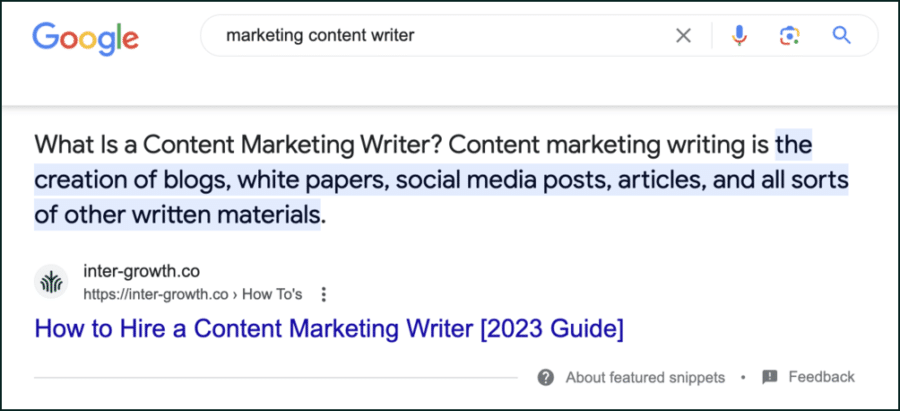 The number of Featured Snippets that appear in search results has skyrocketed (SEMRush estimates that 19% of search results have Featured Snippets). And recent studies show that the top-ranking page (the Featured Snippet in cases where there is one) gets 54.4% of the search traffic for that search.
In other words, optimizing for Featured Snippets is a huge opportunity to scale your search traffic.
So how do you optimize for Featured Snippets and other SERP features?
We use 2 different tactics:
Include "Summary" paragraphs
Discuss FAQs
Include "Summary" paragraphs
Featured Snippets are often attached to question-based queries. In fact, SEMRush reports that 29% of searches that start with a "question word" (i.e., "why" or "do") have a Featured Snippet.
So if your 2,000-word article is focused on answering 1-2 central questions, take the time to write a summary of your answer at the end of the post.
Write out the central question that you're focused on answering as an h2 or h3 tag, followed by a 1-paragraph answer to that question.
According to another study done by SEMRush, the average Featured Snippet paragraph is 46 words, so aim to keep your response to 40-50 words to maximize your chances of having your page listed as the Featured Snippet.
FAQs
Question-centric search queries have seen a massive increase in "People also ask" (PAA) SERP features since Google began experimenting with them in 2015.
For example, searching for "what is SEO" yields the following PAA box halfway down the first page of search results.

Google decided that these questions are highly correlated with the search query "what is SEO." If you're working on an article that defines SEO, why not answer those questions on your blog?
Include the original question as an h2 or h3 tag, followed by a list of 40-50 word response to maximize the likelihood of capturing that SERP Feature.
---
2. One-Up Your Competitor's Best Content
Sign up for a trial of Ahrefs.
Type your competitor's domain name into the search bar and navigate to the "Top Pages" tab.
What you'll see is a list of the pages on your competitor's website that drive the most monthly organic traffic back to their site.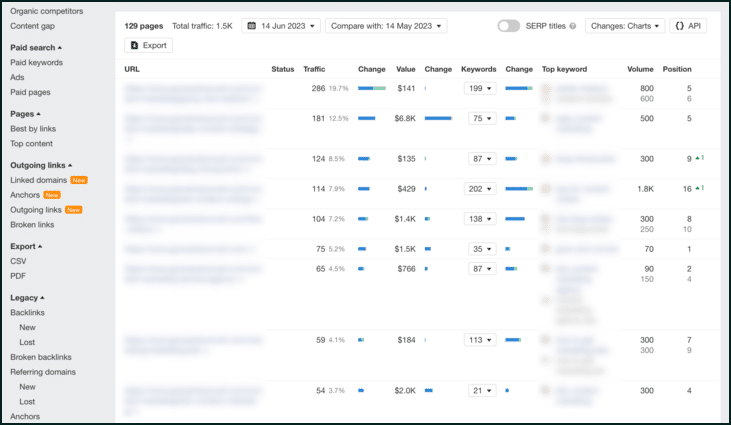 Look through these top-performing pages and evaluate them to see which would be realistic for you to outrank with a more valuable piece of content.
Look for low-quality articles that fit the following criteria:
Lack depth (could easily be doubled in length)
Lack actionable advice
Lack a meaningful backlink profile
Write your own piece of unique, high-quality content that contains the actionable advice and depth that your target readers are seeking. Then sit back and watch your site steal your competitor's top rankings.
Skeptical? See how we helped one affiliate marketer to grow 124% in 6 months using this framework.
---
3. Maximize Your Content ROI with Better Keyword Research
This tip comes in from Brett Helling, who runs a handful of different affiliate sites, his most recent project being the gig economy information site Gigworker.
If you're looking to scale your organic traffic in shorter periods of time, you'll need to rely on keyword research before you even write anything.
Taking a strategic approach to what you'll write will pay off in multiples once your website gains authority and starts naturally ranking for keywords.
My favorite secret to finding your next 20 blog topics in under an hour is by using Ahrefs, an incredibly powerful link building and keyword research tool. While this tool comes with a heavy monthly price tag, it's hands down the most powerful tool I've gotten my hands on, and if used correctly, has the potential to make a serious impact on your blog traffic in the long run.
We use Ahrefs on a daily basis at Intergrowth. Learn about a few more of our favorite affiliate marketing tools.
How do you define the appropriate search volume/competition to go after?
Finding the right target keywords to target for your industry depends on what you're looking to rank, as well as the search intent behind each one.
Are you looking to grow blog traffic without a direct goal, or are you looking to find lucrative keywords that will directly impact your ROI? Regardless of your goal, this tool can help.
If you're just trying to grow traffic, look for high volume keywords that your competitors are ranking for.
A great way to do this is to open Ahrefs and navigate to the "Organic Keywords" section. From there you can filter multiple criteria including existing keywords, new keywords, and movements of keywords for your competitors.
For example, I track my competitors very closely and have daily email alerts from Ahrefs that inform me of all the new keywords each competitor is ranking for. If I see that a competing site starts ranking for a new keyword that falls within specific criteria, I then produce a new post that targets that keyword.
The criteria that'll work for your own keyword research depends on multiple factors, including niche size, number of competitors in your space, and the domain rating of your own site. But for reference, I usually only go after a new keyword if it has a search volume of over 1,000.
From my own trial and error, I found search volumes under this don't really move the needle in terms of traffic, but you'll likely notice anything over that number.
Editor's Note:

We couldn't agree any more with Brett's advice, especially when trying to grow a larger brand's organic traffic.

However, smaller brands may find greater success by mixing in some long-tail keywords to help them see more immediate ROI on their content efforts while broadening their positioning as they scale.

For example, we published an article about content development a while back. Given the level of competition around the keyword "content development," we decided to take a very narrow focus and target the search theme "content development process" (~20 searches/month) until we began to see some traction for this post.

Over time, we revamped this article and broadened the search focus to target "content development." As of today, we rank 6th for that theme and  are featured in the "People Also Ask" section for that search page.

More on Intergrowth's keyword research process here.
---
4. Maximize Existing Rankings with CTR Optimizations
If your content is ranking on the first or second page, but you're not seeing increased page views, your title tags and meta descriptions are underperforming. If this is the case, consider CTR optimizations to increase the number of people getting to your site.

But how can you tell if your page is underperforming?

The simplest way to check is to compare your page's click-through rate with the average CTR for search ranking.

To find a query's CTR, you can use Search Console and export the data.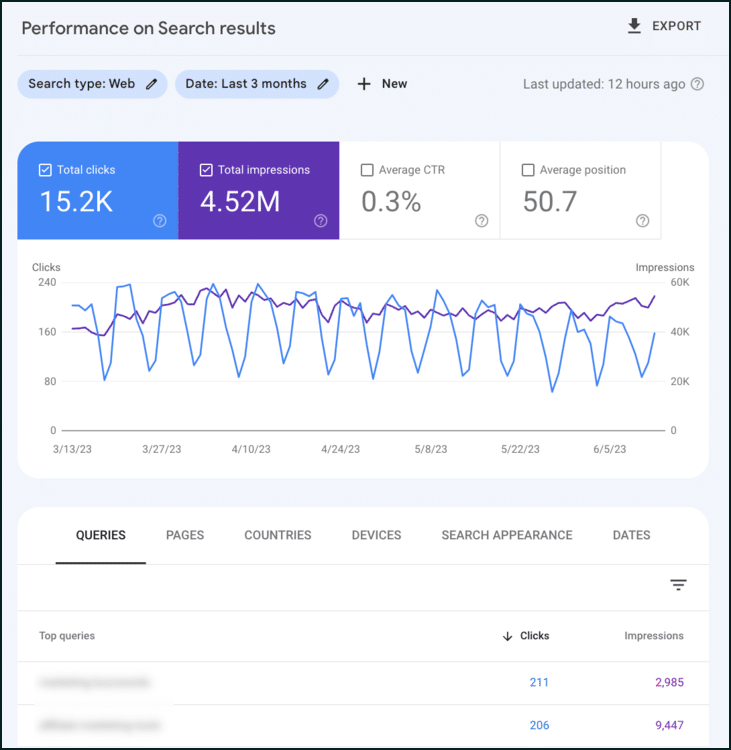 Then look at your position and CTR compared to the industry average.

For instance, the average CTR for the 4th result is around 5.5% (according to AWR). If your page is ranking 4th, but you're seeing a much lower CTR, optimizations are in order.

Internally, we use a spreadsheet with a formula that allows us to identify underperforming pages in bulk, quickly and efficiently.

Once you've identified underperforming pages, tweak and test your title tag and/or meta description until your CTR improves.
---
5. Scale Visibility with Inlink Optimization for New Articles
Just published a new article? Identify other relevant content on your site that could link back to that new article. This will distribute more search authority to this article and help to boost rankings.

So how do you find those opportunities?

Type the following into Google:

(replacing "domain" with your website domain)

What you'll see is a list of every indexed page on your site. Narrow down the search results by adding a word or phrase that relates to your new article.

Pull open 5-10 articles that appear in the narrowed search. Look through these articles for a place to include a link back to your new article.

Inlink optimizations can also be a powerful way to boost website revenue.

Have an article that drives 10% of your site traffic? Add links to relevant landing pages with high conversion rates to boost your affiliate revenue overnight.
---
6. Run Readability Optimizations for Improved On-Page Performance
We live in an era where attention spans are at an all-time low. Everyone is busy as hell and there are a near-limitless number of distractions surrounding us at all times.

What does that mean for marketers?

Keeping your reader's attention is hard.

Fortunately, we're about to share our favorite secrets for keeping your readers on the edge of their seats.
Remove friction with more digestible paragraphs
Which of these two snippets would you rather read?

Chances are pretty good that you said the text on the right.

Why? Because it's way less overwhelming to see a bunch of small paragraphs than a wall of text.

The text on the right breaks each paragraph into 1-2 sentences. Most of those paragraphs are less than 50 words.

Try implementing this on your own site. Find a page on your site with a high bounce rate and low average session duration. Take a look at the content and look for opportunities to break down paragraphs.

Review bounce rate and average session duration one month later to see the impact of your efforts.
Eliminate excess wording
Quoting Sam Parr from The Hustle, "Avoid adverbs at all costs. They weaken your words."

The same holds for trying to show off your vocabulary. Nobody cares that you know how to use "ratiocinate" in a sentence. Cut that shit out and focus on making your content easier to understand.

When in doubt, plug your copy into Hemingway to break up long sentences and simplify your word usage.
Invest in content design for maximum attentiveness
Stealing a quote from Jonathan White:

"Good design builds trust between products and users. When a product has finish and polish, it builds trust."

The same holds for the design of your content. A well-designed website with creative imagery builds trust with your readers.

Brian Dean is the king of well-designed content. That being said, you don't need to invest thousands of dollars on illustrations to have well-designed content.

Some of our favorite secrets for creating well-designed content:
Add relevant imagery throughout your articles to break up text.
Work with your developer to build out a handful of shortcodes that your writing team can easily insert into future posts (WordPress users can use this plugin to save on dev costs)
---
7. 2x Your Website Loading Speed
Ignoring site speed is one of the biggest mistakes that we see affiliate marketers make.

Remember the point above about how bad our attention spans are? Website bounce rates increase by 50% when pages take 2 or more seconds to load.

So how many customers are you losing to a slow website?

Site speed optimization is an ongoing process. That being said, here are our three favorite secrets to 2x your site speed in under an hour.
Compress image file sizes
Serve images in next-generation formats (WebP and AVIF)
Set up browser caching
WordPress Users: download and set up Imagify and WP Rocket (NOTE: always make sure to test website functionality after setting up any new plugins to make sure that they work with your website).

Shopify Users: request access to Convertly. They help Shopify sites cut site load times in half.

All Other Users: compress all of your website images with TinyPNG, then re-upload them to your website. Next, read this step-by-step guide to setting up browser caching.
---
8. Revise and Update Your Old Content
This tip comes in from Alex at Wanderlust Marriage – an affiliate marketing site that specializes in writing about Europe and the Americas.

Focus on posts that already bring you some traffic. See if they can be updated and improved. This can make the post even more successful.

For example, let's say you wrote an article on "10 Great Things to do in X". If the details are a little sparse under each subheading, add more details and try to make the article 1,900+ words as that's a metric that Google likes.

To add to that, focus on timeliness.

Are there any opportunities to remove outdated tips and replace them with newer suggestions? Are there any outdated statistics that you could replace with more recent one?

Maybe the article is lacking in quality outbound links –  if so consider adding some, but avoid linking to direct competition that you want the article to rank for.

Editor's note:

We're all about reviewing and revamping old content.

One of our favorite content revamp tactics is to use an SEO tool like Clearscope to identify semantically-relevant terminology that should be included in your article.

Google's algorithm has started to pay much closer attention to the intent behind each search and the relationship between search queries. Incorporating related terminology will help search engines to understand the contents of your article.

For example: if you're trying to rank in Google search results for the phrase "Boston," the best thing you can do is write a high-quality article that talks about Fenway Park, Mike's Pastries, and other themes that are relevant to the city of Boston.
---
9. Scale Search Visibility with Quora
Looking to drive some immediate visibility to your newly published article?

Quora is one of the most underrated social media platforms for boosting content visibility. Here's how you can leverage Quora to squeeze more value out of the hard work that goes into blogging:

Start by logging into SEMRush and plugging Quora's website into the search bar.

Look up all keywords that Quora ranks in the top 10 positions on Google for and filter out keywords that receive <50 searches/month.
Export the remaining results and filter out any irrelevant queries.

You're now looking at a list of pages that currently rank for valuable keywords that relate to your article.

Go through these questions and prioritize them based on their estimated search traffic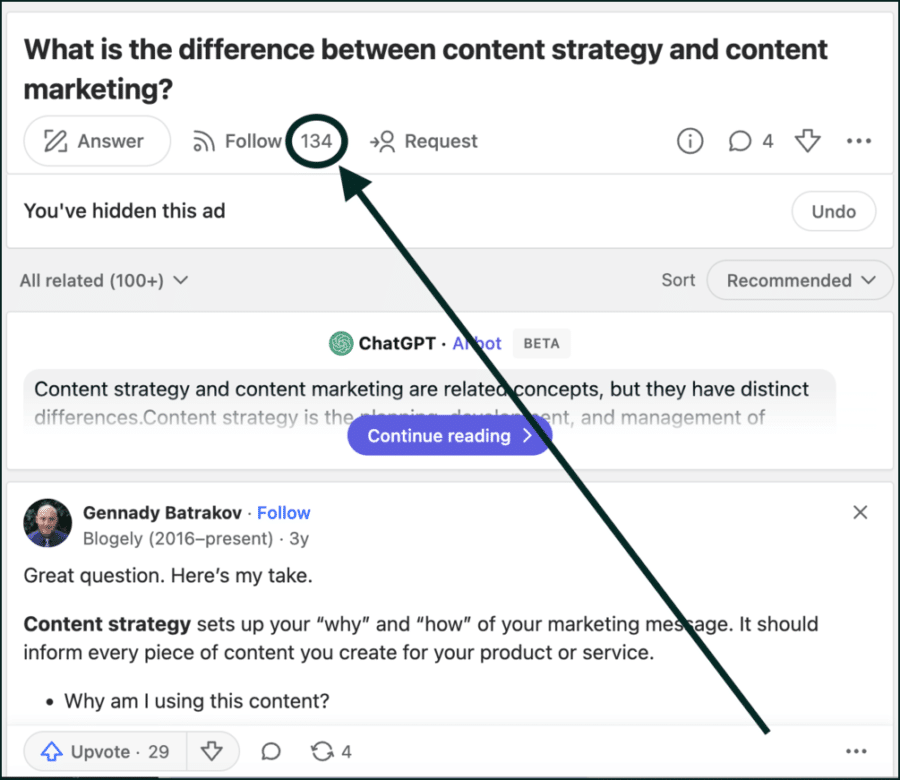 Now go through the top opportunities and write a long-form response to each question, linking back to your newly published article whenever it adds value to the post.

For simplicity, we've also recorded a full walkthrough of video of this process:
---
Did we miss anything? Tweet at us with any other suggestions on ideas to include.

And if you're looking for help growing your website, check out our SEO consulting and content marketing services pages to learn more why we could be a good partner for you.
SCALE YOUR ORGANIC TRAFFIC
Subscribe to our monthly newsletter