The following link building case study outlines the exact link building strategy that we've used to help dozens of B2B businesses to scale their online presence.
The following case study dates back to 2017. Here are a few more recent B2B case studies that relied heavily on link building as well:
This hosting provider came to us as a small player in a highly competitive market. They were struggling to differentiate themselves from the larger competitors in their space like GoDaddy and HostGator.
The client had limited marketing resources, which meant that Intergrowth would be their primary marketing team for the course of this campaign.
Content Marketing Opportunities
Our competitive research uncovered a massive opportunity to target individuals who were searching for information about DDoS attacks, a technique commonly used by hackers to target a single online service that can be attributed to 1/3 of all website downtime.
Over 10,000 people were searching for information on DDoS attacks every month. Yet, none of the major competitors were writing content to serve this market.
Strategy
SEO Foundation
We decided to first focus on repositioning. Rather than directly compete with massive competitors like GoDaddy and HostGator for generic terms like "website hosting", we instead narrowed their focus to target search phrases revolved around "secure website hosting". We set up a comprehensive SEO foundation to better target the search phrases that their target audience was actively searching for.
After identifying these high-value search phrases, we revised title tags, meta descriptions, and inlinks to better target these keywords. Next, we jumped to technical SEO implementation. We optimized image file sizes and set up browser caching to improve their site load speed and user experience. We fixed broken backlinks to recover lost website authority. We de-indexed their lowest-quality website content to maximize emphasis on their highest-performing pages.
Premium Content Development
At Intergrowth, our content strategy is centered around quality over quantity. We focus on creating great content instead of a lot of content. A 2020 study by Backlinko revealed that the average word count on the first page of the SERPs (search engine results page) is 1,447 words. We believe that the best way to drive results is to write long-form, high-quality content that employs proven methods to drive more social media shares and inbound links from other websites.
We decided to create a long-form blog post sharing expert insights on how to prevent DDoS attacks from taking down your website. We worked with our team of writers to produce the article in a way that would both be easily digestible to readers and rank well in search engines.
Link Acquisition
The same study by Backlinko revealed that the total number of referring domains (or unique websites linking to your website) is the ranking factor that is most strongly correlated with high search rankings. As such, we spent the remainder of the campaign focusing on getting other relevant, high-quality websites to link back to this article to boost the site's overall backlink profile.
Many of our link building campaigns focus on guest posting – writing valuable blog posts for other bloggers in a client's industry as a means to acquire high-quality backlinks. However, this campaign focused entirely on building links through white hat blogger outreach.
Related: learn about 5 of our favorite simple link building techniques to start using today
We used tools like Ahrefs and SEMRush to identify other good content that related to DDoS protection. From there, we pulled together a massive list of websites that had linked to each of these articles. We filtered out spammy sites, as well as those with weaker domain authority. We repeated this process until we had found 1,000 high-quality link building opportunities.
We started conversations with these 1,000 authoritative bloggers in their space who had written similar content or linked to similar content in the recent past. We shared the article with these bloggers and encouraged positive respondents to link back to the article.
Link Building Results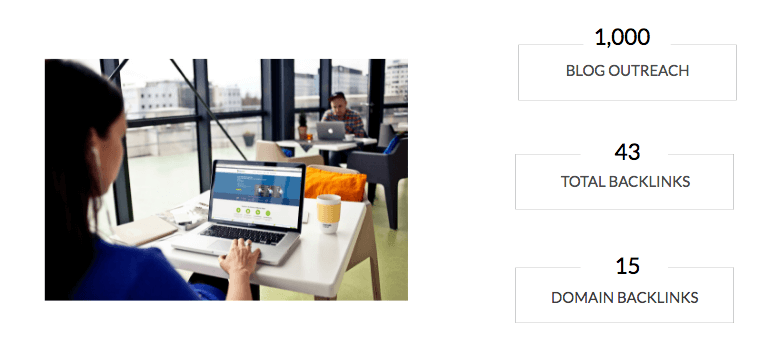 Over the course of 3 months, we promoted this premium article to 1,000 bloggers in their industry. This outreach directly resulted in 43 total backlinks from 15 different websites, and dozens of additional social media shares. This article is now the 4th highest performing page on their site, with 700 reads per month from organic search and an average time on site of 4 minutes.

Over the course of the 3-month campaign, we increased organic traffic by 55.9% from 2,831 visitors per month to 4,413 visitors per month.

More importantly, total website traffic grew by 35.6% during the course of this campaign.

If we accomplished this with minimal additional marketing resources, then imagine what we could do for you. Learn about our content marketing services or fill out our discovery form to see exactly how we would help you to scale your business.
Still in doubt? Read about how we helped another one of our partners to grow 487.1% through our content marketing in 20 months (to date).
SCALE YOUR ORGANIC TRAFFIC
Subscribe to our monthly newsletter