You've got a handful of options when it comes to starting or revamping your content marketing production:
Create your own content
Hire a freelance writer
Work with a content marketing agency specializing B2B content marketing
Which is best?
It depends on your business, of course, and the ratio of what you can invest sensibly right now for the best overall ROI.
But what if you're not a good writer? What if you don't have any great marketers on staff? What if you don't have the time to vet and hire writers and marketers on your own?
If you don't already have a content strategy and top-notch content marketing in place, it's time to get started in-house or hire a B2B content marketing agency.
What we can do today is give you the information you need to make that choice.
In this article you'll find information about:
How written content performs vs. other content forms
The benefits of a few types of content (thought leadership, awareness, etc.)
What to expect from a reputable agency
How to communicate your goals to an agency
A breakdown of how to view your investment in content
By the time you're done reading this, you should have a good idea of which option will be best for your business.
---
What Does a Content Marketing Agency Do?
An SEO-centric content marketing agency like Intergrowth specializes in optimized content creation, particularly written content.
We believe that writing blogs is the best way to increase your site's and brand's:
Organic growth
Awareness
Thought leadership reputation
Some content marketing agencies are great at writing blogs, while others excel in generating videos and graphics.
At Inter, we concentrate on what we do best: creating great content that grows your organic audience and educates them on your industry and offerings.
Just keep in mind that not every agency is an experienced B2B content marketing agency.
B2B companies find will likely find more success with agencies that understand the B2B marketing landscape rather than agencies that mainly handle D2C marketing.
---
Why Is Content Marketing So Important?
Having a content marketing strategy is critical, regardless of your brand, your business, what products you sell, or what services you provide.
It's just as important for SaaS companies as it is for laywers, construction companies, and everything in between.
Did you know that B2B's see that 48% of successful content assets are written blog and article content under 3000 words? 
Video content results in only 38% of success for B2Bs.
Intergrowth is a huge believer in the power of written content to increase search engine rankings for businesses on the whole.
But there's a lot more to it than that …
With a strong blog content strategy, you can:
Position yourself as a subject matter expert in your field
Become a thought leader in your industry
Educate your customers on your brand
Demonstrate the value that you offer other businesses
Convert readers into marketing qualified leads/sales qualified leads
A marketing plan that centers on incredible awareness content will drive traffic to your site, spur interest in customers, and increase revenue and sales.
Thought leadership content will position you as an authority and give you greater pull with search engines.
Those two forms of content can support sales-centric content created by your content agency as well as any content produced by your company.
Learn how combining strategy goals in a written piece of Dual-Purpose Content will further elevate your efforts!
---
How Do You Vet a Content Marketing Agency?
When you hire a content marketing agency, you're actually hiring an entire content marketing team. And while you won't be able to vet each and every individual on the team, you can get a better sense of an agency's marketing efforts and abilities by asking a few key questions.
Here are some of the key steps in vetting a B2B content marketing agency:
Check Their Online Reviews
The first step is to check their online reviews and client testimonials. Sites like Google My Business, Facebook, and Yelp are great places to start and can give you a quick overview of how other customers and clients rank and rate an agency.
It goes without saying that you'll want to hire an agency with as many 5-star reviews as possible, but you should take the time to read some of their 1-star and 3-star reviews as well (if they have them). This is a good way to get an overview of their capabilities.
Ask How They Conduct SEO
Any agency worth its salt should be able to give you an in-depth explanation of how they conduct SEO. They should be keenly aware of the importance of link building, know how to properly research keywords and topics, and help to build your content strategy from the ground up.
Inquire about their process and ask to see examples or case studies of results they've provided to other clients.
Learn how link building drives results: How Link Building Helped Scale a Hosting Business 35% in 3 Months
Discuss Expectations
Building a strong content marketing strategy that generates results won't happen overnight. Ask the agency how long it should take to see results.
If an agency quotes you anything less than three to six months, you're likely to end up disappointed with the results.
In addition, discuss how you can track the progress of your content deliverables. The more involved you want to be in the process, the more important this becomes. An agency should be able to provide you with an editorial calendar outlining the topics and deadlines for upcoming posts.
Ask How They Report Results
One thing that great content agencies excel at is tracking and reporting results. Ask the agency if they provide metrics on backlinks, keyword rankings, and organic traffic results.
While increased sales may be your only measure of success, understanding how, where, and if your content is performing is just as important.
How Much Do YOU Want to Be Involved? 
Some clients want to be fully involved in content creation, while others prefer to step back and let the agency handle everything. When vetting an agency, be sure to understand how involved they expect or want you to be.

Are you thinking of doing your content marketing in-house? Check out these Common Content Marketing Mistakes to avoid on your way to success.
How a B2B Business Should Look at Content Marketing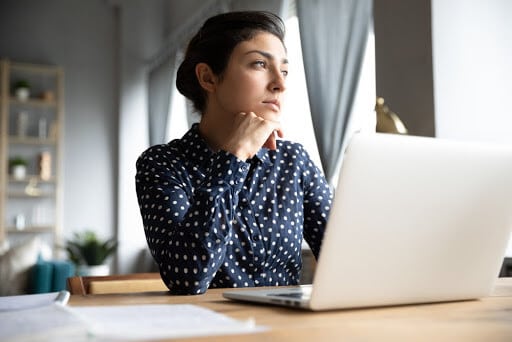 When you're investing in a service, it's important to examine it from a few angles.
Let's look at these angles to start:
SEO as an investment
Types of content
Site structure
Which metrics to monitor
Realistic timelines
Look at SEO as an Investment
Search engine optimization is the best investment you can make in your business.
Content marketing agencies focus on driving traffic to your site, connecting with your target audience, and boosting sales and ROI. SEO is a key element in that endeavor.
The goal of SEO content is to make it easier for customers to find your site and buy your product or service.
Studies show that 72% of online marketers say SEO is their most effective marketing tactic, in part because it's the most cost-effective way to generate the most leads.
Know What Type of Content You Need
There are all different kinds of content that can drive traffic and generate sales. We've mentioned written content as well as audiovisual content.
But within each kind are types of each.
For instance, while white papers have their use as a form of written content, SEO blogs tend to drive more traffic.
If you don't already have a blog, you are missing out on sales and opportunities by the second. Regardless of your business or industry, blogging is THE key component to any successful content marketing campaign.
An experienced content marketing agency will be able to provide you with four different types of blogs:
Awareness Content
Sales Centric Content
Thought Leadership Content
Awareness Content
Awareness Content refers to content that is designed to spur interest, create awareness, and drive the most visitors to your website.
Viral content pieces aren't crafted to sell your products or services.
Instead, they are typically one degree removed from your core business, designed to become resources for other blogs which can then steer search authority back to your site by linking to your viral post.
Thought Leadership Content
Thought Leadership Content is the best way to demonstrate that you are an expert in your industry.
By positioning yourself as a thought leader in your field, you can gain the attention of other businesses and establish credibility as someone that can be trusted and relied upon for B2B services.
Sales Centric Content
Sales Centric Content blogs help to empower your sales team and educate your customers. Sales-driven blogs won't necessarily drive content to your site, but they'll serve as informational pieces that can convert to actual sales once a customer has landed on your page.
The Flow of the Content Funnel
Awareness Content is at the top of that funnel with thought leadership content in the middle and sales-centric content at the bottom.
The top-of-the-funnel awareness content reaches the broadest audience and from that, catches a few marketing qualified leads (MQLs).
We'll show how important a broad audience is here in a moment.
The middle funnel Thought Leadership Content reaches fewer readers, but they're already MQLs and a few may become sales qualified (SQLs).  The bottom of the funnel is targeted at SQLs that can be converted to closed-won deals (or MQLs to SQLs).
Now here's the bigger picture:

To get even more traffic to the middle-of-the-funnel content, you need the top-of-the-funnel awareness content to draw a lot of readers to the site.
Search engines see that massive traffic and note your site as one that is popular with readers and drives it higher in results. As it starts to learn more about your site, it sees your thought leadership content and suggests it before other sites.
With search engine optimized thought leadership content in the middle, Google starts seeing you as an expert in your industry.
As an expert in your industry with lots of overall traffic, anyone searching for what your sales-centric content has to offer will see you higher in search results.
To recap this strategy:
Awareness Content creates a reputation for drawing readers
That reputation drives your thought leadership content higher in results
Having Thought Leadership Content drives your Sales Centric Content higher
You convert more readers into customers
All of this being said, you want to work with an agency that strives for more than building up site visits.

Each individual piece of content should be:
Well researched
Have an internal linking structure
Connect with other industry experts
Crafted with web readability in mind
Interesting and informative
Seek to convert (even/especially at the awareness level)
Optimized for search engines and Google EAT
To make all of this flow even more smoothly, a good content agency will also consider the relationships between these three types of content and will create pillar content within a strong site structure.
Structure  
How search engines understand your website is as important to rankings and visibility for all of your site as the contents of individual pages.
To make it easier for those engines to crawl your site, you need to show relationships between the various part of your website.
In content, that is helped by the use of silos and pillar pages.
Silos
To keep this simple, content silos are a way to organize your content in a way that makes sense to you, readers, and search engines.
A silo starts with a main theme. Normally, you will have a pillar piece of content that goes along with this.
It helps to mentally associate a silo with a URL structure and a pillar with the base piece of content that uses that URL structure.
Let's make our example a silo about fruit on a farmer's wholesale website.
www.farmerfredproduce.com
Let's imagine that Fred wants to divide his site up into vegetables, legumes, and fruit.
We'll work on his fruit silo.
Here's what that would look like in a URL:
www.farmerfredproduce.com/fruit
If you went to that page, you find a pillar page that talks about all of the kinds of fruit that Fred has: cantaloupes, watermelons, and raspberries.
If we wanted to write an article about watermelons, we would "tie" it to that pillar page by linking to the pillar page within the article and also by going back to the pillar page and hyperlinking any mention of watermelons to the watermelon article.
We would make this the URL (to keep it in the silo):
www.farmerfredproduce.com/fruit/watermelon/
Pillar Pages
Pillar content pages provide a broad overview of a particular topic and act as a sort of synopsis of other, relevant blogs on your site.
They include multiple links to other posts, primarily thought leadership pages that already exist. It's yet another way to drive traffic to your thought leadership content and, in turn, build site authority.
An important benefit of pillar pages is that when you have internal linking to well-ranked posts within your site, Google can better understand your site's purpose and more easily crawl it. Pillar pages facilitate internal linking, and internal linking contributes to better ranking.
Know Which Metrics Matter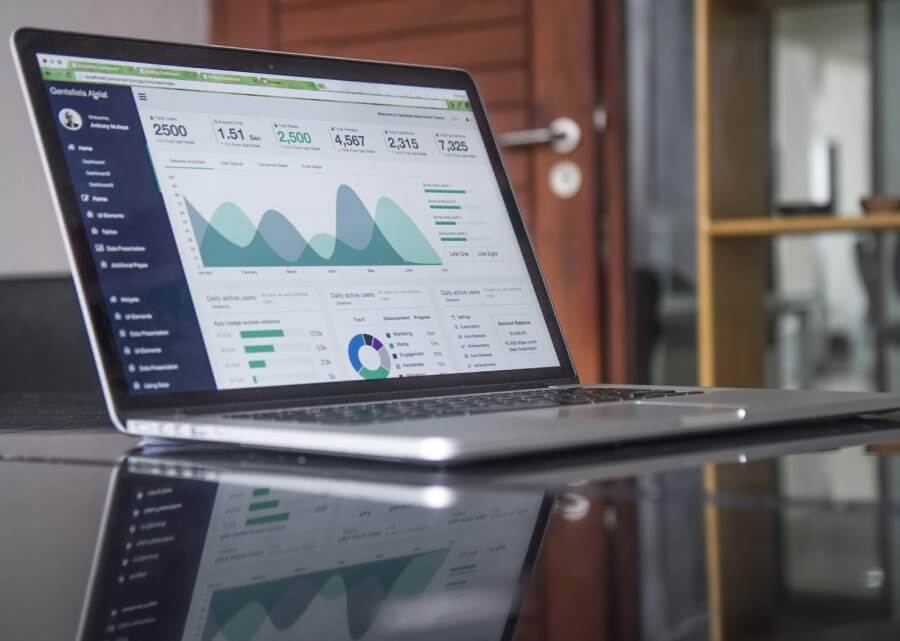 Your content marketing strategy will likely involve posting blogs on your website as well as various social media platforms. And in order to know what's performing best, you'll need to track and analyze the data.
Some factors to watch:
Organic landing page visits
Behavior flow by article-specific or category-specific (i.e., showing only the /blog/ pages and where the visitor goes next)
Overall organic sessions over time and their conversions
Keyword ranking over time
By doing a thorough analysis of site traffic and growth, you'll know which channels and platforms are performing best and which pieces of content are getting the most interest. With that information, you can steer your marketing strategy in a more profitable direction moving forward.
Know When to Expect Results
We said it before, and we'll say it again:
Even the best B2B content marketing agency on earth won't be able to produce results in a week or a month.
It generally takes at least three to six months to start to see increased site traffic. Before you invest in content, be aware that it will take some time for your investment to pay off.
Some agencies may promise you speedy growth in a whirlwind turnaround, but those results may not bring in qualified leads.
You want your organic traffic to result in increases in your revenue.
That pays off with strong foundations and strategic building over time.
We see near-immediate results often, but the idea is to create a snowball effect that keeps building and building over time. 
---
Should B2B Companies Invest in Content Marketing?
If your goal is to create brand awareness, drive revenue, and increase ROI, then yes.
A B2B content marketing strategy is the best way to get organic search traffic and attract visitors to your site.
Google likes content. Informative, well-written content helps your site rank higher than competitors with poorly crafted or no content.
Strong content with consistent messaging also helps to grow your social media following, which can lead to increased sales and more brand awareness.
Thought leadership content that positions you as a leader in your field is one of the best ways to establish credibility and let your customers (and search engines) know that you're a reliable source.
Instead of employing cold sales outreach techniques, a strong content marketing strategy can bring customers to you.
Should You Handle B2B Content Marketing In-House?
You could, but many businesses struggle to produce enough content or to produce content consistently.
It takes 3 hours and 55 minutes to write a blog post and more to write a B2B post.
You'll also need to factor in topic research, editing, and publishing.
If you have the resources, absolutely get started producing that content. We have some tips on how to build successful blog posts.
If you don't have the resources, talk with a content marketing agency to find out how you can supplement your own output or what having them do it for you looks like.
A smart content strategy helps to define your brand voice and let your customers know who you are and what you're all about in your brand voice. Being authentic and honest also helps to build trust that can lead to increased sales.
We dive much deeper into hiring an agency vs. in-house marketers here.
A smart content strategy helps to define your brand voice and let your customers know who you are and what you're all about in your own words. Being authentic and honest also helps to build trust that can lead to increased sales.
Can't I Just Use AI to Write My Content?
Yes, you could use ChatGPT or another AI writing tool to generate content, but we guarantee it won't be as good as content written by a professional writer (at least not yet). Read our AI Content Marketing article for more insight into this question.
---
What Is Intergrowth's Content Development Process?
Here at Intergrowth®, we pride ourselves on creating high-quality content for each and every client we work with.
But that's only one part of what we do.
Before our content marketers start crafting new content, our strategists spend hours:
Gathering information about your brand
Researching your competitors
Finding relevant blog topics
Strategizing an overall content marketing plan
Once our writers are done crafting and optimizing the articles, we then publish and promote those articles across multiple channels, all in an effort to get higher search engine results and drive more people to visit your site.
We then track results to ensure that our work is working for you.
No matter what your business is, we know how to develop content that boosts search rankings, garners attention, and gets results.
Related: See how we helped Physicians Thrive to grow leads by 790%!
---
B2B companies often rely on word of mouth and traditional marketing methods to grow their business. But having a content strategy in place is THE best way to take your business to the next level and become more credible in your industry.
When looking for a B2B content marketing agency, remember to consider:
SEO as an investment
Content Funnel Flow
Site structure
Which metrics to monitor
Know when to expect results
Intergrowth® is an SEO-centric content marketing agency with writers, editors, strategists, publishers, and SEO experts on staff. No matter what your business is, we know how to develop content that boosts search rankings, garners attention, and gets results.
Find out what we suggest to grow your unique business. Check out our service breakdown and set up a chat with us now.
SCALE YOUR ORGANIC TRAFFIC
Subscribe to our monthly newsletter