For decades, attorneys have relied on word-of-mouth recommendations and referrals to get new clients.
But you can't rely on client referrals alone. You also need a legal marketing strategy, and it should include an SEO-centric content marketing plan.
Not sure if or how digital marketing can benefit your law firm?
Here's a look at how SEO can benefit your law practice, plus some content marketing tactics that can help you grow your business.

---
Every Law Firm Can Benefit From Content Marketing and SEO
SEO. You've heard the term. You've been told you need it. But what exactly is it, and what is the point?
SEO stands for search engine optimization, and it's how you get your website to rank at the top of Google search rankings.
Every time you type a word into the Google (or Bing) search bar, you're presented with a list of websites that relate to that term. Google's algorithm generates those results in a specific order.
The Google algorithm looks at a variety of ranking factors, such as:
The quality of the content on a website
Relevant keyword usage on a particular web page
Website loading speed
(Side note: if your page speed is slow, your website design and development team needs to get that up to par. Learn more about how and why in our Core Web Vitals article.)
By implementing SEO strategies on your law firm's website, you can increase your online visibility, bring more clients to your website, establish yourself as a leader in your industry, and grow your business year over year.
Keep in mind that SEO strategies are not unique to the legal industry. The techniques are the same as those used in every other industry around the world. If you choose to hire an SEO expert to handle content marketing for you, you don't have to limit your search to an agency that has specific experience in law.
---
The Benefits of Content Marketing for Law Firms
Content marketing has many benefits, and they all stem from the fact that Google loves content. Here are three of the biggest benefits of content marketing for law firms looking to attract more website visitors that will turn into clients.
Increase Traffic to Your Website
SEO-centric content improves your search rankings, and the higher you appear in Google search results, the more website traffic you're likely to receive.
Increased website traffic doesn't guarantee that you'll get more clients, but it does help bring your clients one step closer to your firm. It also helps to build trust and authority with the public, which makes them more likely to turn to you over a competing law firm when they need an attorney.
Here's the bottom line:
You can't afford NOT to have SEO content on your site.
Save Money on Advertising Fees
The next time you do an online search, take notice of the first two or three results at the top of the first page.
If they say "sponsored," that means the website paid to get placed at the top. Those results are PPC (pay-per-click) listings that the customer is charged for every time someone clicks the link.
But there's a better way to show up in search results:
SEO.
We won't say that SEO is "free advertising" because it does require an investment of time and/or money. But it is a cost-effective way to drive organic traffic to your website.
Read our breakdown of the ROI of SEO here.
Take Market Share From Your Largest Competitors
Content marketing is an opportunity for a small law practice with one or two attorneys on the team to attract more clients than larger, more well-known firms.
Not all law firms have a large online presence. A robust content marketing strategy can help you outperform the competition, not only in terms of website traffic but in terms of market share.
---
DIY SEO Tactics for Lawyers
Now that you know a bit about how SEO can help you grow your practice, let's dive into some specific tactics that you can start using right now.
Publish Blog Content on Your Website
You can establish your firm as a trusted, respected leader in your industry by creating high-quality content that helps to draw in potential clients and/or other industry professionals.
Here are a few ways you can use blog posts to drive website traffic and sales:
Answer common questions that prospective clients might be searching
Inform your potential clients of legal issues
Educate them about your legal services
Opine on industry trends that other attorneys or legal professionals might want to read.
Every thought leadership article you publish on your site should be well-researched, well-written, and crafted with the best SEO techniques in mind. Make sure to do the following:
Include your target keywords in your blogs, headers, title tags, and meta descriptions
Avoid duplicate content (publishing blogs twice or creating multiple pieces of content about the same topic)
Offer value that satisfies user intent (gives the searcher the type of information they're looking for when they search a particular keyword)
Write clearly and concisely to improve your chances of ranking for Featured Snippets
Also, be sure to share links to your posts on social media to extend your reach even further and have your content shared over and over again.
Create Content With Search Intent in Mind
From your landing pages and FAQ pages to your blog posts, every piece of website content should be created with search intent in mind.
There's a user intent behind every online search. You can boost your position in search engine results pages (aka SERPs) by creating content that satisfies different user intents.
For example, a prospective client that's ready to hire a lawyer today may do a search for "car accident lawyer in Los Angeles." In this scenario, it is likely that they're looking for a lawyer's phone number. You can satisfy that search intent by optimizing a landing page for the keywords "car accident lawyer in Los Angeles."
If someone searches "do I need a lawyer after a car accident?" they're most likely doing research to decide if they should hire a lawyer. You can satisfy that search intent by optimizing a blog post for the keywords "car accident lawyer" and detailing all of the reasons why it's best to hire a lawyer after an accident.
Here's how to satisfy searcher intent:
Decide which segment of your target audience you're writing for
Identify your target keywords
Determine the search intent — what type of information a searcher is looking for — when they search each keyword
Use your assessment of each keyword's search intent to plan and write your content
While search intent isn't a "direct" SEO ranking factor, it does affect your site's performance in search engines. If Google notices that people are always scrolling past your URL and clicking someone else's, it will start ranking those websites above yours.
Generate Backlinks
There are two overarching "types" of SEO to pay attention to:
On-site (or on-page) SEO means optimizing every page and piece of content on your site.
Off-site SEO is the process of generating backlinks to your site from other people's websites.
A backlink is similar to a positive review or a great testimonial from a client. Backlinks help to validate your site as a valuable resource, and when Google thinks your site offers value, they bump you up in search engine results.
Keep in mind that it's quality backlinks you want (not spammy ones), and there are some incredible online resources that can help you get them.
Quoteful, for example, is a service that can get you backlinks from some of the internet's most trusted and respected websites, such as Entrepreneur, HubSpot, and Recruiter.com.
You can also get backlinks through your own network of industry connections or by reaching out to other local businesses. Encourage them to include a link to your firm on their site as a way to provide their own customers with another valuable, local resource.
But the best way to generate backlinks is to publish high-quality content on your website. A good blog article can generate hundreds of links from people who want to share it with others because they find it valuable — and you don't have to do any outreach!
Our content marketing service packages come with 2-8 links per month (and we can expand from there). Let's start building links and growing your site today!
Target Local Clients
No matter how many states you're licensed to practice law in, most attorneys work with clients that live within their local practice area. The good news is that you can develop a local SEO strategy and focus your content marketing efforts on the exact group of clients you want to serve.
Here's how to do it:
Create sales-centric content that explains the legal services you provide. Then, in your meta-titles, headers, and meta-descriptions, include long-tail keywords that target your specific market.
For example, your headers or meta-descriptions might include keywords such as:
Immigration attorneys in Philadelphia
Divorce lawyers in Denver
Defense attorneys in Los Angeles
Personal injury lawyers in Chicago
Adding the name of your city can improve your on-site SEO and boost your search rankings when people research particular types of lawyers in a specific town.
There are ways to target local clients with off-site SEO, as well.
For instance, your business should appear in all local search results, including on Google Maps, in local legal directories, and in all local business listings. Google My Business (GMB) makes that possible.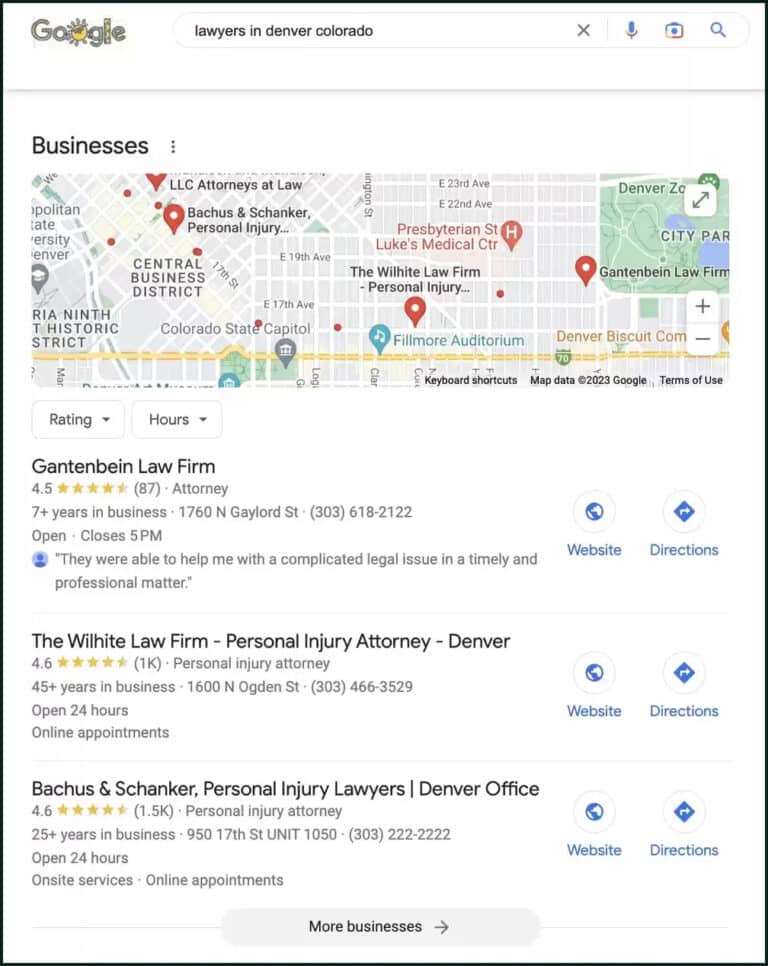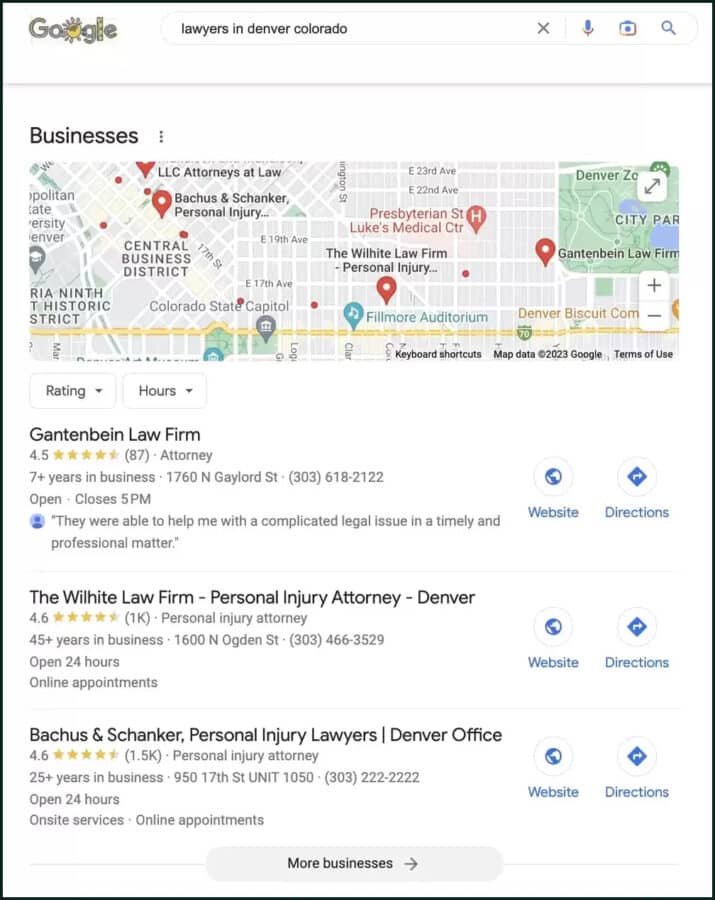 GMB is a free tool that any business in any industry can use. It's a form of free advertising that directs clients to your law firm when they search for terms like "divorce lawyers near me" or "Miami immigration lawyers."
SEO optimization, both on-site and off-site, is essential to every law firm's marketing plan. Both methods help drive traffic to your site, which generates leads and helps convert leads into actual clients.
---
Hiring a SEO-Centric Content Marketing Agency
Like the practice of law, there are intricate details of SEO that take time to learn.
Can you learn them on your own?
Sure – in time.
But most lawyers don't have the time it will take to improve their own SEO efforts.
Remember, the longer your competitors outrank you in SERPS, the more potential clients you're losing.
But don't worry; you don't have to go at it alone. There are SEO agencies and digital marketing firms that can do it for you and do it right.
SEO agencies do more than develop content marketing plans and write SEO-centric content that boosts your rankings. They also:
Conduct keyword research to find the best opportunities for growth
Optimize your site's technical SEO
Implement schema markup to help search engines better understand the website and content
Track website metrics and measure SEO campaign performance using Google Analytics and other tools
Improve your website's click-through-rate and overall website's user experience
Hire an agency that you trust. Look for one that is willing to take the time to learn who you are and has a successful track record of boosting traffic, generating leads, and increasing conversions.
Our SEO-centric content marketing agency has experts on staff that can help build an online presence for your law firm. You can read some of our SEO success stories on our case studies page.
---
Google rankings matter, and with an SEO-centric content marketing plan, you can improve your position in SERPs and increase the visibility of your practice. Whether you do it yourself or hire an agency to do it for you, content marketing should be a part of your practice's marketing plan.
The longer you wait, the more opportunity you're giving your competitors to connect with clients before you do. Contact Intergrowth now to learn more about our SEO services.
SCALE YOUR ORGANIC TRAFFIC
Subscribe to our monthly newsletter