Old-school marketing still works very well in the construction industry.
A yard sign in front of your neighbor's house lets you know who to call if you want a home addition. A banner in front of a job site lets property developers know who to call for large-scale construction projects.
But any good construction marketing strategy involves digital marketing, too. Google sees over 20 million searches for general contractors every year.
Search engine optimization, also known as SEO, can help you to drive more leads to your website by helping you to connect with those people searching for construction firms.
---
Simple SEO Strategies for Construction Companies
SEO is a scalable marketing tactic. Bigger content marketing campaigns tend to see bigger results, but even a few small initiatives can multiply your traffic and leads.
Here are some quick and easy steps you can take to start connecting with customers through search engines:
Set up your Google Business Profile
Create pages for your business on every review website
Encourage your customers to leave reviews
Change your website's meta titles
Compress any images on your site
Ask other local websites to link to yours
Write some blog articles
Consider making some videos
I'll explain each of these tips in the sections below. Most of them are a lot easier than they sound, but they can all help your business significantly.
---
1. Set Up Your Google Business Profile
Your Google Business profile is the profile that appears on the right side of the search results when someone searches for your brand name.
You can see ours in the screenshot below:
Your Google Business profile can drive traffic to your website, as it has a clickable button that links to your website.
More importantly, though, it allows customers to contact you directly, which some customers may do without visiting your website.
Your Google Business profile is also the listing that appears in Google's Map Pack for local searches. The Map Pack is the section that displays 3-4 business listings accompanied by a map when you search for a specific type of business in your area, as seen here: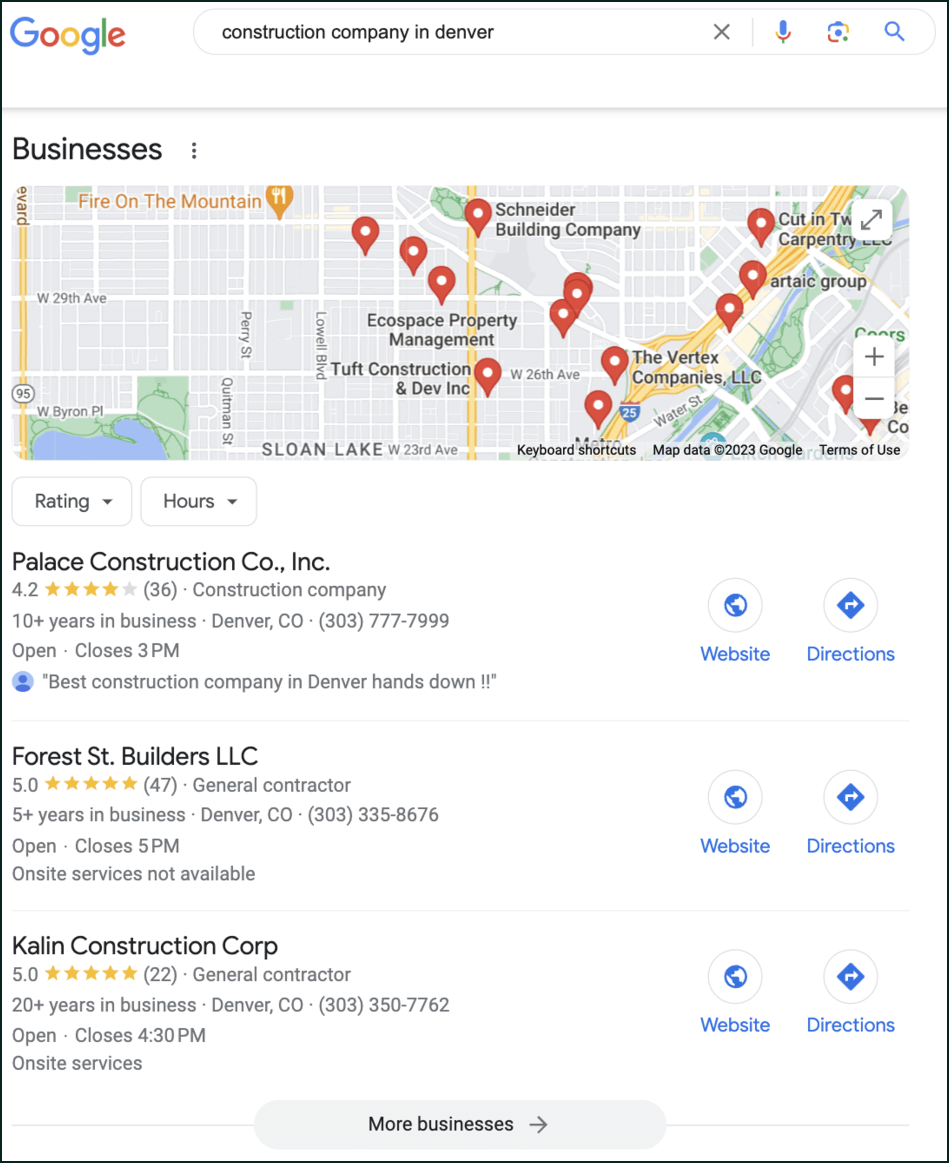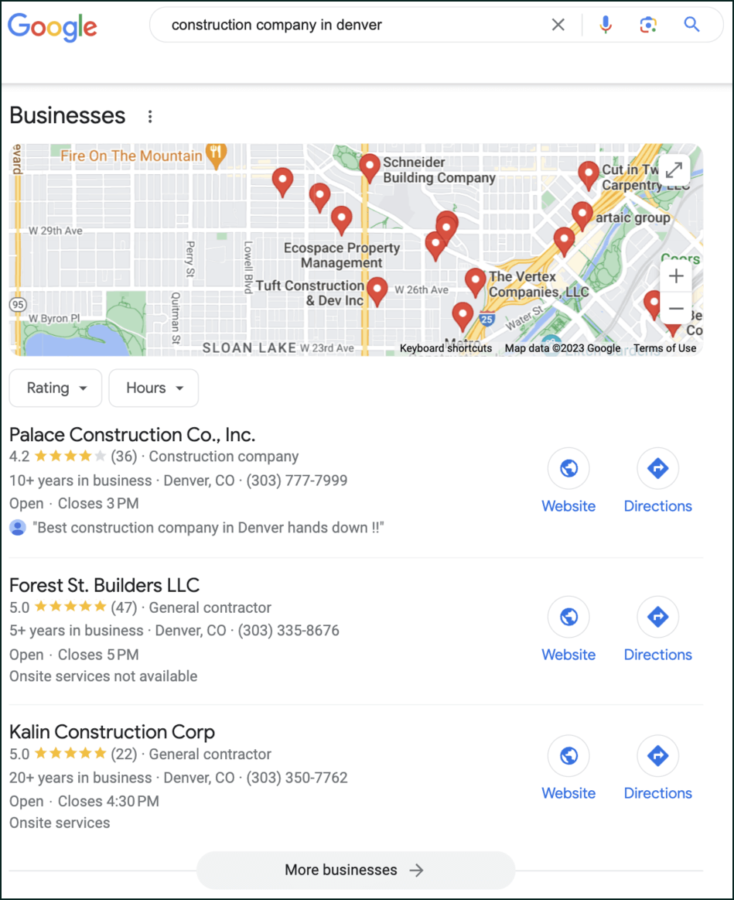 Reading your Google Business profile will be the first interaction that many customers have with your brand, so make sure that you fill it out completely and add photos to give a good first impression. Also, be sure not to forget any contact information, as you want customers to be able to get in touch if they're interested in your construction services.
Click this link to claim and complete your Google Business profile if you haven't already.

---
2. List Your Company on Every Review Site
Your Google Business profile has a space for customers to leave reviews. That space is a valuable asset for your business because 95% of customers say that they read online reviews before buying something.
It's almost guaranteed that interested leads will do some research on your company before calling you. If they can't find any testimonials, they may not click the Call button on Google or even visit your website.
Don't just limit yourself to Google reviews, though. Creating a page for your business on all of the major review sites will give your happy clients more places to spread the good word — and it will give potential clients more places to learn about you.
Here are a few other sites where clients can review your construction company:
You might also consider adding a testimonials page to your website, or at least adding some quotes from clients to your site's homepage. Think of it as a way to showcase your best word-of-mouth referrals online.

---
3. Encourage Your Customers to Leave Reviews
Again, online reviews are valuable, even if they're negative (here's a great resource from the Small Business Administration on how to use bad ones in your favor).
Don't pay for reviews — or even offer discounts for them — as it's illegal under the FTC (unless you explicitly disclose this information to your audience).
However, reviews show customers that you're a trustworthy contractor, which helps to drive leads. They show search engines that you're a trusted expert too, which can help your search rankings over time.

---
4. Change Your Website's Meta Titles
Your website's meta titles are the blue titles that appear under your site's URL when it appears in Google searches.
Here's an example:
Your meta titles serve two purposes:
Tells people what the page is about (so they know to click if it's relevant to them)
Tells search engines what the page is about (so they know which searches to include the page in)
In the FMP example above, the meta title tells both search engines and human searchers that this page is about "Commercial General Contractors" in "Denver."
It appeared in a search for the term "commercial general contractor Denver" because the meta title told Google that's what the page is about. And if I were actually looking for a commercial general contractor in the Mile High City, I might click that page to contact them or to learn more about their services.
It's very important to optimize your site's meta titles. This is one of the first steps toward what we call "keyword optimization," which is the process of helping your site rank for specific keywords.
Related: Your Keyword Research Process Is Failing You
How to Write Meta Titles for Your Construction Company's Website
Here's an easy formula you can use to write a meta title for your website's homepage:
"[Company Name] | [Primary Service] in [City]"
For your homepage, the service should be very broad. Something like "Commercial Construction in Seattle" or "General Contractor in Portland, ME" will work.
If you have any pages on your website that showcase more specific services — like if you were a general contractor that offered both residential and commercial building services — get more specific with your meta titles for those pages.
For instance, your homepage meta title might describe you as a "General Contractor in Portland, ME," but your service pages would have meta titles like "Commercial Construction in Portland, ME" and "Residential Construction in Portland, ME."


Here are a few more points to keep in mind about meta titles:
Any page that highlights a specific service should have a meta title: It's best to write them for every page, but do it for service pages at the very least.
Some keywords are very difficult to rank for: Changing your meta title doesn't guarantee you'll rank at the top of Google for that search; it just guarantees that you'll appear somewhere in that search.
A bit of keyword research can help you rank higher: Marketing tools like Ahrefs and SEMRush (both of which have free versions) are useful for identifying keyword opportunities that can help you rank higher.
Keep in mind that the formula I shared above is just a template to start with.
Construction companies in competitive markets may need to target more niche keywords (specific neighborhoods, perhaps). Companies that work nationally or internationally may need a more extensive SEO strategy (like creating individual pages for each market).
---
5. Compress Any Images on Your Site
Fast-loading sites often perform better on search engines. Not only does Google look poorly upon slow-loading websites, but slow load times can ruin the user experience.
According to Google, the probability of a visitor "bouncing" increases by 32% as the page speed increases from one to three seconds.
So it's very important to get your site loading as fast as possible.
One easy way to achieve that is to compress all of the images on your website. If you use WordPress or a similar content management system, you can install a plugin that automatically compresses all of your site's images.
If you use a website builder like Squarespace or Wix, you can compress all of your images manually using TinyPNG before you upload them to your site.
Don't worry — you won't lose image quality, but your search rankings could improve.

---
6. Ask Other Local Websites to Link to Yours
"Backlinks" — or links from other websites — show search engines that those sites trust you. They can help you to rank higher, especially if the sites that link to you are known as trustworthy experts themselves.
Earning backlinks can be very difficult. We have a few strategies that work for us here and here, but you might also try asking other websites based in your area.
For example, if a commercial client announces on their website that they've renovated their building, you could ask them to link to your site. If any local newspapers cover a development project you're involved in and happen to mention your name, you could ask them to add a link.
---
7. Write Some Blog Articles
Okay, now here's where we start to shift away from the "easy" steps you can take to improve your construction company's SEO.
This one requires a little more work, but it's very effective:
Blogging.
We have a whole article on the value of blogging here, but essentially, it helps to do three things:
Lead generation: Funnel readers to your website (some of whom may be customers)
Brand awareness: Establish your site as a helpful resource (you'll start to build your online presence and earn a reputation for being someone who knows what they're talking about)
Keyword rankings: Show search engines that you're a trustworthy construction expert (which can help you to rank higher for construction-related terms)
Need help figuring out what to write about?
Here's an article about how to write your first blog, and here's one about the process we use to develop blog content for our clients.
We also have an article about how to hire a content marketing writer if you'd prefer to have someone else do it for you.


---
8. Consider Making Some Videos
Videos are another powerful type of content that can help you generate new customers.
They're also a great addition to an SEO campaign, as they help to keep your website visitors engaged. Plus, they create a new entry point on YouTube (or Instagram, etc.) where potential customers can learn about you.
The construction business lends itself perfectly to video, too. You might create some simple how-to tutorials that show your target audience you're an expert, or you might document your construction process to help potential customers understand what it's like to work with you.
Either way, video is definitely something to consider when you're looking for ways to advertise your company.

---
Final Tip: Make It Easy for Website Visitors to Get In Touch With You
SEO can help you get people to your website, but you have to make it easy for them to reach out once they arrive.
There are a few easy ways to do this:
Create a Contact page that includes your address, phone number, email address, and any social media pages for your business.
Include a "Request a Quote" button that links to either your contact page or a submission form where prospects can request a quote (like this page on FMP Construction's website)
Include your contact info in your website's header or footer margin (most website builders and content management systems make this easy to do)
---
FAQ: But What About Google Ads? Can't I Just Pay to Be at the Top of Google?
There are a few notable downsides to pay-per-click (PPC) ads like Google Ads:
Fewer people click ads: The average sponsored page on Google sees a clickthrough rate of 3-6% while the top non-paid page sees an average CTR of 27.1%.
You have to keep paying: Ads only generate traffic as long as you continue to pay for clicks, while SEO can help you secure a long-standing position on the first page of the SERPs.
Too many companies waste money on Google Ads: You can waste thousands on useless traffic if you target the wrong searches or manage your campaign incorrectly.
That said, paid ads can be a valuable investment in some cases (you can read about some of those cases in this article).
But if you run a campaign for more than a few weeks but see no return, it could mean you're targeting the wrong keywords or need to improve your ad copy.
Think you might be overspending on Google Ads?
Consider meeting with a PPC specialist to troubleshoot your campaign. Or, you might consider shifting your budget toward SEO content that drives long-term results.
---
It certainly takes some work, but optimizing your site for search engines is well worth your time. We have a full article breaking down the ROI of SEO here.
And if you're too busy managing the other aspects of your business to focus on your marketing efforts, you can always give us a call. We have a full marketing team that can build you a strategy and content to drive more leads to your website.
SCALE YOUR ORGANIC TRAFFIC
Subscribe to our monthly newsletter