One day I was on social media watching famous people making homemade mac and cheese. Kim Kardashian disclosed that she combines six different kinds of cheese and tops her mac and cheese with panko breadcrumbs! My mind was blown and I thought it was very creative and I wanted to try it.
If Kim Kardashian can take an original homemade mac and cheese recipe and add her own twist to it, then why can't you do the same with a competitor's article topic?
We often see that direct competitors, along with indirect competitors, publish great articles or marketing campaigns that perform extremely well and we think "man I wish we thought of that."
Instead of this mindset, we've changed it to "how can we build off this idea?"
Performing a competitive landscape analysis monthly can spark many creative ideas and help your business grow as well (or better than!) your competition.
Read this article for a full picture of what it looks like to work with our team to grow your business.
---
3 Reasons to Analyze Competitor Growth Monthly
You may be wondering why I mentioned above taking a monthly look at your competitor's performance instead of quarterly, bi-yearly, or annually.
1. Change in Trends
Industry trends and market trends change rapidly.
If a competitor posted an article on January 16th and we see that two weeks later the article has generated an estimated 500 visitors from organic search, we know this could be a great topic for us to write about as well.
2. Topic Ideation
There is more to SEO than just the top-ranking keyword.
Yes, that plays a big role, but what about the topic itself and other keywords?
On a monthly basis, we look at articles that may not currently have a lot of traffic but have the potential to gain traction in the coming months based on market research.
Specific keyword themes related to a parent topic could be tough keyword(s) to rank for.
What we can do is look at their topic and research similar phrases that we could write an educational piece on.
For example, the purpose of this article is to discuss the importance of a competitor analysis when creating content and how it should be in your marketing strategy. However, it is HARD to rank on the first page for the keyword "competitor analysis."
We had to get creative and think of other ways to rank for a similar phrase. We kept this topic but found a keyword to optimize around with a lower keyword difficulty, and other items mentioned below.
Here's how:
We find a topic that will have a competitive advantage over other companies. We use a TF-IDF identification software to capitalize on that main keyword for which we can rank on the first page. The word or phrase doesn't always have a large monthly search volume — other goals may come into play. We also use our optimization tool for additional subtopic suggestions that will push our post higher in results.
3. Position Ranking
We don't track keyword positions on a monthly basis; we check weekly. Our team will keep an eye on metrics via SEMRush and Ahrefs to see which competitors outrank us.
When this happens, we can dive deeper into what other keywords they use, their target audience, length of the article, and educational content they reference that we didn't.
If the competitor continues to improve, we know we need to update our article and provide any new information on the topic.
---
Tools to Employ
As mentioned above, we consistently utilize SEMRush and Ahrefs. There are a few features of those two tools we would like to highlight.
However, we understand they may not fit every budget. Further below, we'll discuss some Google tools that help find competitors' strengths that are beneficial as well.
SEMrush
Take advantage of the reports in "Domain Overview" and "Position Tracking."
Domain Overview has many useful features within the one page that can pull fast and useful metrics.
Start with a Domain Overview of your own website.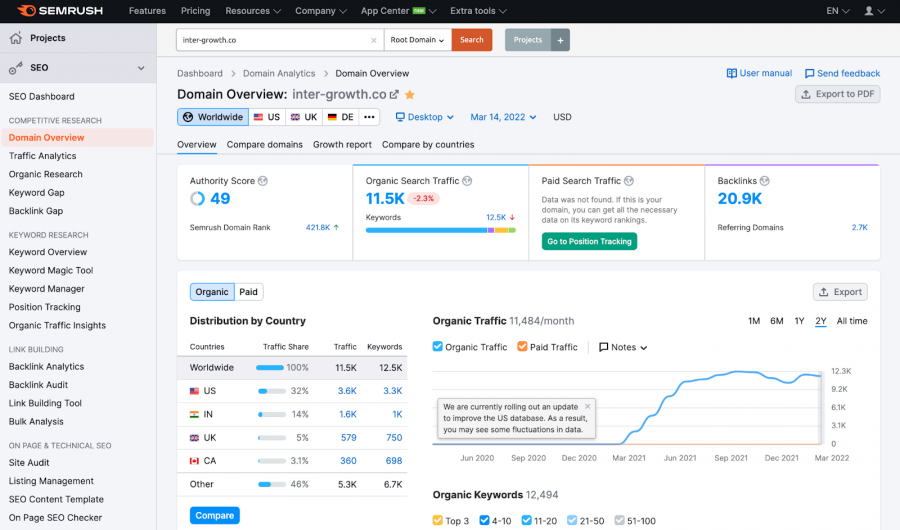 If you scroll down toward the middle of the page, you will find a section on Market Position. The best websites to gather information on will be easy to identify.

Ahrefs
Here's a breakdown of what you can get out of Ahrefs:
Top Pages
After placing your competitor's domain in the search bar, this tool is in the left navigation under "Organic search" (image on the right) – this will show the top pages your competitor ranks for and the top keyword for each of those pages.
Content Gap
This can be found by the same approach as "Top Pages." It allows you to see which topics your competitors rank for that you don't.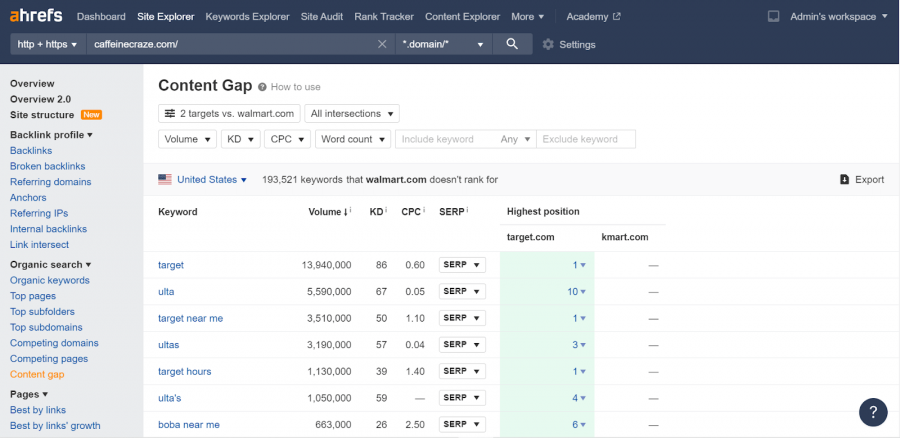 Keywords Explorer
Found in the header navbar, this allows you to bulk search various keywords. This feature shows you search volume, keyword difficulty, and more.

These are great tools for defining the perfect keyword for your company. Whether you are a startup or hold a majority of the market share, Ahrefs will help define the best keywords to help you grow.
Fun Fact: The Keyword Difficulty will tell us how hard it will be to rank. This helps us forecast how many high-quality links we should expect to need to build in order to rank in the top 10.
Google
A simple Google search, site search, and using Google Search Console are good starting points in discovering who your competitor may be and what content they have.
Google Search
Google what type of product or solution you offer:
Who is in the featured results and why?
Are there any paid search results?
If so, what are they linking to? Is it to an educational piece of content, a product, or their homepage?
This analysis will provide a great benchmark for who competitors are and what keywords they're ranking for that you will want to target.
Site Search
Performing a "site search" of a company on Google will populate all of their pages. You can filter this down to a certain time period. We like to use this to see what types of content competitors have created in the past month and if it has gained any traffic.
If you want to see if a competitor has written on a certain topic, type in site: and then the url you want to search, space, and then the term you want to search the site for.
So if you wanted to search NASA for lunar landing information, you might type in:
site:www.nasa.gov lunar landing photos
That will bring up all of the pages on their site that mention photos of the lunar landing.
From there, you can run those pages through Ahrefs to see what keywords are drawing traffic to those pages.
To see a specific time period of new content, after performing the site search, click the Tools button and then click the drop down "Any time." We like to look at a custom range of the previous month.
Google Search Console
Ever wonder what keywords you are already ranking for?
Or top-performing articles?
By connecting a domain with Google Search Console it can provide more insights into how users find you. This is a great tool to incorporate within a business strategy.
Additional Tools
For all of you DIYers, these free keyword research tools are also good options.
When I plugged in "competitive analysis" this tool generated over 300 various questions I could answer or directions I can go in.
It's also easy to pair this tool with Ahrefs.
Say you're interested in a keyword that is broad and popular and you want to find a way to get your foot in the door. Plug that term into Answer the Public, and then when all of those questions come up, consider them longtail keyword phrases.
Hit control or command A, open up Keywords Explorer in Ahrefs, and hit control or command V to paste. Hit enter and you'll get info on hundreds of potential keywords.
This one is fun because it can be a Chrome extension! How easy is that! Anything you Google, this extension will populate various data points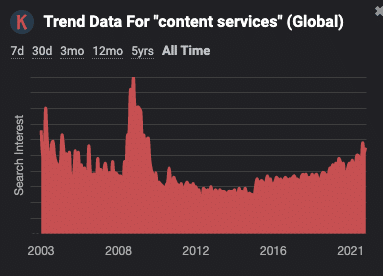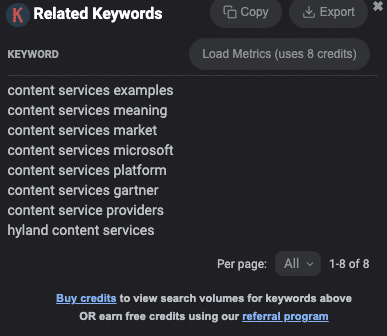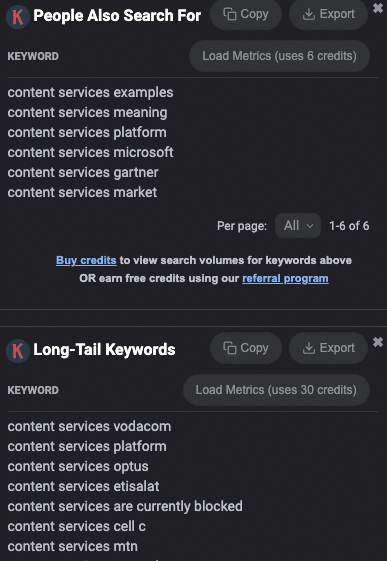 If you are looking to do less frequent and more broad competitive analysis, then this is a good tool to use. This tool shows you organic traffic, top five pages, and top 10 keywords all for free!
---
How to Develop Ideas From a Competitor's Top-performing Pages
First place to start?
Google.
It is a great free way to see what content your competitors are creating and what they are ranking for.
Step 1
Head over to Google and do a site search of your competitor's website. In the URL, type in "site:competitors_site.com." All of the data within their site will populate in the search results.
Step 2
Download the free Ahrefs SEO Toolbar Chrome Extension. Without an Ahrefs account, you have limited visibility with this extension. If you have full Ahrefs access, you can click the keyword number (KW) to see what they are ranking for.
Tip: If you don't want to pay for the Ahrefs subscription, but want to know how many keywords a page ranks for and how much traffic it brings in, Keywords Everywhere (mentioned above), provides that information!


Clicking the KW number will take you to that exact URL's data in Ahrefs Site Explorer feature. There you can see the search volume for each keyword they are ranking for.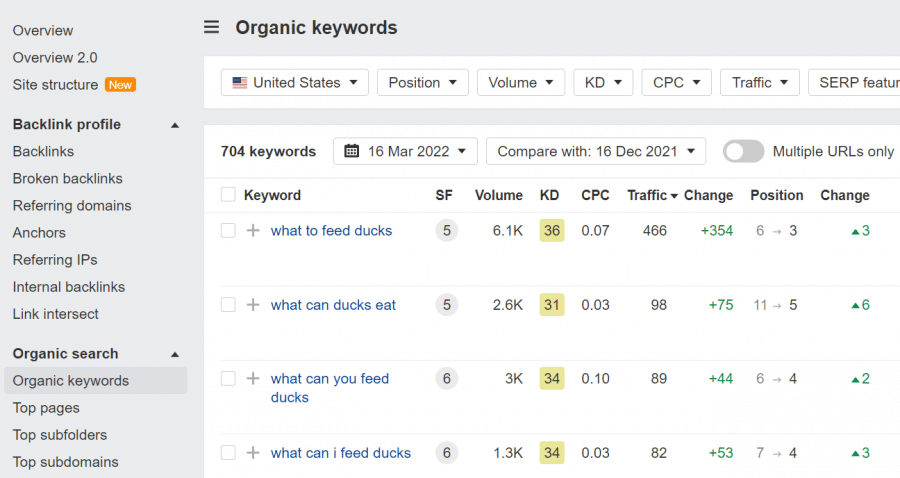 It is also important to check out the keyword's ranking difficulty score when in Ahrefs.
Anything under 15 is a great spot to be in if you are a newer site just starting to explore SEO. As your company grows, you can test out ranking for keywords with a higher difficulty.
It may not be searched as much, but it is more important to rank on the first page for a keyword with a search volume of 100, than to rank on the 50th page for a keyword that sees 10,000 searches a month.
Backlinks are just as important. As the keyword difficulty score gets higher, Ahrefs will likely suggest more links will be necessary to rank for the search term.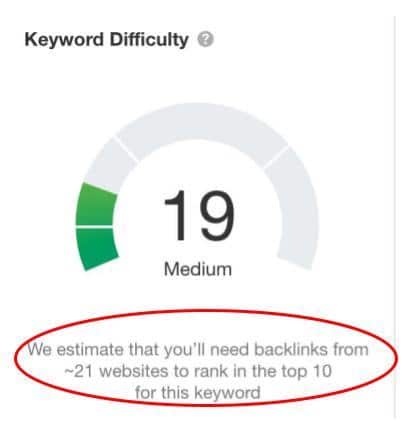 When looking at a competitor's topic or specific ranking keywords, think outside the box. You don't want to plagiarize an article, so only use the topic as inspiration for creating more educational content on the internet.
For example, say they are ranking on the first page for hikes in Washington and have an article titled "Best Hikes in Washington." You could write an article on "7 Best Hikes in Washington and Oregon."
Be sure to document any inspiration via an Excel Spreadsheet, Google Sheets, Word document, or another source to keep track of any future opportunities. Our content experts will reference data they have recorded for inspiration when planning editorial calendars for the coming months.
---
Putting It All Together – the Process
Let's go through it step by step.
Step 1
Create a list of competitors, then search for them on Google. Is the educational content something that can spark inspiration and relates to your business model? What are some differentiators?
Step 2
To find out who the biggest competitors are, I like to go into SEMrush, plug in our domain, and scroll down to the competitive positioning map.
I like to take each one and see who has similar organic searches and the target audience. It is good to have primary competitors that share the same products or solutions as well as tertiary competitors that aren't the same but have the potential to be primary competitors.
Step 3
From there we can take these domains into Ahrefs to compare various metrics:
Domain Authority
Organic Site Traffic
Content Gap section
In Ahrefs, we will also go into top pages and can look at the blog with the highest traffic and look at the top keyword they are ranking for.
The content strategist will then see how we can rank for a specific keyword or if there is a similar keyword we can rank for.
---
Conclusion
Looking at competitors' keywords or topics is an important part of a competitive analysis framework, be it the in-depth usage of Ahrefs or a SEMRush, or utilizing Google's site search to find your ideation.
In order to enhance your marketing strategy, start with "how are people finding x company that sells the same products/services I do?"
We like to check for keywords or phrases that would be applicable and see how difficult it would be for our site to attempt ranking on the first page. If we can't, we do our best to find a similar phrase or keep it in our back pocket.
Check out our content marketing services page for more information on how Intergrowth can be your partner in outranking your competitors on Google.
Ready to take your business growth to the next level? Contact us here and let's talk about ways to help you grow your business.
SCALE YOUR ORGANIC TRAFFIC
Subscribe to our monthly newsletter