We're in the midst of a recession. Hiring freezes and layoffs are becoming commonplace. Investment dollars are on the decline.
Businesses find themselves needing to audit their expenses to make as many cuts as possible.
One of those audits involves marketing. Put simply, to answer the question: "What marketing expenses can we cut without sacrificing sales?"
Marketers: brace yourselves. We have difficult times ahead of us.
Most growing businesses rely on two primary channels for new customer acquisition in their digital marketing strategy: SEO and PPC.
After cutting back on TV ads, billboards, social media, and other long-term brand awareness campaigns, SEO vs. PPC will be the primary investment question for many of you.
Here, we'll:
map out the full SEO vs. PPC debate to help you decide which is the right investment for you.
start by defining each before giving actionable advice on how to allocate your budget between the two based on your business' unique situation.
outline the pros and cons of each and the four questions you need to ask yourself to find the right answer for your business.
---
The Mandatory Definitions: SEO vs. PPC vs. SEM
Before we jump in, it's important to start on the same page with what we mean by "SEO", "PPC", and "SEM".
Click to skip to the next section if this is a waste of your time. We'll get way more actionable after this.
SEO = Search Engine Optimization. TL;DR: this consists of the initiatives that help your business rank in search engines for organic search results that relate to your business.
PPC = Pay Per Click Advertising. TL;DR: any initiative where you pay for advertising space on a property you don't own (think Facebook Ads, Google Ads, etc.) Pricing models will vary, but two of the most common on paying for each click to your website, measured in Cost Per Click (CPA), and paying for every thousand impressions of your ad, measured in Cost Per Thousand Impressions (CPM).
SEM = Search Engine Marketing. TL;DR: any initiatives that help you rank higher in search engines (combines SEO and any form of paid search advertising, such as Google Ads or Bing Ads)
There's some overlap between these terms, so here's a nifty chart showcasing the overlap and difference between the three.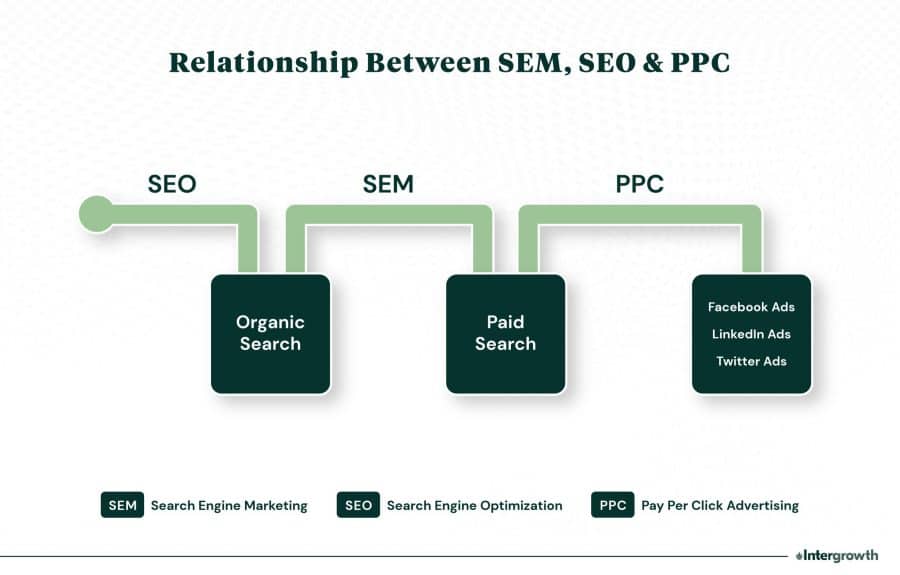 ---
Pros and Cons of SEO
SEO is a long-term marketing investment. It costs a premium in the short term but slashes customer acquisition costs in the long term.
SEO is a perfect example of the benefits of compounding returns.
Initial investments in SEO will result in gradual growth. However, the impact of those investments compounds and multiplies over time.
Assume your first three months of investing in SEO will result in minimal organic traffic growth. Months 4-6 will result in gradual business growth as you climb the search engine results pages (SERPs). Months seven and beyond will yield exponential growth in website traffic.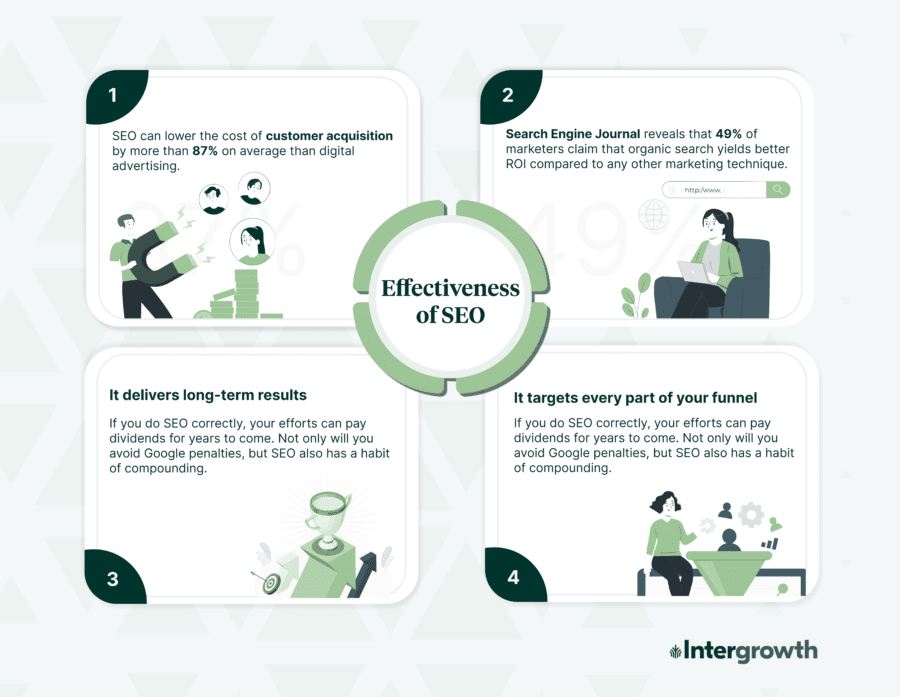 Additionally, investing in SEO pays long-term returns after you stop investing.
One strategy we often roll out for clients is to put them in "maintain" mode after we help them take over search results for their industry.
Let's say a client invests $10,000/month in partnering with us for an SEO campaign. After dominating search results for their industry, we can often reduce their investment to a third of that to focus strictly on maintaining those first-page rankings and organic search traffic.
What are the pros and cons of SEO?
The main benefit of SEO (and content marketing in general) is the long-term compounding return on investment that it generates for years after your initial investment.
The main downside to SEO is the initial investments will take longer to generate positive ROI.
Long term, SEO is a better investment than PPC for most businesses.
Related: 9 Questions to Ask When Hiring an SEO Agency
---
Pros and Cons of PPC Advertising
PPC is a great investment for businesses looking to increase sales predictably in the short term. It allows you to start bringing potential customers to your website within weeks of defining your target demographics, crafting your messaging and ad copy, and kicking off your PPC campaign. Anticipate a 30-60 day ramp-up period with paid search ads.
However, PPC is an expensive customer acquisition tool. With paid ads, businesses see a linear growth in expenses for each customer acquired.
Building upon this, the bidding nature of PPC ads means that acquiring more market share means increased CPAs.
Let's say you're a Denver real estate business.

Ahrefs estimates you'll pay $6.00/per person who clicks on your paid search listing when bidding on the search theme "downtown Denver apartments".

You pay $600 and bring 100 people to your website. If one person signs a lease, you look like a genius.

But let's say you scale that investment. You decide Google Ads is a no-brainer and commit $6000 to ads for all terms related to "Denver apartments".

Before, you paid $6/click. Now, you need to outbid the other businesses paying for that same click. There are only so many people searching for apartments, so you have to pay a premium to get those clicks. Your CPC goes from $6/click to $12/click.

The $6000 investment now brings 500 people to your website. Sure, you get five leases, but you went from paying $600/lease to $1,200/lease.
The following chart gives a good benchmark of what to expect from your SEO vs. PPC investment. Expect more ROI from PPC marketing in the short term, with exponentially more ROI from SEO in the long term.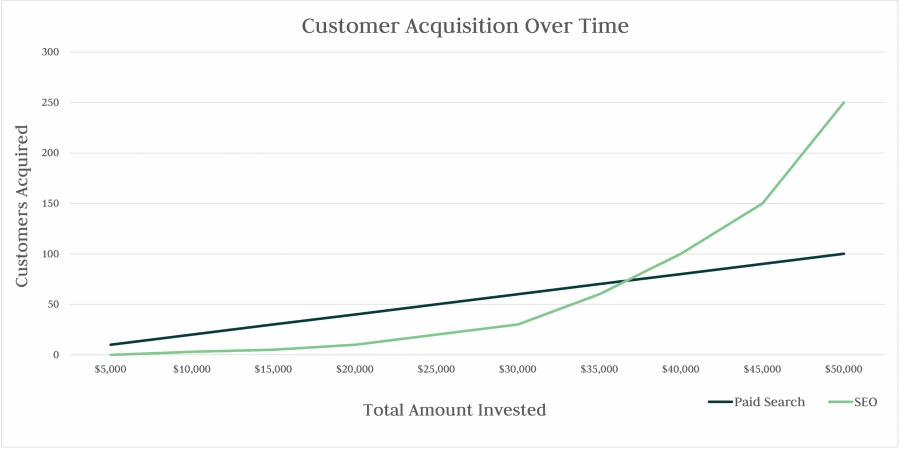 What are the pros and cons of PPC?
The main benefit of PPC is the access to rapid customer acquisition at a more predictable cost per customer in the short term.
The main downside to PPC is the long-term cost per customer and increased costs per customer as you scale your investment.
SEO will almost always be the better investment in the long term. However, why not choose both?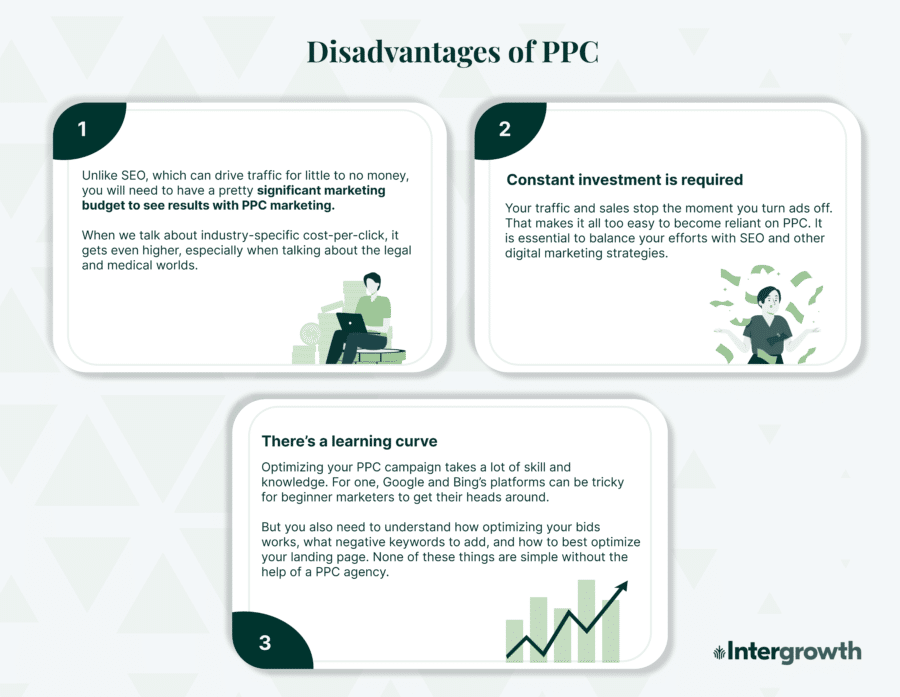 ---
How to Determine Budget Allocation Between SEO and PPC
SEO and PPC make the perfect one-two punch in acquiring customers and building your online presence.
SEO takes time to drive results but leads to exponential revenue growth in the long term.
PPC will cost you much more per lead in the long term but drives results must faster.
To quote Eli Schwartz, "Paid marketing is like renting a house; you never build any equity. SEO is like owning a house; you may have a big mortgage, but every month you earn a little bit more equity in your home."
---
Questions to Ask Yourself to Decide Between SEO and PPC
Ask yourself the following questions when deciding how to divvy your budget between SEO and PPC.
How much do you value short-term vs. long-term sales?
For those focused on short-term sales, a good benchmark is starting with an 8:2 or 9:1 investment ratio of PPC to SEO.
For example, if you have $40,000 to invest between the two every month, start by allocating $32,000/month to PPC and $8,000/month to SEO.
Businesses with longer-term growth goals might consider a 6:4 ratio to start. Regardless, keep this ratio for the next six months while SEO gains traction.
Plan to shift that budget from PPC to SEO as you start seeing exponential revenue growth, as SEO will be more cost-effective in the long term.
What's the lifetime value of a customer? How profitable are you for each customer?
Calculate how much you can afford to invest to acquire one new customer.
If you're in growth mode, you might be willing to invest $200/customer, knowing that customers are only worth $100 of profit/year.
Other businesses may have a ceiling of a $90 investment/customer for that $100 profit/year.
Map out the lifetime value (LTV) of a customer, as well as the expected revenue from each customer over the next 12 months.
Next, look at your profit margins per customer per month. From there, you'll be able to map out how much you can invest into acquiring each new customer.
What is your current cost per customer acquired (CPA) for each marketing channel today? Do you fall within your budget ceiling?
Start with PPC. If that number is above your investment ceiling, cut PPC spending drastically — you're losing money for each customer. Shift a significant portion of that budget to more profitable channels.
If your CPA for PPC is below your investment ceiling, gradually shift 5-10% of that budget to SEO.
Organic traffic will typically have a high CPA when you first start investing. However, those CPAs will fall drastically over time. If you've only been investing in SEO for 3-6 months, expect higher CPAs from SEO for now.
On the other hand, if you've been investing in SEO for 12-18 months and are seeing better CPAs from PPC, shift more of your budget to PPC until you can scale up your budget again.
For unprofitable businesses/new businesses: what's your company's burn rate?
Assuming you don't bring on a new funding round, how long do you have to become profitable?
If your timeline is <12 months, invest most of your budget in PPC for more immediate results. You can focus more budget on SEO down the road once you've achieved profitability or raised the new funding round.
How much have you invested in SEO to date?
SEO is a long-term investment. Results will be slow for the first 6-12 months. If your team hasn't invested in SEO in the past, we recommend an 8:2 or 9:1 ratio of PPC to SEO.
As you start seeing better results from SEO, you can increase that ratio in favor of SEO.
We often see businesses that spend 5-6 figures on PPC every month cut their PPC budget in half and reinvest 10% of those savings into SEO as we help them grow through SEO.
---
Final Thoughts
When forced to cut your marketing budget, the biggest challenge is prioritizing long-term vs. short-term business growth.
For most businesses, the best approach to take during this recession will be cutting back on marketing channels other than SEO and PPC. If you need to make cuts, review the questions above to assess how to make those short-term cuts needed to stay within your marketing budget.
Did you find this helpful? Subscribe to our newsletter to read our best insights.
Have follow-up questions? Tweet at us with your thoughts.
We regularly help CMOs and CEOs with these types of decisions. Tell us a bit about yourself. I'd love to help you build the right plan for your business over a consultation call.
SCALE YOUR ORGANIC TRAFFIC
Subscribe to our monthly newsletter