Search engine optimization is great because you can measure every aspect of it.
However, the abundance of data can leave you wondering what's actually important.
Which SEO benchmark metrics do you need to pay attention to?
Keep reading for answers.
---
Which SEO Metrics Should You Track?
Here are some of the most helpful metrics to track throughout an SEO campaign:
Organic sessions
Organic conversions
Organic revenue
Clickthrough rate
Keyword rankings
Readability scores
Bounce rate
Referring domains
Core Web Vitals
Indexed pages
Crawl errors
Mobile friendliness
Search visibility
Domain authority scores
We'll explain each of these KPIs and how to measure them below.
However, it's important to remember that every SEO campaign is different, and you might choose to track different performance metrics than the next person because you have different goals.
---
Before You Get Started
You don't need to track all of the metrics listed above. You should only track the ones that are important to your campaign.
For example, a small e-commerce company might invest in SEO to drive more sales, while a large nonprofit might use SEO to establish its website as a go-to source of industry news. Revenue benchmarks would be much more important to the former, while the latter might be more concerned with organic traffic, keyword rankings, and backlinks.
The goal is to track metrics that help you to assess your business's growth.
So, before you start building spreadsheets and setting up conversion goals in Google Analytics, ask yourself these questions:
Which products or services do you want to promote?
You could focus on driving traffic to one specific product page, or you could spend that time building your overall site traffic.
Which search phrases are a top priority for you to rank for?
Do you want to rank for keywords with a high commercial intent (which may have a lower search volume)? Or is it more important to rank for the most searched terms in your industry?
Who are your primary competitors?
Look at who currently ranks for the keywords you want to rank for and determine what you need to do to outrank them.
How is your website performing in search engines right now?
Is your site failing to appear in search results? It could be penalized by Google in the past or not crawled. You'll need to know this at the beginning of your campaign so you can fix issues and set growth expectations.
What's your budget?
How much money and resources can your company allocate toward SEO? Hitting certain benchmarks (say, 100% YoY traffic growth) will require a more significant investment than others, so you should talk to your team about your budget beforehand.
Okay, now that you've answered those questions, let's talk about some of the metrics you'll likely want to track (along with how to track them).
---
1. Organic Sessions
Organic sessions are visitors arriving at your website from search engines (as opposed to visitors who arrive through social media, a paid ad, or by typing your website URL into their browser).
No matter what you're trying to accomplish, you'll almost certainly want to track this metric. It lets you know whether your content is effective. After all, that's the goal of SEO content — to drive traffic from search engines.
More traffic from search engines means more people are learning about your brand. It also increases the chances of conversions, backlinks, and social shares.
More site traffic leads to more site engagement and better keyword rankings. The more keywords you rank for, the more traffic you'll see on your site, and the cycle repeats itself.
So, before you start looking at conversion rates or revenue benchmarks, you should focus on organic sessions. If you can bring more people to your website, your other metrics will likely increase.
How to Measure Organic Sessions
Use Google Analytics (if you haven't set that up, here's a good guide).
Go into GA4 and click Reports on the left sidebar. Then click Acquisition → Overview and scroll down until you see the Sessions box in the middle of the page.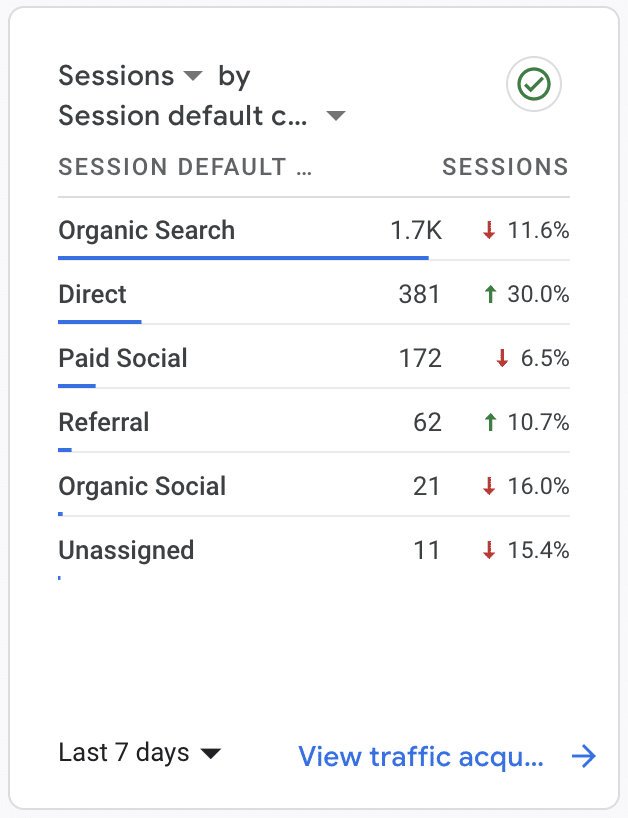 It shows data from the past seven days by default, but you can change the date to suit your needs or click View traffic acquisition to see more comprehensive data.
---
2. Organic Conversions
Organic conversions are specified actions taken during an organic session. It often refers to sales conversions (purchases, appointments scheduled), but not always. Mailing list sign-ups, gated content downloads (such as an ebook), and phone calls can also be examples of conversions, even if they don't lead to a sale.
Tracking conversions is a good way to measure the effectiveness of your marketing funnel. When customers are taking the actions you want them to take, it means that your pipeline is working as intended.
How to Measure Organic Conversions
Google Analytics will be the most useful tool for tracking conversions. Go into GA4, click Reports on the left sidebar, then select Engagement → Conversions from the menu.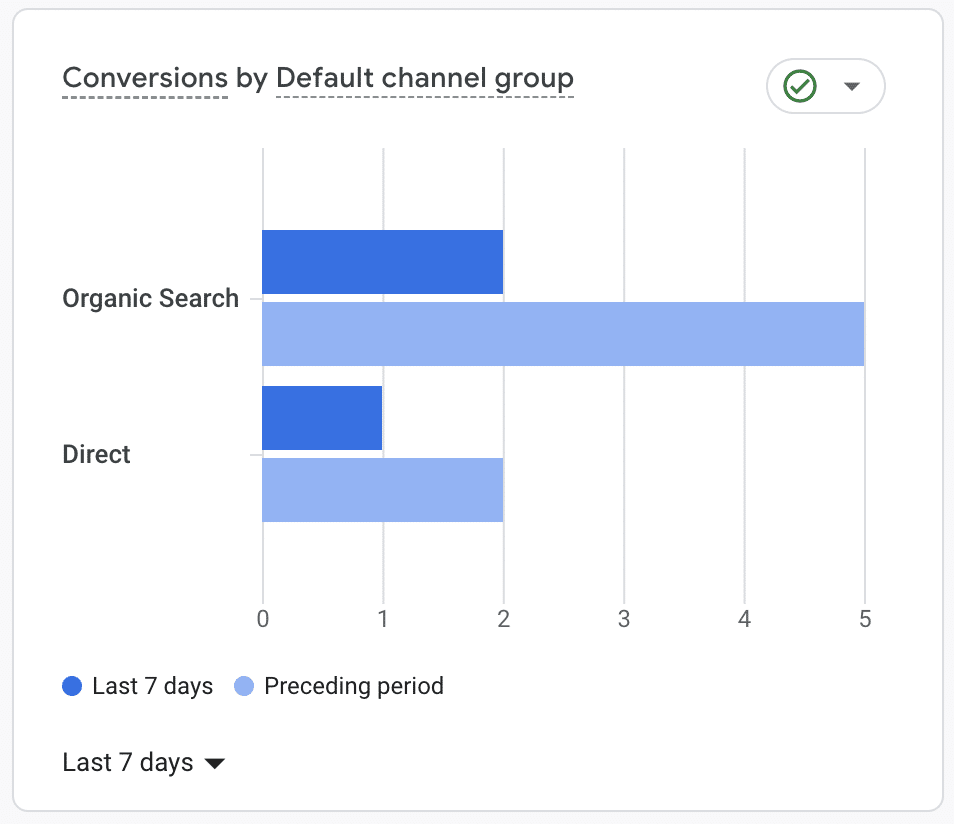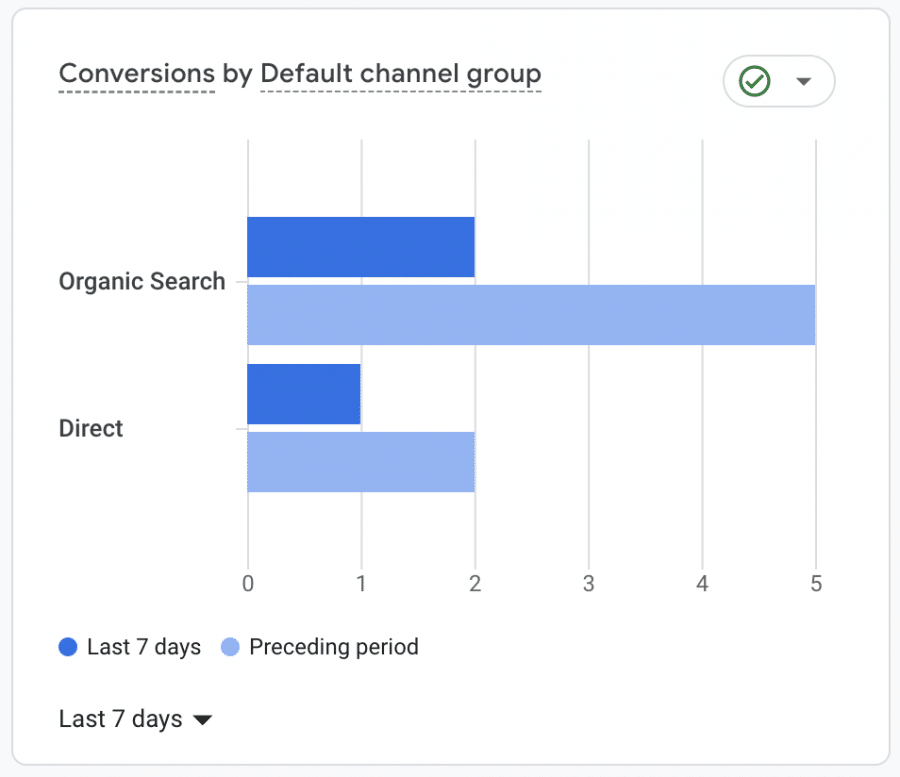 GA4 automatically tracks certain events, but you must set up custom conversion tracking for others. You'll see conversions from the past seven days by default, but you can customize that to suit your needs.
---
3. Organic Revenue
Organic revenue measures the dollar value generated by your content marketing efforts. Tracking this metric over the course allows you to measure the ROI of your SEO efforts.
Google Analytics can be used to track organic revenue (as well as organic sessions, conversions, and some of the other metrics listed here). You can assign a monetary value to every conversion event to keep track of the money those conversions are bringing, which is helpful because you can see the revenue of your site as a whole but also of specific initiatives.
This site has a helpful guide on setting up revenue tracking.
---
4. Clickthrough Rate
Clickthrough rate (CTR) is a percentage that measures how often people click your URL when it appears in a search result.
You can find it by dividing the number of clicks your site gets in search engines by the number of times it appears in search engines (impressions), like this:
CTR = (Clicks ÷ Impressions) x 100
A low CTR could mean your meta titles and descriptions aren't advertising the page very well. You may need to rework them to make them more appealing to searchers.
It could also mean the page ranks for the wrong keywords. For example, let's say that your name is John Wayne, and your website www.johnwaynecarpentry.com (very luckily) ranks for the search term "john wayne."
Most of the people who type "john wayne" into the search bar probably aren't looking for your business's website (sorry — they're most likely looking for information about the actor). You'll likely have a very low CTR because your site doesn't meet the right intent for that search query.
How to Track Clickthrough Rate
Google Search Console shows both your clicks and impressions for a given period. Go into GSC and click Performance on the left side of the screen, then click Search Results.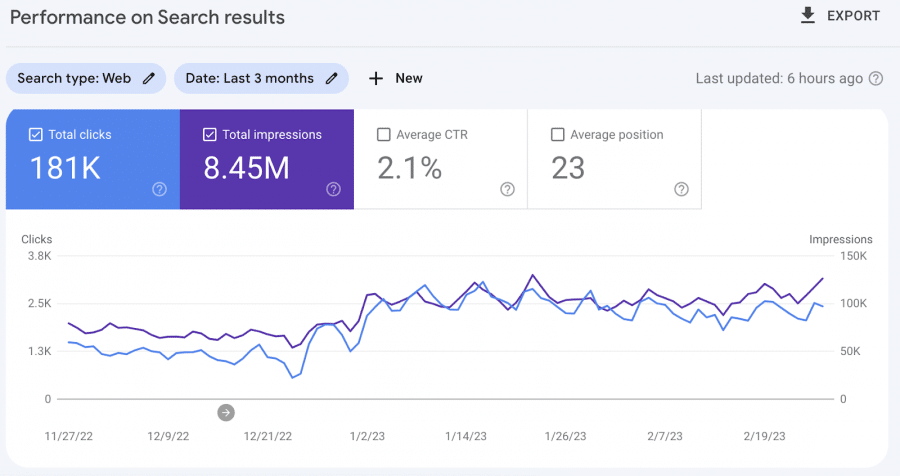 Choose your desired date range, then divide the number of clicks by the number of impressions. Multiply that number by 100, and you'll have your clickthrough rate percentage.
---
5. Keyword Rankings
Keyword rankings can be divided into two more specific metrics:
Number of keywords: How many keywords each page ranks for
Keyword positions: Where each page ranks in the search results for given keywords
Ranking for a lot of keywords is good because it means that your page will appear in a lot of searches. Ranking close to or in the first position is ideal because the first result gets more than a quarter of all clicks (on Google, anyway). Not to mention, 75% of people never scroll past the first page of the SERPs.
We usually build every page around one or two keywords, but a successful page ends up ranking for many semantically related keywords (read more about that here).
Tracking each page's keyword rankings will tell you which pages need more attention. For example, if a page falls from the top spot for a keyword with a high search volume, you'll want to figure out how you can improve it to get it back up.
How to Track Keyword Rankings
There are a lot of SEO tools out there that you can use to track search engine rankings. We use SEMRush and Ahrefs for our work here at Intergrowth. Both platforms allow you to see all of the keywords your site ranks for, or you can track your rankings for your specific target keywords.
---
6. Referring Domains
To Google, backlinks are one indicator of site quality. If you have a high number of backlinks, Google assumes that you must have some pretty good content on your site. It makes sense — why would so many sites link to you if yours was filled with low-quality content?
Having multiple links from the same website can be valuable, especially if it's a trusted, high-profile site. However, you can't rely on just one site to boost your rankings; it's better to get links from lots of sites.
Each site that links to you is called a referring domain. There's a solid correlation between referring domains and site traffic, so you should definitely spend time building links and tracking domains.
Note: You will also want to look at the quality of your referring domains to ensure you're not associating your page with low-quality websites. Focus your link building efforts on acquiring links from pages that see a lot of organic traffic and have strong backlink profiles themselves.
How to Track Referring Domains
Ahrefs and SEMRush both show referring domains. You can find them on the Site Explorer tab in Ahrefs and on the Domain Overview tab in SEMRush.
---
7. Bounce Rate
Bounce rate is an engagement metric that measures how often people leave your site without clicking any links. In other words, it's the percentage of sessions that end on the page where it started.
You're not penalized for a high bounce rate, but it's often a symptom of another site problem. For example, people might be clicking away from your site because it loads slowly or it's hard to navigate. So, you should monitor it to ensure your site is always running smoothly.
How to Track Bounce Rate
You can see your site's bounce rates on the Universal version of Google Analytics. Just click Acquisition → All Traffic → Channels. Your bounce rates are listed on the bottom half of the page around the middle of the screen.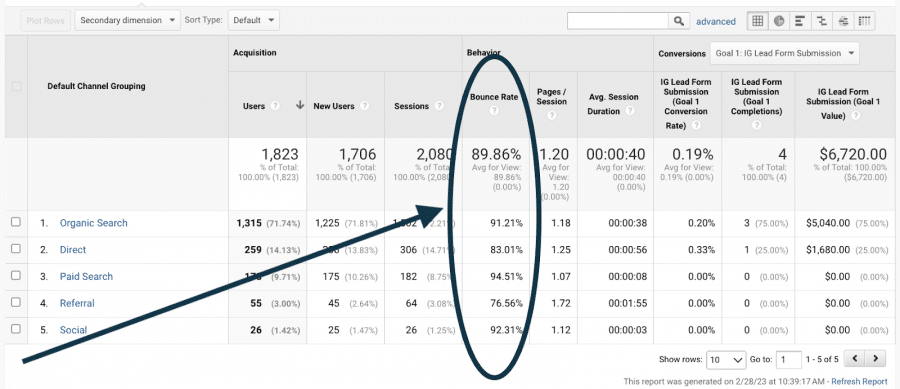 Google Analytics 4 doesn't automatically track bounce rates, but Google offers instructions on how to start tracking bounce rates in GA4 here.
Note:
Bounce rate isn't a perfect metric, which is likely why GA4 doesn't track it by default. A session where someone reads your entire page before leaving is still a successful session, but your bounce rate won't reflect that. Take this metric with a grain of salt, but definitely pay attention to it in case it gets
too
high (like 100% high).
---
8. Core Web Vitals
Core Web Vitals are a metric that Google's algorithm uses to measure the quality of a web page's user experience. It has three parts:
Largest contentful paint: How long does it take for a page's primary content to load?
First input delay: How long does it take for a user's first interaction (click, keypress, etc.) to process?
Cumulative layout shift: How much does a page unexpectedly shift?
Google has told us that Core Web Vitals are a ranking factor and that poor scores can impact your rankings directly. So, make sure to monitor your scores and to fix any issues (slow page speed, etc.) as soon as you spot them.
How to Track Core Web Vitals
You can measure Core Web Vitals in Google Search Console. From the Overview screen, click the three lines in the top left corner and scroll down until you see Core Web Vitals. Click that link, and you'll be able to see your CWV scores for both mobile and desktop browsing.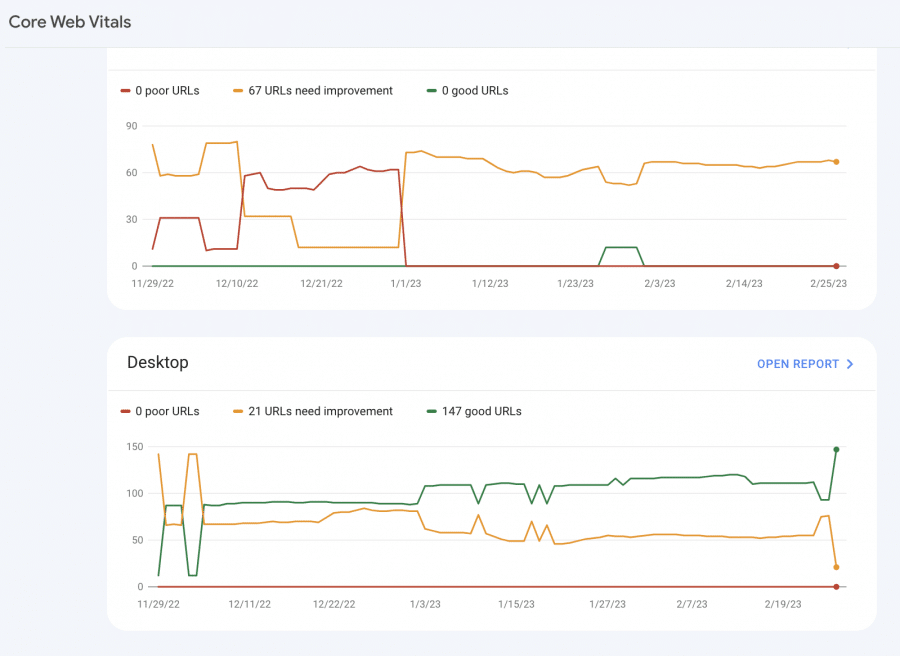 ---
9. Indexed pages
Not every page you publish on your website will appear in search results. To appear in the SERPs, Google must index it.
You should monitor your indexed pages to make sure the content you want to appear in search results does. Otherwise, no one will see it.
Plus, if a lot of your pages aren't getting indexed, it could be a sign that something's wrong with your content or your website as a whole.
For example, a landing page might not have enough high-quality content on it for Google to consider it valuable to searchers. Or it could have duplicate content from another website (which is especially possible if it's AI-generated).
Your page could also have a noindex meta tag that's preventing it from being indexed.
How to Track Your Indexed Pages
In Google Search Console, click Pages under Indexing on the left side of the screen. This will take you to a screen where you can see the number of pages that are indexed, the number that aren't, and why.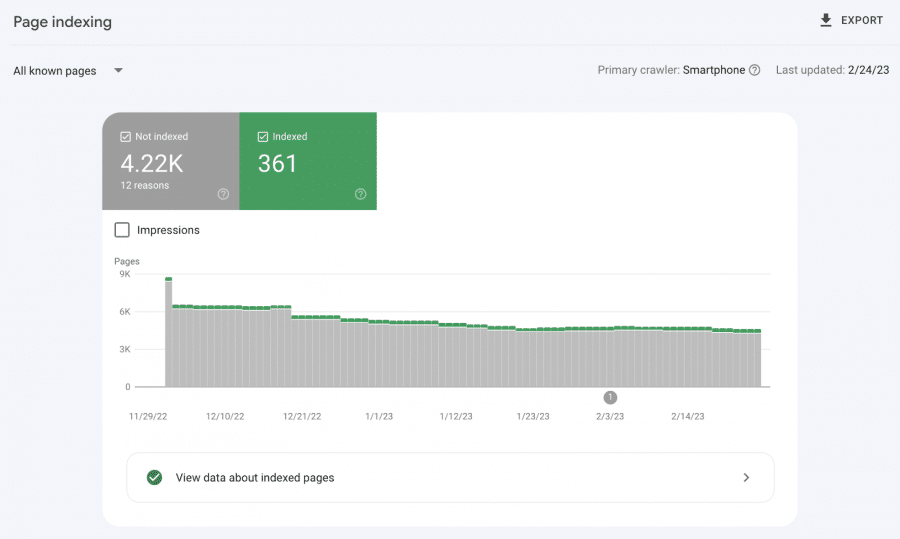 ---
10. Crawl Errors
Crawl errors occur when search engines can't reach certain pages on your website. If search engines can't reach a page, it won't get indexed or appear in Google search results.
Here are some common examples of crawl errors:
Broken internal links: Broken internal links can make it difficult for Google's "crawlers" to scan all of the pages on your website. (Plus, they suggest a poor user experience, which could prevent your pages from getting indexed even if they are crawled).
Redirect chains: Pages that redirect to one or more redirected pages can eat up your crawl budget, leaving other pages uncrawled.
Robots.txt errors: You can use your robots.txt file to tell Google not to crawl certain pages. But this can work against you if there are pages listed in your file that you actually want crawled.
Server and DNS errors: Google won't crawl your site if it has difficulty communicating with your server.
Crawl errors stand between your site and the SERPs and can drastically impact your SEO performance, so be sure to check for them.
How to Monitor Crawl Errors
SEMRush's Site Audit tool makes it easy to monitor crawl errors. They'll pop up when you run a site audit on any project.
---
11. Mobile Usability
As of February 2023, 60.04% of all website traffic comes from mobile devices. Google wants mobile users to have a pleasant browsing experience, so they promote mobile-friendly websites to searchers.
Therefore, you should keep track of your pages' Mobile Usability in Google Search Console. GSC will let you know how many pages are usable on mobile devices and how many aren't. Any pages flagged with mobile issues should be fixed ASAP.
How to Monitor Mobile Usability
Google Search Console has a Mobile Usability tab on the left side of the homepage. Clicking that link will take you to a screen where you can see which pages on your site are deemed mobile friendly and which aren't.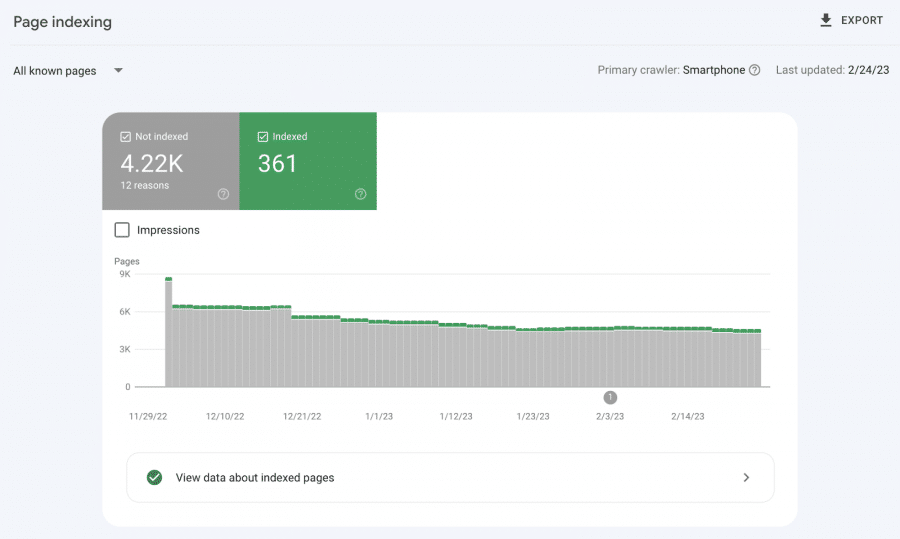 ---
12. Readability Scores
Similar to bounce rate, poor readability won't affect your site directly. However, it can quickly drive readers away from your site.
Remember, no one has time to read long, meandering sentences. If your content is hard to read, people are more likely elsewhere for answers to their questions. This means they're not going to link back to you or share your content on social media, and it may be the last time they visit your site.
How to Measure Content Readability
Google doesn't measure readability, and there's no tool that will show you the readability of your overall website. However, you can use Hemmingway (a free tool) or the Yoast plugin to get readability scores for each page.
My recommendation is to include a readability check in your content optimization process. This is the best way to ensure that your content is readable before it goes live.
---
13. Also, Maybe: Search Visibility
Search visibility is a metric that predicts the number of clicks your pages are likely to receive based on their organic keyword rankings. It's a third-party metric that you can track in most SEO platforms.
Whereas many benchmark metrics (referring domains, pageviews) show your past and present successes, search visibility can help you to forecast a page's future performance.
---
14. Also, Maybe: Domain Authority Scores
All of the major keyword research platforms use their own domain authority scores to compare websites:
Ahrefs calls theirs Domain Rating (DR)
SEMRush calls theirs Authority Score (AR)
Moz calls theirs Domain Authority (DA)
They are all quite similar and can give you an idea of how your site stacks up against your competitors' sites. If a competitor has a much higher score than you, then you may not be able to target the same keywords as them.
It's important to note that domain authority scores are third-party metrics designed to provide the quickest comparison of two sites, although there is speculation that Google has their own DA-like metric used in ranking.
Either way, domain scores can be good to track, but you shouldn't follow them blindly. Just because a site has a higher DA on Moz or DR on Ahrefs doesn't mean that it's better or outperforming yours.
---
Don't Have Time to Track All These Metrics? Let Us Help!
Here at Intergrowth, we love tracking SEO data. We dive deep into our clients' KPIs every month to build SEO strategies that help them grow their organic search traffic by up to 4x.
Need a partner to help you track your website's performance and grow your business? Let's hop on a call to see if we're a good fit for your team.
SCALE YOUR ORGANIC TRAFFIC
Subscribe to our monthly newsletter