As an accountant, you probably already know how much business your website and online presence can generate for your firm. From independent tax preparers to large-scale accounting firms, everyone in your business can benefit from being active online.
If you're not growing your business through online searches and high-ranking Google search results, it could be because you're lacking an SEO strategy.
SEO is a term that a lot of people have heard but don't understand. By the time you're done reading this accountant's guide to SEO, you will know what it is, the purpose it serves, and why you need it to grow your business.
---
Why Accountants Need an SEO Strategy
Before we get into it, let's do a quick recap of what SEO is.
SEO is search engine optimization, and it's necessary if you want to rank high in search engine results pages (SERPs).
SERPs are those pages of websites that Google spits out when you type in a search query. Depending on the search term, Google will give you thousands, sometimes millions, sometimes billions of relevant results.
The point of SEO is to rank as high at the top of the first page as possible.
To appear at the top of search engine results pages, you'll need to address all three aspects of SEO:
On-page SEO: Content optimizations, such as title tags, internal links, and keyword-rich blog posts.
Off-page SEO: Information that appears on other people's websites that talk about (or link back to) your own site.
Technical SEO: Website optimizations that make it easier for Google to crawl and index your site.
On-page SEO (also called on-site SEO) is a way to get your pages to rank in searches for specific keywords. It can help you target your specific audience and build your site as a valuable source of information.
Off-page, or off-site SEO, includes building backlinks and making sure your business appears in local directories. It helps to build site authority by showing Google you have a positive reputation online.
Technical SEO helps to improve your rankings by improving the technical side of your website. Smart site architecture and well-crafted sitemaps are both examples of technical SEO.
All three SEO tactics are important, and all three provide huge benefits.
---
The Benefits of SEO for Your Accounting Business
When was the last time you tabbed to page two or three of Google results to find what you were looking for?
We're guessing never.
That's because the Google algorithm places the most relevant (and search-engine-optimized) results at the top of the list.
When people do a Google search, they can usually find what they're looking for within the first few results. Without SEO, your site could get buried so far down the list that no one would ever take the time to find it.
Here's what first page placement can do for your accounting firm.
Drive Traffic to Your Website 
Some people drive traffic to their websites through paid or sponsored ads, but SEO helps drive organic traffic to your site.
When we talk about organic traffic, we're referring to site visitors that find you naturally through online search engines like Google or Bing.
Organic traffic isn't paid for per se — it's the reward for employing strong SEO techniques and a solid content marketing strategy.
Convert Site Visitors to Customers or Clients 
Drawing potential clients to your site creates the opportunity to convert those visitors into future customers, so you can think of SEO as a digital form of lead generation.
Advertise Your Business 
First-page placement in SERPs is extremely valuable. The higher you rank in searches, the more people will see your website, which can lead to more clicks and visits.
SEO requires a time or monetary investment, but it is a cost-effective way to advertise your business.
Position Yourself as a Thought Leader in Your Industry 
With SEO-centric content, you can establish your accounting firm as a trusted and respected leader in your field. Publishing high-quality content on your site's blog is an effective way to solidify your presence in your niche.
As a recognized thought leader in the accounting business, you can also take market share from your competitors. Whether you service local clients face-to-face or provide digital services to clients around the globe, great content can put you ahead of the competition.
---
SEO Tactics to Grow Your Business
Now that you know how SEO can help you grow your business, here are some steps you can take right now to start putting it to work for you.
Create a Blog on Your Website 
A blog can be an invaluable content marketing tool. It gives you a place on your website to write about certain topics so that Google knows to include you in searches about that topic.
As your site starts to appear in those searches, more and more people will visit your website. Not only will you have more brand visibility (people will start to recognize your brand name from searches), but some of your website visitors will be interested in your accounting services.
Let's talk about how to start creating content for your website:
Do SEO Research Before You Start Creating Content 
No matter what type of content you create, you'll want to optimize it around relevant keywords. That requires you to do some keyword research first — which requires you to know who your audience is and which terms they're searching for.
One easy (and free) way to find keywords is to think of a topic you want to write about, then search for that topic on Google.
Underneath the first few results, you'll see a section titled People also ask. That section includes some additional questions that are related to your original topic. Answering those questions in your content can help you to appear in the results when people search those questions.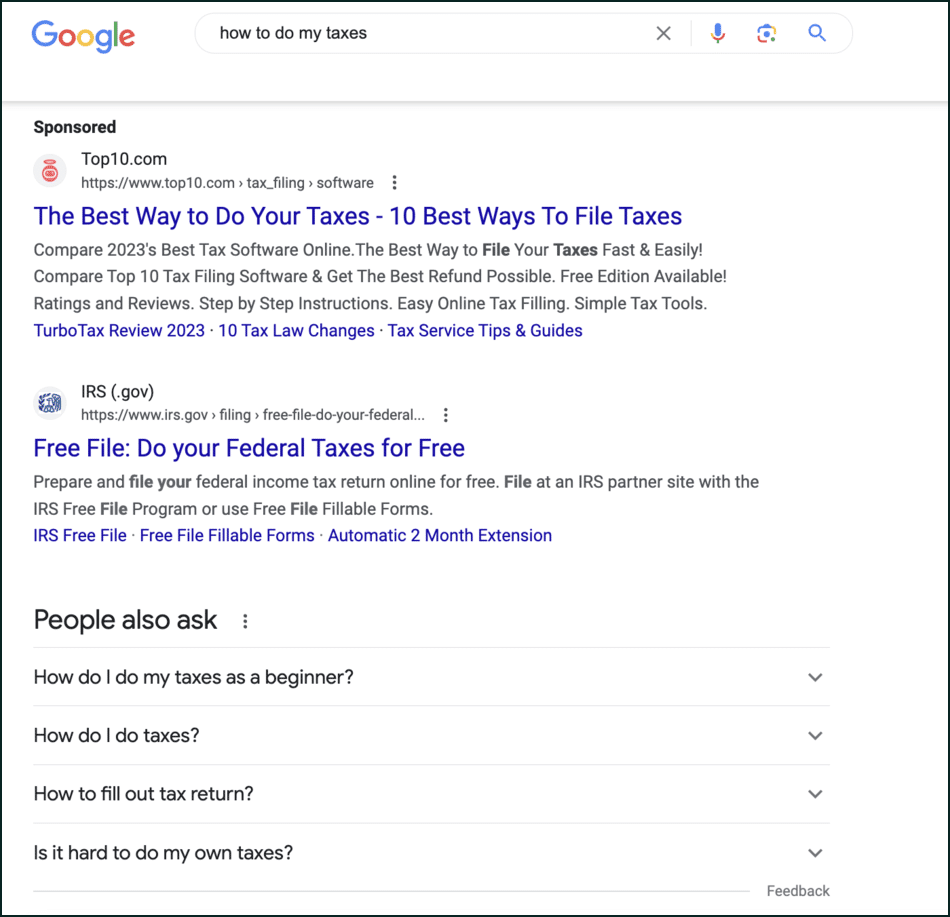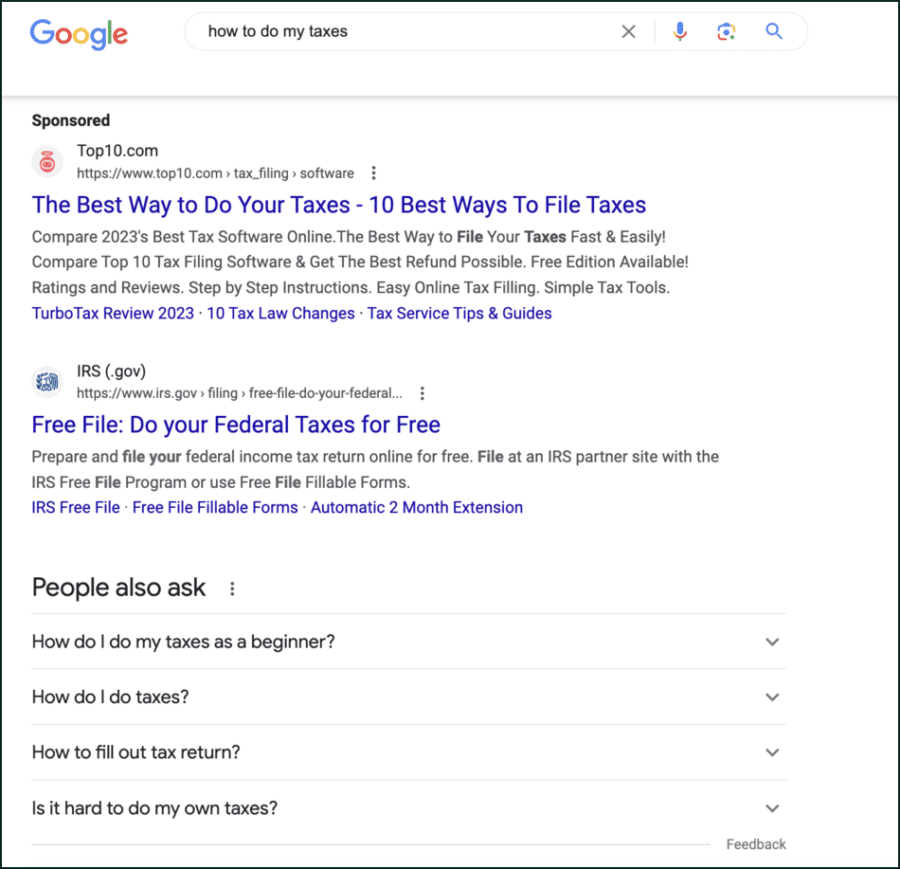 You'll see another section at the bottom of the page titled Related searches. That section includes a separate set of words and phrases that relate to your original search term or question. All or some of those can become keywords in your content.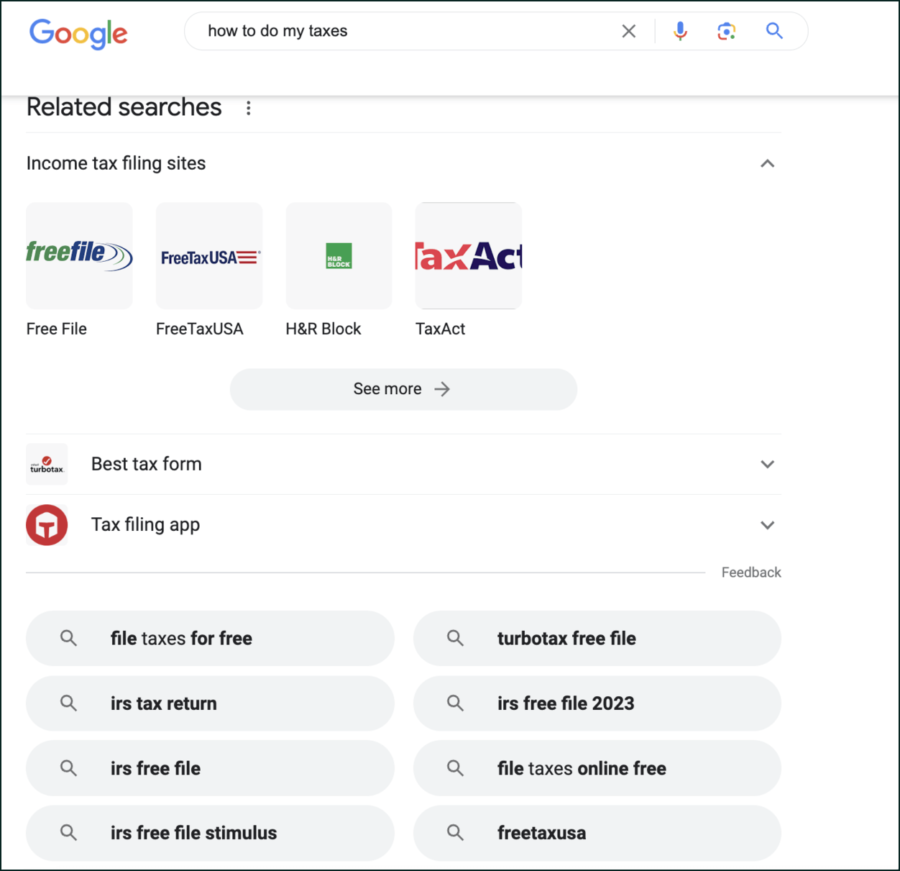 Tools like Ahrefs and SEMRush can also help you to find keywords. Plug any topic into one of these software programs, and you'll receive a list of related keywords and questions (accompanied by their average monthly search volumes and other valuable data).
Find a full list of SEO tools here: DIY SEO Tools to Help You Scale Your Business
Understand the Concept of Search Intent 
It takes more than a few keywords, an interesting topic, and good writing skills to create great content. Another key factor is understanding the concept of search intent.
Every searcher has a specific purpose for conducting their search. If someone types in a search for "2023 tax rates" they could be searching for information on the current tax brackets or doing research on how tax rates have changed over time.
You can rank better by figuring out exactly what the typical searcher is seeking when they search a particular keyword. Creating content that satisfies the correct search intent will help your content to perform better over time.
More Tips for Creating Successful Blog Content 
If you're ready to boost your accounting firm's website rankings, here are some more tips to help make your content marketing strategy a successful one:
Develop a voice that makes sense for your business (i.e., casual and friendly or formal and authoritative)
Edit and proofread every post before publishing
Include images and/or videos to keep readers engaged
Promote your posts on social media
For more tips and tricks, read our post Expert Advice on How to Write Your First Blog Post.
Develop a Local SEO Strategy 
Part of your SEO strategy should be targeting local clients, and you can do so by incorporating your location into the meta titles and meta descriptions of your web pages.
Your meta titles are the page titles that appear in search engines like this:

In the example above, the meta title is "Tax Preparation Services | Keith Clark CPA – Denver, CO."
Here are some examples of local keywords you could include in your own site's meta tags (replace the city with yours):
Public accountants in New York City
CPAs in Denver
Tax preparation in Boston
Local accounting services in Miami
Incorporating keywords like these into on-page SEO will make it that much easier for new clients to find you when doing a local search.
Also: Claiming your Google My Business profile will ensure that your business appears on Google Maps when people type in search terms like "tax accountants near me." Make sure to fill it out completely with your address, phone number, website link, and open hours so that people know where and when they can find you.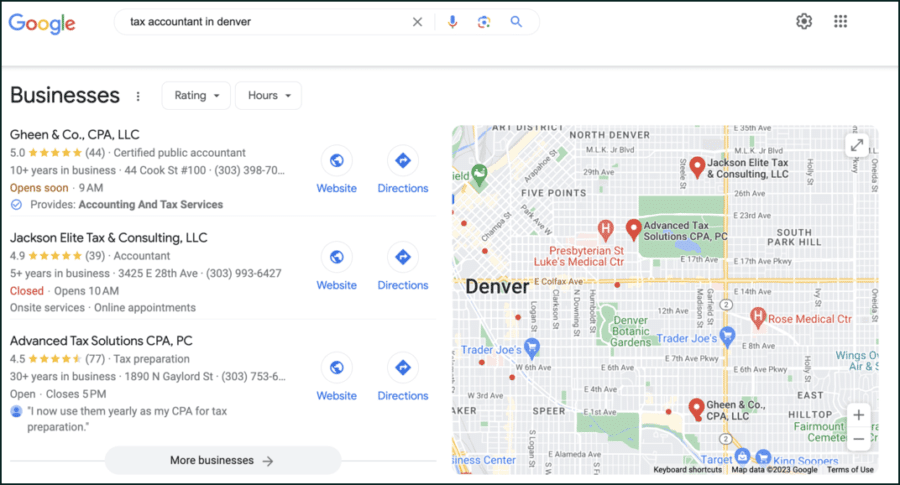 Generate Backlinks 
Google uses many ranking factors to determine where they position you in search results. Backlinks are an important one.
Backlinks are links that other websites include on their website that link back to yours — the SEO equivalent to a positive review from a customer on Yelp. The more you have, the more authoritative and trusted you appear to Google's algorithm.
Whether you're a new small business or a large, decades-old accounting firm, you can generate backlinks by developing a link building strategy. Here are a few tactics that can and should be a part of that:
Publish high-quality content that gets backlinks on its own
Offer collateral (such as branded infographics, guest blog posts, or quotes) to other websites to encourage them to link back to your
Add your website to local business directories
Hire a content marketing agency to generate backlinks for you
Backlinks are an important tool, but it takes some time to learn how to develop them yourself. This is one area of SEO where hiring an agency can be a game changer.
A strong backlink profile can lead to better traffic and more customers. Get in touch to learn about our link building services.
---
Should You Hire an Agency or Do It Yourself?
Many digital marketing agencies specialize in SEO. If you can't bear the thought of — or don't have the time to devote to — creating an SEO strategy for your own accounting business, an agency can do it for you.
Much like the way you understand your client's finances better than they understand their own, a content marketing agency can provide top-quality SEO services so you won't have to spend any time doing it yourself.
Here are some of the many ways in which an agency can be beneficial:
Agencies have many writers on staff, which makes it easy to create a lot of content in a short amount of time.
Agencies can perform a complete SEO audit to see where your website stands and find the best opportunities for growth.
Agencies know how to get backlinks and promote content.
Agencies can improve the overall user experience on your website.
Agencies track metrics and measure content performance over time.
---
There's a definite learning curve to becoming an SEO pro. Every week you spend learning how to optimize content is a week your competitors are surpassing you in search results. With an SEO agency, you can have an entire team dedicated to your SEO efforts today without taking any time away from the aspects of your business that you alone must focus on.
If you're ready to partner with content marketing pros that can handle SEO for you, contact Intergrowth® now.
SCALE YOUR ORGANIC TRAFFIC
Subscribe to our monthly newsletter