There's one goal that all small business owners have in common, and that's to make their businesses bigger, better, and more profitable. But doing so requires hard work, strategic planning, and a solid marketing strategy.
Not sure how to market your small business?
Here's our full guide to SMB marketing, including specific strategies that you can put into place both online and offline.

---
The Basics of Small Business Marketing
No business is too small to have a marketing strategy. Even if you're a sole proprietor running a startup that only sells one product, you need to get your name out there and let your customer base know that you exist.
Marketing isn't just about selling products. It's about building brand awareness, establishing your brand voice, and informing your target market of who you are and the value you can provide.
And while not all businesses need a full-scale marketing team, every business needs a marketing strategy of some sort.
A great logo, a functional website, and an online presence (social media pages) are all marketing necessities. No matter how good your product or service may be, you won't sell any if your customers don't know who you are or how to find you.
But before you can start marketing to those customers, you'll need to define who they are.
Once you've defined your target audience, you'll need to decide if you want to make use of digital marketing, offline marketing, or both.

---
Digital Marketing for Small Businesses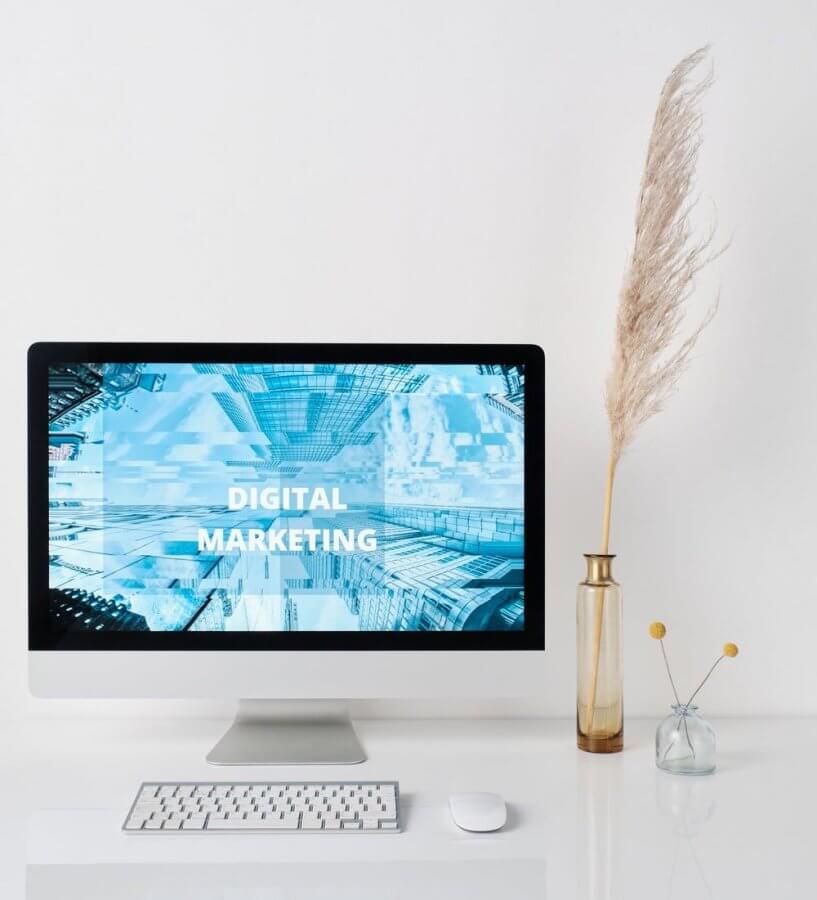 Digital marketing is another name for online marketing. In the broadest sense, it describes any advertising you do through digital channels.
Digital marketing lets customers learn about you via their phones, tablets, laptops, and other digital devices.
There are four key types of digital marketing strategies, and many marketing plans incorporate all of them:
1. Content Marketing for Small Businesses
When we talk about content marketing, we're talking about the various forms of digital content, including:
Blogs
Videos
Photos
Podcasts
White papers
Ebooks
Webinars
Infographics
Case studies
Content marketing is one of the most effective ways to attract new customers and retain existing customers and followers. By creating strong, relevant content crafted with search engine optimization in mind, you can build a loyal following of online subscribers and potential customers.
The trick to creating great SEO content is to know your audience and develop content specifically for their interest, entertainment, and education.
Here's how you can make each type of digital content work to your advantage:
Written Content
Every small business can benefit from creating and sharing written content on their website and social media pages.
The most important form of written content is the blog.
All businesses should have their own blog where they share new articles on a regular basis. There are a variety of different blog formats you can use, all of which serve different purposes and complement each other as part of a robust overall marketing strategy.
You can create blogs that are:
Awareness Content: These are written to answer a frequently asked question, entertain the audience, and be shared over and over again.
Sales Centric Content: These blogs provide information to customers that are already considering buying your product or service.
Thought Leadership Content: These are written to explain an in-depth concept about your business to establish you as an authority in your niche or field.
Ebooks, white papers, and case studies are other forms of written content that can enhance your marketing efforts. If your small business focuses on a technical niche, such as technology, finance, or healthcare, these forms of written content are excellent ways to improve lead generation.
Why?
Because in-depth, long-form content can provide your audience with great insight into a topic they want to learn a lot more about.
Want to ramp up your content marketing efforts to start driving organic traffic to your website? 
Let's chat
!
Audio and Visual Content
Even if you create outstanding written content, publishing only written content is a mistake. It's crucial to mix up your content with visual elements, such as videos, photos, and infographics.
Humans of all ages love visual content. It's easier to digest than written content and is a proven winner in the world of digital marketing. Instagram has over 500 million daily active users around the globe, and almost 5 billion videos are watched on YouTube every single day.
In addition to visual video content, you can also incorporate audio into your marketing plan by creating podcast episodes or webinars that your audience can listen to.
Every time you create a piece of content, you should promote and share it on social media. This is yet another way to attract potential customers and build a strong brand presence online.
Plus, once you've spent the time and money creating the content, it doesn't cost you any extra to share links to that content on your various social media pages and networks.
2. Email Marketing
Email marketing is an effective way to connect with potential customers and retain existing ones. Whether you alone are responsible for all of your marketing or have a team to do it for you, make sure that an email marketing campaign is part of your strategy and that it gets the attention it deserves.
By building a subscriber list, you can reach out on a regular basis to the people who have already shown interest in your brand. You can send weekly or monthly newsletters to everyone on your email list and reach out whenever you have a new product to promote or a sale to advertise.
The key to creating an effective email marketing campaign is to know what will inspire your audience and make them want to engage. The whole point is to incentivize your subscriber list to make a purchase.
Be sure that every email you send contains relevant, valuable content. It can be promotional, entertaining, educational, or a combination of all three. But before you send your emails to every inbox on your subscriber list, make sure that you've included a subject line that entices the reader to want to open your message.
3. Social Media Marketing
Social media is one of the most cost-effective ways to market and grow your business — if you have a social media strategy in place.
That strategy starts with creating strong profiles on all of the major social media platforms and ensuring that your branding is consistent across all of them.
From Instagram to Facebook to Twitter to TikTok, your target audience is the same. Your profiles and messaging should reflect who you are in an authentic way. It's fine to tweak your profiles a bit to appeal to the different demographics of each platform, but it should always be clear who you are and what value you provide.
Knowing the demographics of which users utilize each platform is also important.
For example, 62.4% of all Instagram users are between the ages of 18 and 34, while only 6% are 55 and older. Snapchat users skew much younger, with 48% of their users between the ages of 15 and 25 and only 5% over the age of 56.
And, surprising as it may be, TikTok is not just for kids. Their percentage of users by age group is closer than you may think:
25% of users are age 10-19
22.4% of users are age 20-29
21.7% of users are age 30-39
20.3% of users are age 40-49
The more opportunities you give yourself to connect with your audience, the better. Rather than focusing all of your efforts on either Facebook, Twitter, or another platform, diversify your social media portfolio and create profiles on multiple platforms.
4. Pay-Per-Click Advertising for Small Businesses
Pay-per-click advertising is not dead. PPC ads are still an effective way to promote your business online, and there are a variety of ways to do so.
There are different types of PPC ads that you can run.
You can choose to run banner ads that appear across the top of a page on bloggers' websites. You can choose to place video ads on YouTube. You can also pay for Google Ads that will position your website on the first page of search results on Google.
Here's how it works:
When a potential customer clicks on your ad, you pay a fee to the publisher (the website running the ad) for getting you that click. These costs can add up over time, but that cost may be worth it if your ads generate clicks that convert to sales.
You can buy PPC ads through Google and Facebook that target specific age groups and demographics. You can also advertise on Pinterest through Promoted Pinterest Pins or pay for video ad placement on various social networks.
PPC ads have the potential to pay off in the long run, but your main goal should always be to drive organic traffic.
We speak to the SEO vs. PPC debate in greater detail here.
If you do make pay-per-click advertising a part of your marketing strategy, make sure that your ads and promotions are optimized for viewing on all devices, including mobile phones with small screens. According to data from the Pew Research Center, 85% of Americans own a smartphone, so you'll want to create mobile-friendly ads that can be viewed anytime, anywhere.

---
Offline Marketing for Small Businesses
Offline marketing refers to any marketing efforts you don't need internet access to view, such as print ads, media ads, and direct mail marketing.
Direct mail marketing, which includes sending out flyers, pamphlets, brochures, and coupons through snail mail, is an easy way to get the attention of many potential customers at one time.
But that's only if your direct mail strategy reaches the right audience.
For example, sending a physical coupon to use at your store, restaurant, or local business won't do much good outside of your region. You'll need to be specific and target the geographic area that makes the most sense for your business.
Print ads work in much the same way.
Newspaper, magazine, and billboard ads are another way to bring attention to your business. These can be beneficial whether you sell a product or a service online or are targeting a specific local audience.
Media ads, such as television and radio ads, are also viable. These tend to be the most expensive types of ads you can place, but they are an effective way to reach millions of people, be it in a particular region or nationwide.

---
Which Is a Better Investment: Digital Marketing or Offline Marketing?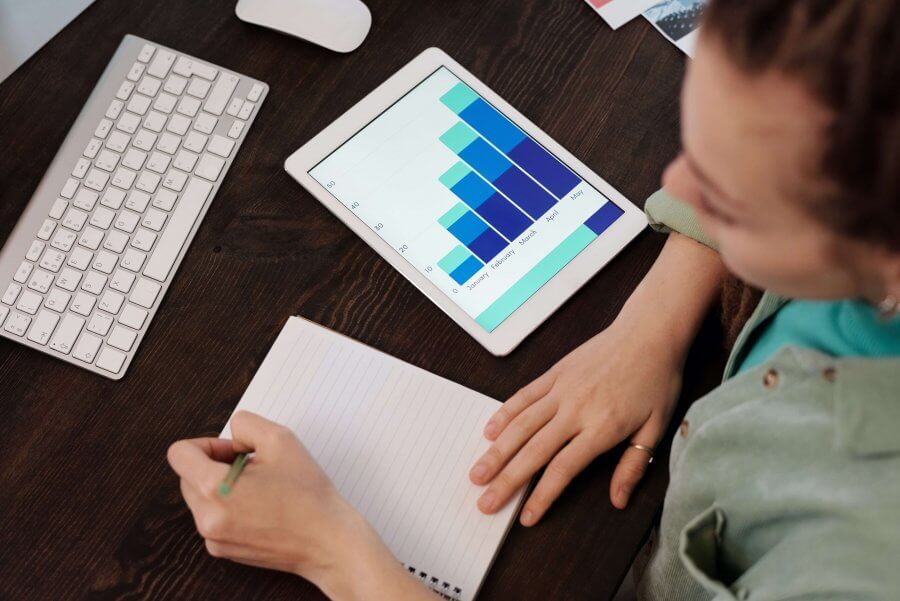 It all boils down to one thing:
Your budget.
In comparison to digital marketing, offline marketing tactics can be cost-prohibitive.
57% of Americans spend more than 5 hours per day on their smartphones, so targeting customers through thoughtful digital marketing strategies is usually the better bet.
Scale Your Business: Hire a Digital Marketing Agency
Not ready to hire an in-house team of SMB marketers? Don't think you have the know-how to strategize and execute a marketing plan on your own?
It's time to consider hiring a digital marketing agency to do it for you.

When you hire a digital marketing agency, you'll have access to a team of content marketers that are experts in SEO, lead generation, web design, and digital marketing analytics.
Having a team that knows how to study, analyze, and understand the metrics is perhaps the most valuable part of all.
You can create all the marketing campaigns and content you desire, but the key to advertising is to know which parts of your strategy are generating profits and which parts are losing you money.
With a digital marketing agency to handle the analytics, you can ebb and flow with the trends as you learn which type of content works for you and which types don't. An experienced digital marketing agency will be able to provide you with your data trends and statistics so that you know if your plan is working to your best advantage.
BONUS: With experts on hand to build your strategy, create content, and analyze your data, you can focus more on your business and the parts of running that business that you do best.
---
Even with the abundance of marketing tools available today, advertising can be tricky if strategy isn't your strong suit.
But you don't have to go it alone.
From content marketing to web design, contact Intergrowth now if you're ready to take your small business marketing efforts to the next level.
SCALE YOUR ORGANIC TRAFFIC
Subscribe to our monthly newsletter