Who doesn't love the idea of working from anywhere in the world without a set work schedule?
The top affiliate marketers don't need to fantasize about this lifestyle – they have the option to live this way.
Affiliate marketing is becoming more and more popular every day as people trade in the 9-5 lifestyle for the opportunity to be their own boss.
The only issue with this concept is that making it as an affiliate marketer is no easy feat. The rising popularity of digital marketing is making it harder and harder to build a sustainable affiliate marketing business.
So how do you build a successful affiliate marketing business? You start with the right tools.
We've built out a list of the 17+ best affiliate marketing tools that you need to use. We'll continue to add new tools to this list every few weeks, so check back regularly.
---
Disclaimer: The following list contains a lot of WordPress plugins. Plugins are one of our favorite features of WordPress sites. However, installing new plugins always has the potential to interfere with your current site functionality. Please test out each of these plugins on a staging site before installing them on your live site, or work with a web development team (like our partners at Inter) to ensure that these plugins are compatible with your current site.
---
Our favorite affiliate marketing tools:
1. Flippa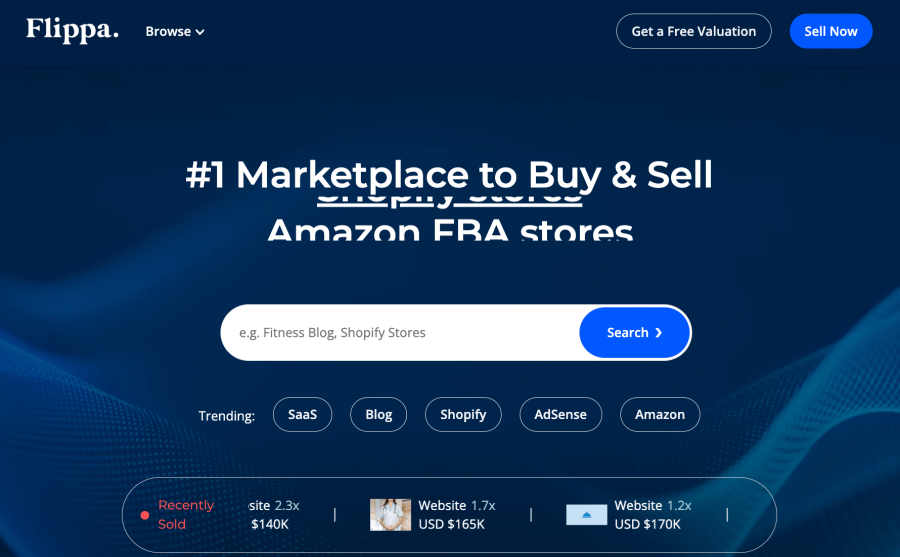 Flippa is essential for anyone looking to leapfrog the process of building a successful affiliate site from scratch. This site serves as a bidding marketplace for individuals to buy and sell websites (think eBay for websites). Flippa gives affiliate marketers the opportunity to buy sites that have a strong backlink profile to kickstart SEO growth.
One thing to note: we recommend running a full backlink audit before purchasing a domain to ensure that the domain isn't being inflated by black-hat SEO practices like PBNs. We've seen far too many affiliate marketers buy a site with a strong backlink profile, only to be penalized by a Penguin algorithm update due to the black hat link building practices of the previous site owner.
You can find more affiliate marketing SEO tips in this article. 
2. ShareASale
Affiliate marketing starts with building partnerships with sites in need of sales. We've tested out a handful of affiliate networks including CJ Affiliate and Impact. However, ShareASale is our go-to resource for affiliate partnerships.
ShareASale connects publishers to advertisers who are looking for help driving sales. Publishers can get paid per phone call, lead, or website visitor that they drive for the advertiser.
While affiliate marketers will likely see a much higher commission per sale by working directly with advertisers, ShareASale is a great starting point.
3. SEMRush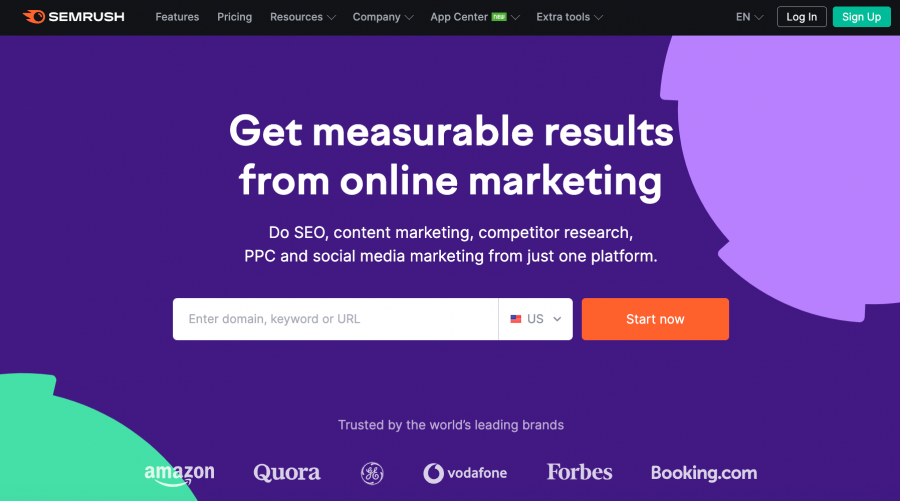 SEMRush is our go-to tool for keyword research, fixing SEO mistakes, and competitor analysis. Fair warning: I've been using this tool daily since 2012, so I'm a bit biased here.
This tool is a must-have for marketers who are looking to understand what content is driving the highest ROI for competitors, as well as analyzing on-page SEO issues.
Some of the primary things that we use SEMRush for:
Finding top performing competitor content that we should be writing about
Monitoring our keyword rankings on a weekly basis
Running SEO audits to watch for website issues that could hurt our search rankings
4. Ahrefs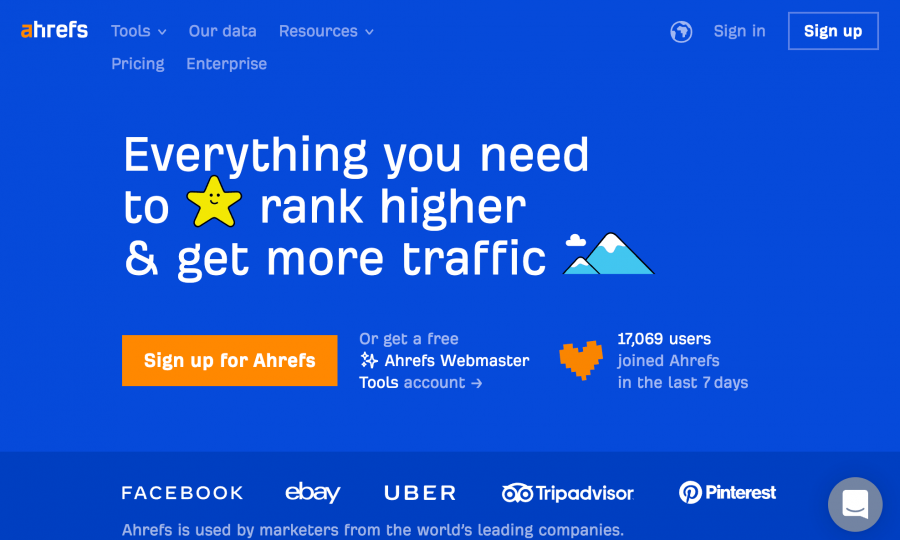 Ahrefs serves many of the same functions as SEMRush (keyword research, on-page audits, competitive content analysis, etc). However, Ahrefs places much more emphasis on backlinks than on-page SEO.
Ahrefs provides marketers with in-depth insights about new and lost backlinks, sites that are linking to broken pages on your website, and competitor backlink growth.
Some of the primary things that we use Ahrefs for are:
Reviewing new and lost backlinks to our site
Reviewing competitor link profiles to find new link building opportunities
Finding sites that are linking to broken pages on our site (and then 301'ing those pages to another relevant page)
Finding top-performing competitor content to identify new content ideas for your site
Ahrefs and SEMRush are two of our team's favorite SEO tools. However, investing in both services isn't realistic for most business owners.
We recommend Ahrefs for those who are competing with much larger sites. We recommend SEMRush for those who are already the industry leader, or very close to it (more about this in our SEO FAQs). To add to this, both offer a free trial of their service for those that want to compare the two.
P.S. Read how we use these two tools in our keyword research. 
5. Yoast SEO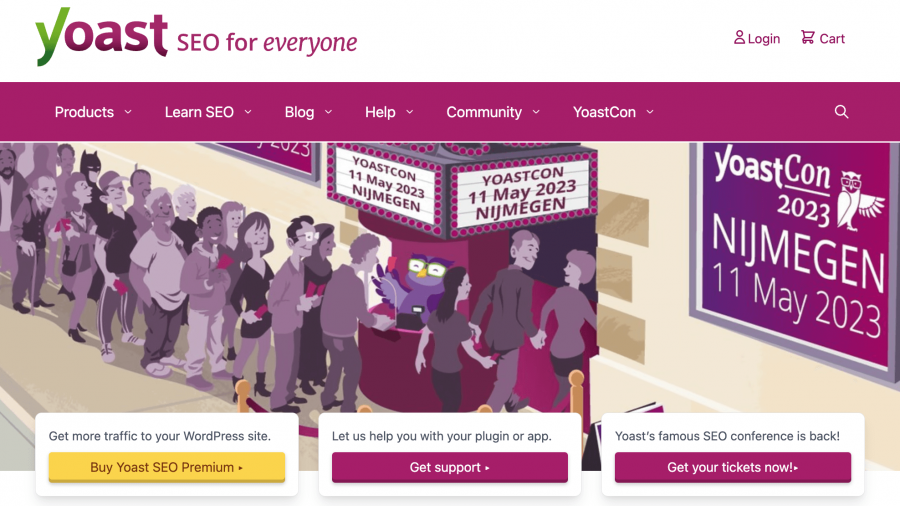 This is the first SEO plugin that we add to any site that we work on. Yoast SEO provides advanced SEO functionality to every page, including:
Title tag & meta description customization
Sitemap creation and customization
Meta robots customization
This is a free tool. But the paid version offers 24/7 support, as well as an advanced redirect manager. This redirect manager allows you to redirect broken pages or 410 pages that you want to be removed from search results.
6. Grammarly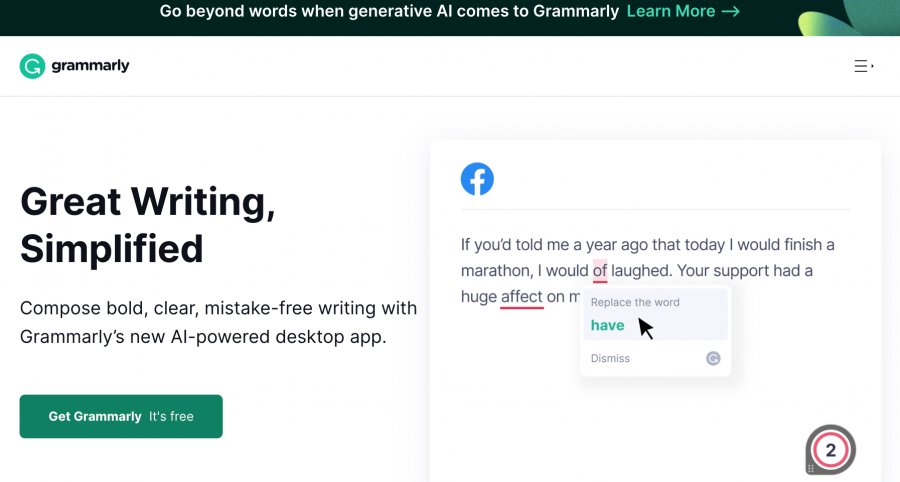 Grammarly is a must-have for those who are regularly publishing content on their affiliate site. In short, Grammarly is your average spell-checker on steroids.
Not only does Grammarly point out spelling errors. It also identifies grammatical errors such as incorrect word and comma usage.
Our team uses the free version of this tool. However, the paid version offers much more comprehensive content review features.
P.S. We recommend downloading the desktop app as well as the browser extension.
7. Duplichecker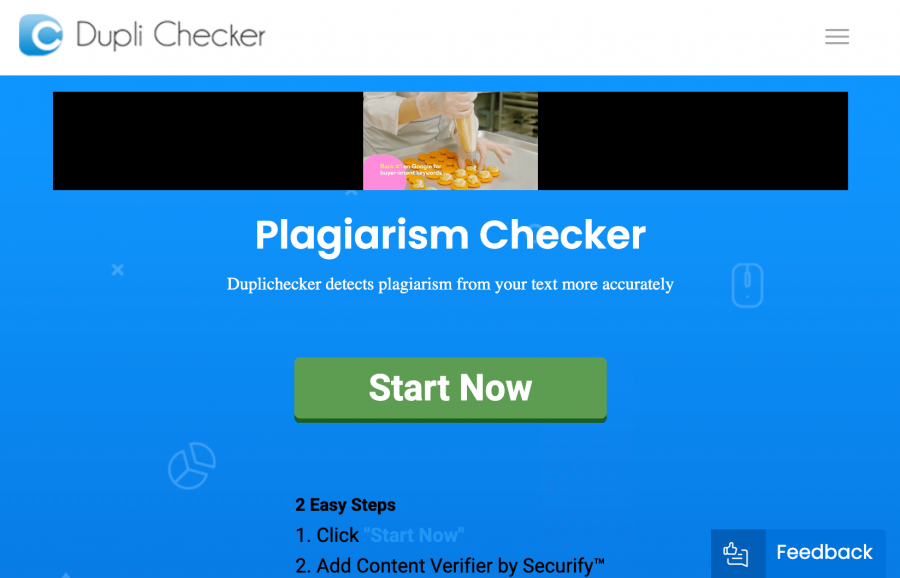 For those working with a content team to help produce content, we recommend running each article through a plagiarism checker like Duplichecker.
Yeah, I know, it sucks to feel the need to do this, especially as you start to trust your content team more and more. However, even an accidental case of plagiarism could result in serious legal issues.
We run every article that our team produces through this tool.
8. Hemingway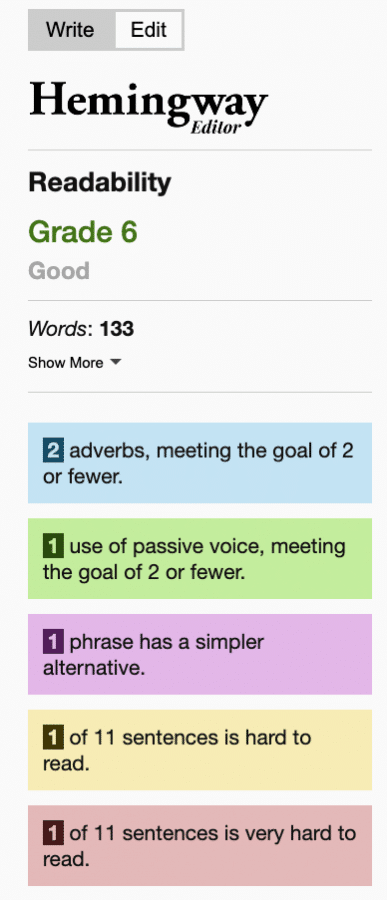 Hemingway is another remarkable content review tool. Based off of the writing of Ernest Hemingway, the Hemingway app helps you to simplify your writing.
Simplify your writing, you say?
Yep, because nobody cares about the fact that you know what "nudiustertian" means (and they have zero interest in going to the dictionary to look it up).
Your readers want insights. Not the fluff that you toss in to make you sound smarter.
Hemingway helps you to simplify complex sentences. It also points out adverbs and complex words that you can replace with simpler ones.
9. Sumo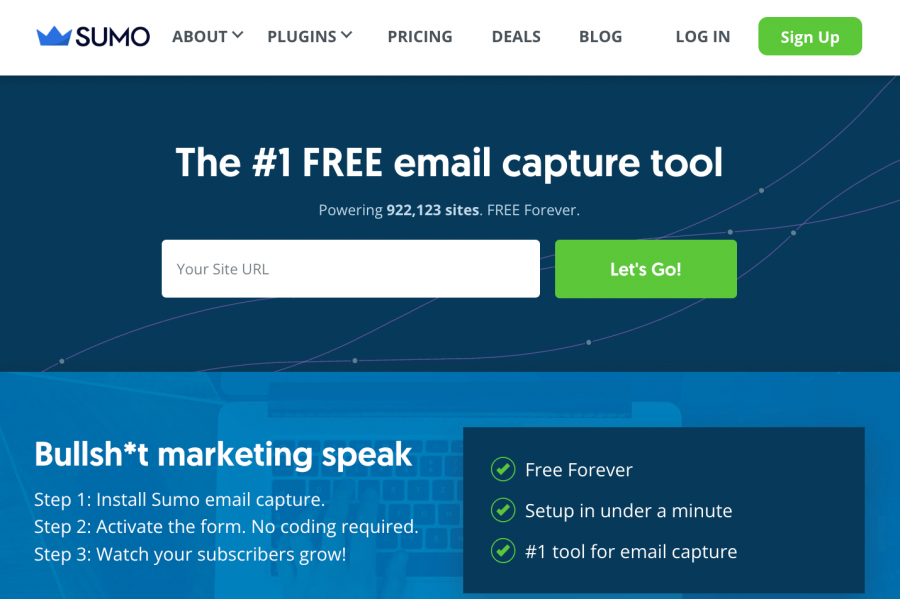 Driving visitors to your site is good. Turning them into customers is better.
Most website visitors won't be ready to pull out their credit card the first time that they reach your site.
So how do you get money from these visitors? You sell to them when they're ready to buy.
The most successful affiliate marketers understand that the best way to scale is to build their email list. This allows them to drive repeat visitors back to their site to buy products over time.
Sumo offers an easy way to install email capture forms on your site (and they even offer a free version of their service).
10. Google AdSense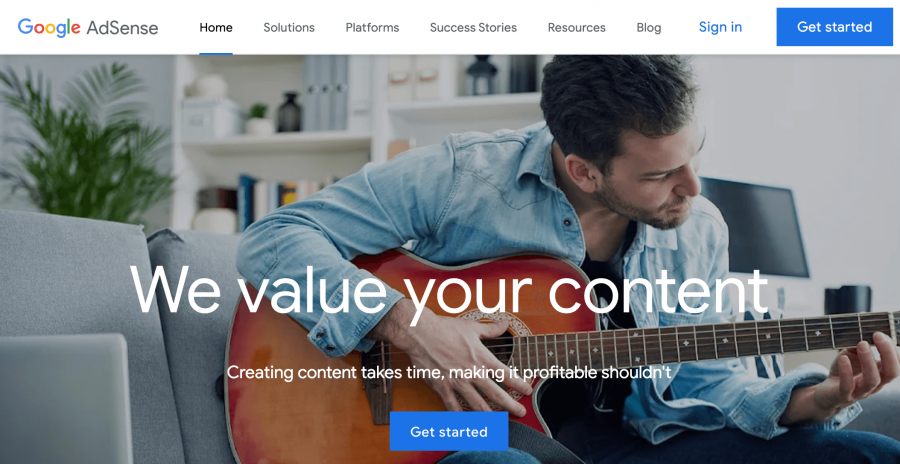 Earning money per referral is great, but why stop there? Google AdSense offers a second revenue stream as you continue to scale.
For those of you who aren't familiar with AdSense, here's how it works:
AdSense allows you to set up ad blocks throughout your site that other sites can pay to use. You can select payment per ad on your site in a handful of different manners:
CPM (cost per thousand impressions) – get paid a flat fee per thousand website pageviews to a given ad. Rates can range from $1-$3, and go much higher for niche categories.
11. AdThrive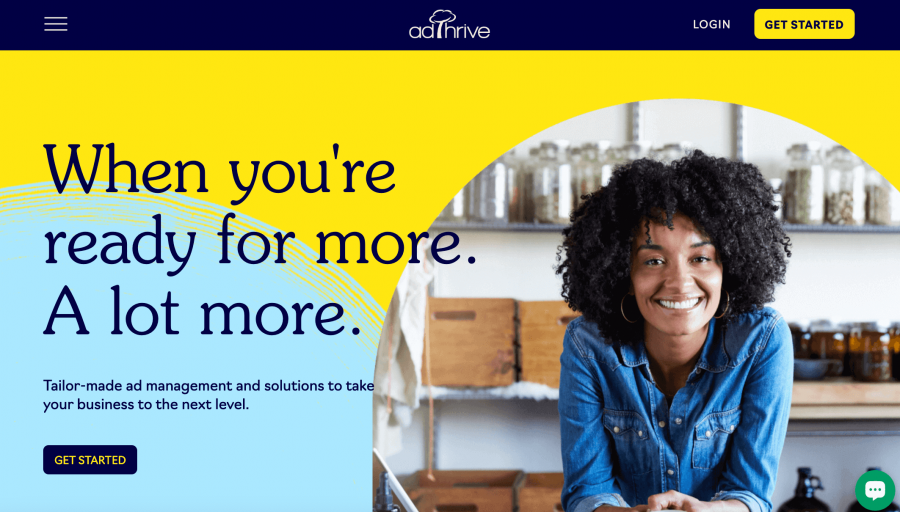 Getting money from AdSense is cool and all, but it's tough to build a successful online business when you're only making a few dollars in ads per 1,000 website visitors.
AdThrive works with your team to optimize your ads for improved performance. How do they do it? They take a deep look at your analytics to understand the advertisers who will see the best performance on your site. As a result, you can expect far higher CTRs on your ads, which will help you to generate more revenue.
12. WPEngine
For those lacking a strong IT/dev background, WPEngine is a premium hosting option that provides plenty of extra benefits.
Pricing is more expensive than other popular hosting providers like GoDaddy and HostGator. However, WPEngine provides the following features in addition to hosting:
Regularly scheduled website backups (so you can revert to an older version of your site if something goes wrong)
A free SSL certificate for each site that you set up on their hosting plan
Browser caching for improved site speed
Advanced website security protection
---
Looking for a more affordable solution? Here's the piecemeal solution that you can use to replace WPEngine:
---
13. Last Modified Timestamp
One of our most effective methods to enhance search rankings are content revamps. Content revamps consist of updating old site content to drive enhanced rankings.
Unfortunately, one default WordPress feature can bog down the impact of content revamps: timestamps.

The above image comes from one piece of content that we revamped in early 2018. However, the published timestamp that appears in search results makes it seem like we wrote this 2018 guide in 2016.
As you may have guessed, this confused searchers.
Until we uncovered Last Modified Timestamp. This plugin changes the publish date to the last modified date in search results.
14. Shortcodes Ultimate
We're firm believers that readability is the number one factor that separates a good blog from a great blog post.
Shortcodes Ultimate is our secret weapon for enhancing the readability of blog articles. This tool helps site owners add custom designs to their blog content to bring their articles to the next level.
You can see a full list of their design features here.
15. Image Attributes Pro
It's no secret that adding alt text to each image is a pain in the ass. Image Attributes Pro takes this burden off of your plate by adding alt text to every image on your site.
Our go-to option is to set alt text for any images to populate based on the image file name (see below). However, this plugin offers a handful of other options as well.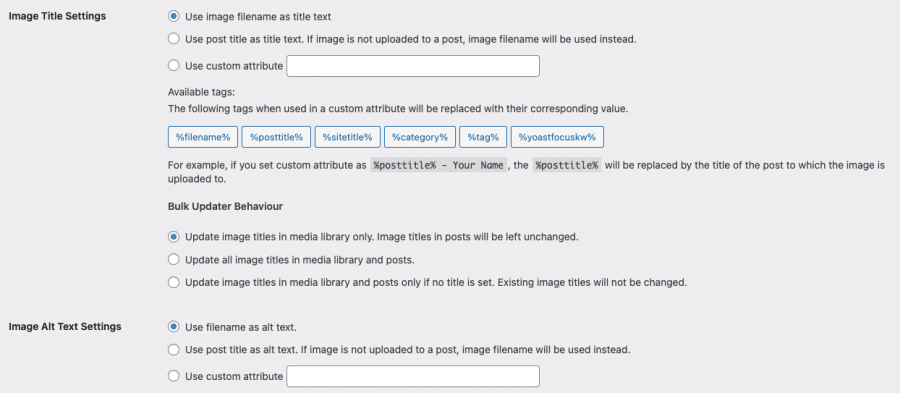 We set up this plugin for all of our own sites, as well as most client sites, to bulk populate alt text for previously uploaded images and add in default alt text for all future images that are uploaded without customized alt text.
16. Imagify
Bounce rates increase by 50% for every extra 2 seconds that your site takes to load. In other words, slow sites lose money.
Ok, that's cool, but how do I go about improving my site speed?
Short answer: image compression.
Image compression is one of the most effective ways to improve site speed. Image compression removes excess pixels from images to reduce image file sizes. The best image compression tools do this without sacrificing image quality.
Nowadays, serving images in next-generation formats like WebP and AVIF provide provides further opportunities to load images in a fraction of the time. Skipping out on the opportunity to improve your site speed is a big mistake.
We've tested out a dozen image compression + WebP conversion tools and Imagify is our favorite.
---
A few other tools for new affiliate sites:
---
In summary
Our favorite affiliate marketing tools:
Flippa
ShareASale
SEMRush
Ahrefs
Yoast SEO
Grammarly
Duplichecker
Hemingway
Sumo
Google AdSense
AdThrive
WPEngine
Last Modified Timestamp
Image Attributes Pro
Imagify
---
So there's our full list of affiliate tools. Did we miss anything?
Tweet at us to share any suggestions for additional tools to include, and don't forget to subscribe to our newsletter to stay updated on all of our future insights.
Oh, and if you're looking for more tools to help you drive traffic to your website, check out our list of DIY SEO Tools for Content Marketing.
SCALE YOUR ORGANIC TRAFFIC
Subscribe to our monthly newsletter