Ok, so you've decided that your business needs to hire an SEO company to help you optimize your site for search engines. Now you find yourself stuck with one pressing question: how do I find the right SEO company?
The process of vetting professional SEO firms can be difficult if you lack a strong understanding of search engine optimization.
"The SEO industry is full of reputable experts, but a few con artists leave many hesitant to trust SEO."
We've seen it countless times. A company is looking for SEO services and starts vetting digital marketing agencies for help, but doesn't know where to start. Our goal with this post is to create a resource to help business owners see through the BS and avoid the con artists.
For those newer to SEO, check out our guide on the 3 principles of SEO first.
We've reached out to dozens of SEO experts to collect their insights. Based on their feedback, we've compiled this list of the essential questions to ask while vetting any SEO provider.
NOTE: Don't feel like you need to ask every SEO agency/SEO consultant each of these questions. Make sure to evaluate questions 1, 3, 4, and 7 for each provider, but the remaining questions can be used as a great source of additional analysis.
Key Takeaways:
when evaluating an SEO agency to see if they're the right partner for your business:
Look for evidence of past results in the form of customer reviews and case studies
Ask for a breakdown of their process to understand whether they have a formal process for helping you grow, and how transparent they'll be with you throughout the relationship in terms of deliverables and results
Ensure that you can commit the amount of time that they need from you to drive results
Ask more granular SEO questions to understand how knowledgeable their team is about SEO
---
1. Understand the SEO agency's history
Try searching for the SEO provider on testimonial sites like Google My Business, Facebook, and Yelp. Check their average rating, and read a few of their 1, 3, and 5-star reviews to get a feel for what a bad, average, and great experience might look like with this company.
A few negative reviews should be expected for any business with a long history, but seeing countless negative reviews should set off a red flag.
Agency-specific directories can be a great place to look for samples of previous work and customer reviews. However, we don't recommend selecting an SEO company based on the "X Best Marketing Agencies in [City]" lists that you find on agency directories.
Many of these directories prioritize agency placements based on who pays the most money and other questionable tactics like only featuring agencies that link back to the directory.
For example, here's an email from one of those directories that reached out to us in June 2022 offering to list us as #2 on their list of top agencies in Denver if we included a link back to their site.


---
2. Inquire about their SEO processes
Every SEO company will vary in its processes. Regardless, their team should be able to comfortably speak to these processes. Don't hesitate to request a breakdown of their SEO techniques and corresponding deliverables during each stage of the process.
If they mention that they conduct an SEO audit, ask what steps they take in their audits.
If they mention that they conduct keyword research, ask how they find good keywords to target.
If they mention technical SEO, ask what that consists of.
If you're still unsure, ask for clarification on what any of these deliverables entail. A large part of the salesperson's job is to explain these deliverables in terms that anyone can understand.
---
3. Ask for expectations for their SEO services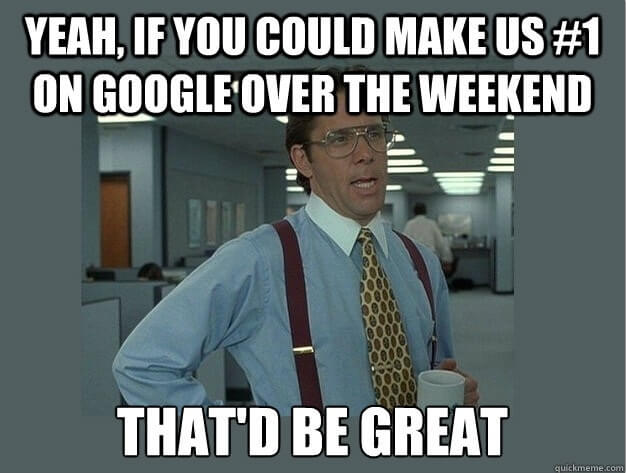 Now and then, we'll talk to a prospect who thinks that ranking in search engine results pages (SERPs) is an overnight process. We then reiterate that SEO is a long-term game and can require anywhere from 3-6 months to see results. Take it from us — any SEO firm that promises to get you on the first page of Google in a week is full of s**t.
While short-term results can be impressive, they are rare. The next time you inquire about SEO services, ask what a successful SEO campaign would look like and what results you could expect to see.
---
4. Inquire about previous SEO work
After hearing their benchmarks for expected results, ask to see a case study from one of their previous clients. Though these may not be available with all firms, particularly younger ones. Case studies serve as a great benchmark of what great results can look like for a specific service.
Marketers always want to highlight the outliers, so it should be noted that the results shown in the case study aren't likely to reflect the actual metrics that you can expect to see if you were to work with the firm.
For example, this SEO case study highlights a client that experienced a 284.4% increase in organic search traffic from our SEO + content marketing efforts over 9 months.
Streamline signed up for our Standard Growth Content Marketing Service. Normally, we'd expect a 50% growth in organic traffic from this service over 12 months. However, we chose to highlight an outlier in this specific case study.
Make a note of how dated some case studies might be. SEO has experienced significant change over the past 5 years. Newer case studies will paint a much better picture of the typical results that a company can expect to see. Case studies that are 2-3 years old should be expected, but anything older than this is likely outdated.
---
5. Ask about the transparency of their progress
At Intergrowth®, we're firm believers in providing full transparency of everything that we're working on. We put together this Client FAQs doc for that exact reason.
We develop a Growth Hub for every client that we work with. The Growth Hub gives clients full visibility into the status of their SEO campaigns. Clients receive real-time notifications as articles are ready for their approval, access to all strategic assets, and more. You can see a full walkthrough of the Growth Hub below.
While many reputable SEO companies will provide transparent communications, some will not. Work with SEO companies who are comfortable with showing you what they're working on. You should have transparency in their work and the status of all deliverables.
---
6. Ask the SEO company about reporting
Most reputable SEO providers will provide some form of reporting for ongoing relationships. Ask to see a sample report that they send out to clients. You should also ask about the primary metrics that their company reports on.
Ask what tools they use for SEO reporting. Our favorite tools are Google Analytics, Google Search Console, Ahrefs, SEMRush, and Moz. Will you have access to any of those tools to confirm that the metrics that they share with you are accurate?
Good SEO companies will report on metrics like backlink count, search engine rankings for high-priority keywords, and organic traffic improvements. Great firms will take these metrics and tie them back to revenue for your business.
Struggling to find a reputable SEO firm? See how we can help.
---
7. Ask about time commitment on your end
Think about the value of time and money in evaluating the costs of working with a given firm. While both resources are scarce, one will be scarcer than the other.
SEO companies will vary on these two costs. Some may expect 10 hours of work on your end every week, while others may expect 2 hours per month.
Neither option is better or worse, but some costs will work better for one business than another.
Understand how these costs impact your business before committing to any SEO provider. Some brands prefer deeper involvement, while others prefer minimal time commitment. We pride ourselves on minimizing the time commitment of clients. This works great for some businesses and horrible for others.
---
If you can speak to an SEO specialist…
Speaking with a company's SEO specialist will give the best feel for the quality of their work. Few companies will include an SEO in the sales process, but it doesn't hurt to ask if you can speak to one of them.
If the company does bring in an SEO specialist, ask the following questions:
8. Ask them about link building
The number one factor that determines search rankings is the quality and quantity of websites that link to you.
Getting reputable websites to link to you is the best way to improve your search rankings. There are exceptions to this, but only for massive brands and industry leaders.
If the SEO provider did not mention getting reputable websites to link back to you, ask why. Some will claim that link building is too risky. This is false. Link building is risky if you don't know what you're doing. Link building is the fastest way to drive return on investment through SEO and should be the first priority for most SEO efforts.
If the SEO provider does do link building, ask how they get websites to link back to their clients. Avoid any firms that mention "payment" or owning a network of sites that can link to you (sometimes called "private blog networks", or "PBNs"). These methods, referred to collectively as black hat SEO, can land you in some hot water with Google.
You should also ask the SEO specialist the following questions about link building:
How do they conduct link outreach? Do they use their own email address, or do they need one of your company email addresses?
How do they find new link building opportunities?
How do they analyze website quality before requesting a link?
How do they report on link acquisition?
9. Ask them how SEO has changed
SEO is constantly changing, and a knowledgeable SEO pays attention to these changes. They should be able to give you a brief overview of some of the biggest algorithm changes in the industry over the past few years (and how those have changed their SEO strategies). Keep this question broad and give them free rein to respond.
Grab a printable version of these questions.
---
SEO is essential to the success of any business. 57% of B2B marketers say that SEO generates more leads than any other marketing initiative. With these questions in hand, you're ready for battle with even the best SEO cons.
Struggling to find the right SEO firm? Then contact us to see exactly what we would do for you today.
Looking for more information on the changing digital marketing landscape? Stay ahead of your competition and sign up for our monthly insights today!
SCALE YOUR ORGANIC TRAFFIC
Subscribe to our monthly newsletter