We helped Gigly go from 0–10,000 sessions per month in under a year.
For those who aren't familiar, Gigly is a platform for freelancers, solopreneurs, and gigworkers, that connects them to benefits like insurance, legal advice, and financial advice.
They also empower Alliance of Gig Workers members through education and additional resources.
When they came to us, they were emerging in the marketplace as one of the first organizations to connect gigworkers and sole proprietors to what they needed to protect their health and businesses.
Gigly's top goal was to increase awareness of resources available to those who had left the traditional workforce and were without benefits commonly provided by employers. In addition, they wanted to increase their collected resources and product offerings.
At this point, they had almost no organic traffic, and their site wasn't built to convert.
Gigly's plan was to start with a new website and an awareness campaign that would put them front of mind with gigworkers.
Keep reading to see how we upped their organic traffic by 10,000 times in nine months!
The Strategy
We saw an opportunity to increase mindshare with entrepreneurial audiences by providing a library of how-tos that would help them scale their businesses and develop trust in Gigly as a brand.
For each type of entrepreneur, from legal consultants to mobile dog groomers, we had three core pieces of content:
How to Start X Business (or Become an X Freelancer)
How to Grow X Business
How to Protect (legally or financially) X Business
Articles were designed to provide comprehensive guides on business management to freelancers and small business owners looking for answers about insurance, taxes, corporation types, taxes, and more.
This strategy allowed us to reach a high number of ready-to-convert readers in several target niches and give them exactly what they were looking for.
While we were excited to start helping Gigly's readers succeed, we wanted to take a conservative approach for the first couple of months to see how our plans would play out. We started gradually building links and writing content with a plan to increase our output over time.
An optimized article will grow in the number of terms it ranks for as time goes on.
There's a snowball effect to SEO.
The third month of publishing content showed a 30% increase in organic traffic compared to the previous month. The fourth month saw an increase of 93.9%. Organic traffic to the site overall had doubled in a month!
Knowing our strategy was working, we scaled exponentially to writing 20 articles a month.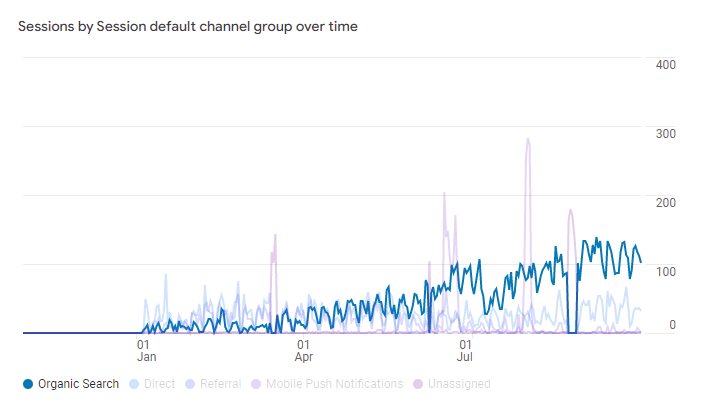 ---
Behind the Scenes
Intergrowth uses a three-pronged approach to grow organic traffic to a client's site:
Topic ideation for growth potential
Search engine optimized content
Link acquisition
Topic Ideation around Growth Potential
To begin, we dive into finding out what the ideal customer is searching for and will open, read, and take action on. We do that through Competitive Analysis and Keyword Research.
We use tools like Ahrefs to find out more about what readers care about. When we choose a topic, we research high-volume queries to meet our audience where they're searching.
But that's not all we do. At Intergrowth, we believe in creating content that is meaningful for the target audience and is in line with client goals.
We build a content strategy around traffic growth opportunities as well as opportunities to increase the client's reputation as a thought leader in their industry — both with readers and with search engines.
Search Optimized Content
We then write a comprehensive article on that topic and, in the process, rank for dozens more keywords for that theme.
We aim for each article to be the most useful content searchers will find for their query. During outline creation, writing, and editing, each post is optimized around a topic or theme.
To break that down, the articles are not stuffed with a couple of keywords over and over. They are instead structured and written to include words related to the theme as well as synonyms of the keywords. For instance, an article about dog food might mention kibble and have a section on vet-preferred ingredients.
Link Acquisition
Search engines rank sites with the best reputations higher.
One factor* that impacts a site's authority and trustworthiness (reputation, in other words) is how many other quality sites are linking back to the information on your site.
Intergrowth helps clients like Gigly build relationships with other industry bloggers and publications by citing their posts in Gigly blog articles. We contribute valuable insights to other bloggers in the space, as well, and encourage them to link back to the Gigly site.
*Google says backlinks are not a factor, but the majority of SEO experts believe they do influence EEAT and rankings.
Learn more about link building: What Is a Backlink + Why Do They Matter?
---
Deliverables
Intergrowth created articles for Gigly's site and built high-quality links from other websites.
We started out with a small-scale content and link-building campaign. We scaled up exponentially as Gigly saw the impact of those first few articles and links.
Let's take a moment to define these deliverables and our approach.
Onsite
For Gigly, we focused on Awareness Content to fulfill their onsite articles. The goal was to bring in lots of top-of-the-funnel traffic and then provide those readers with focused, information-rich resources.
Awareness Content centers around topics popular with a client's broader audience to reach as many potential customers as possible. Even those that may not be searching for the client's offering.
Site structure is an important aspect of SEO. Content arrangement plays a part. Our content strategy for onsite articles included seven pillars/silos that organized Gigly's content so that search engines could more easily crawl the blog, helping it rank higher over time.
Link Building
One of the fastest ways to drive SEO results is by building links from other websites.
We promoted each article we published and built relationships with relevant bloggers to encourage several of these bloggers to link back to the Gigly site every month.
These backlinks show that other sites are confident that Gigly is providing valuable content. In turn, Gigly's reputation is heightened with search engines.
---
Our results
Gigly went from not ranking in the top 100 results of Google to hundreds of first page rankings in under a year.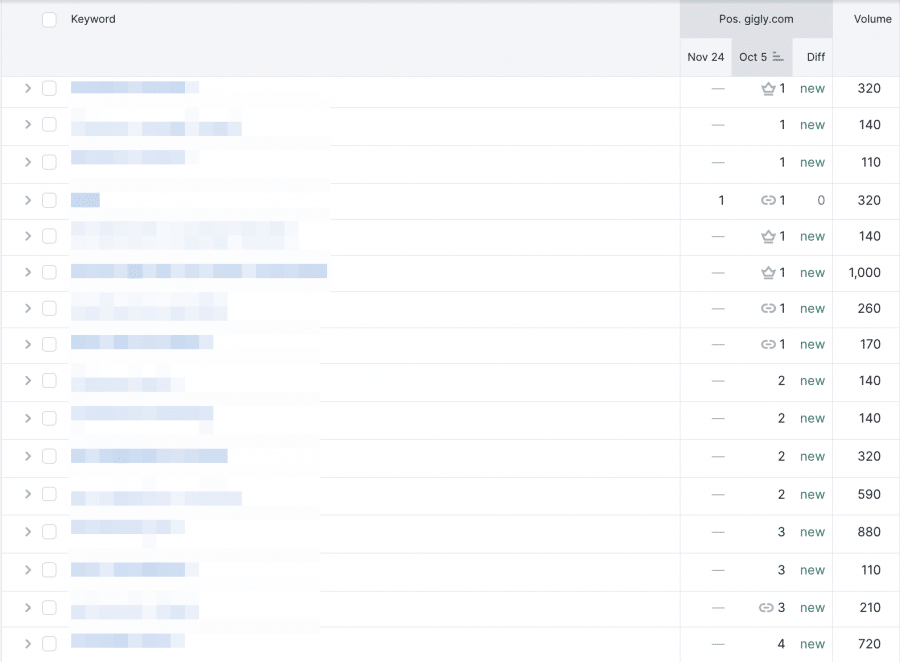 More importantly, Gigly went from 11 organic sessions per month in November 2021 to 10,846 organic sessions per month in September of 2022.

It normally takes time for a brand-new site to get traffic traction.
We're ecstatic that on a blank slate, we were able to take organic sessions from 11 to 10,846 organic sessions a month in under a year!
---
Conclusion
Our results with Gigly showcase the significant impact that a skilled SEO company can have on a business's online presence. By implementing targeted strategies and techniques, we saw a remarkable increase in their website traffic and overall visibility. Contact us today to take your online presence to the next level!
SCALE YOUR ORGANIC TRAFFIC
Subscribe to our monthly newsletter